A Kitchen Where Old Meets New
A cool new kitchen brings sleek style to a midcentury-modern house.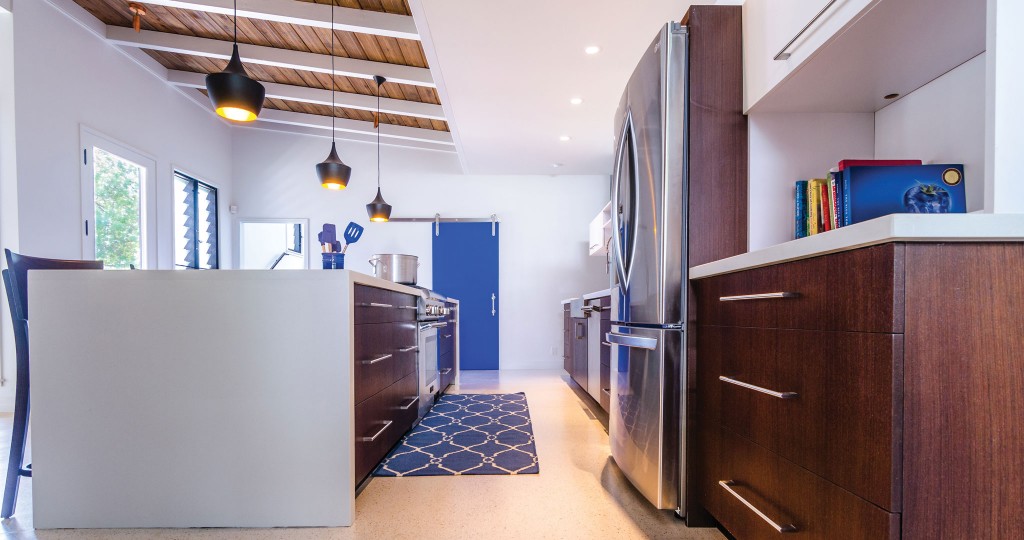 The kitchen in this house wasn't always as open and connected to the living areas as it is today. When the homeowners bought the house, the kitchen was small and closed off, with poor airflow throughout, making for a very hot kitchen.
Far from functional for this busy family, the kitchen needed to be expanded and opened up, but the house had charm, history and elements worth retaining. Designed by developer Joseph Eichler, the mid-century-modern house had terrazzo flooring and combed cedar ceilings that the homeowners wanted to keep. Mark Librie General Builder found matching planks at Re-Use Hawaii, and new terrazzo flooring in the kitchen connects it with the older parts of the house with the addition of a great room.
Jenn Johnson of iD Hawaii enlisted the help of kitchen and bath designer Corrine Tadaki Davis of Plus Interiors to bring the homeowners' desire for a simple, modern kitchen to life.
"It's a really nice, open space," the homeowner says of the new kitchen. "Corrine did a great job."
Davis shares three key design ingredients of this cool Kailua kitchen loaded with features
1. Waterfall Edge
The kitchen island's Silestone countertop in White Zeus Extreme spills over and reaches the floor for a waterfall-edge effect. The 13-foot-long island offers seating for eight people.
2. Cabinets and Countertops
Two-tone cabinets with flat-panel wenge doors anchor the cabinets, while flat-panel maple doors painted white on the top are tied together by the white Silestone countertops. The upper cabinets have lift-up doors, a modern design concept.
3. Drawers
The cabinets are loaded with drawers rather than shelves for more functionality and to maximize space. "Everything is really easy to access," Davis says.