Windswept
Sometimes simple is better when landscaping in gusty locations.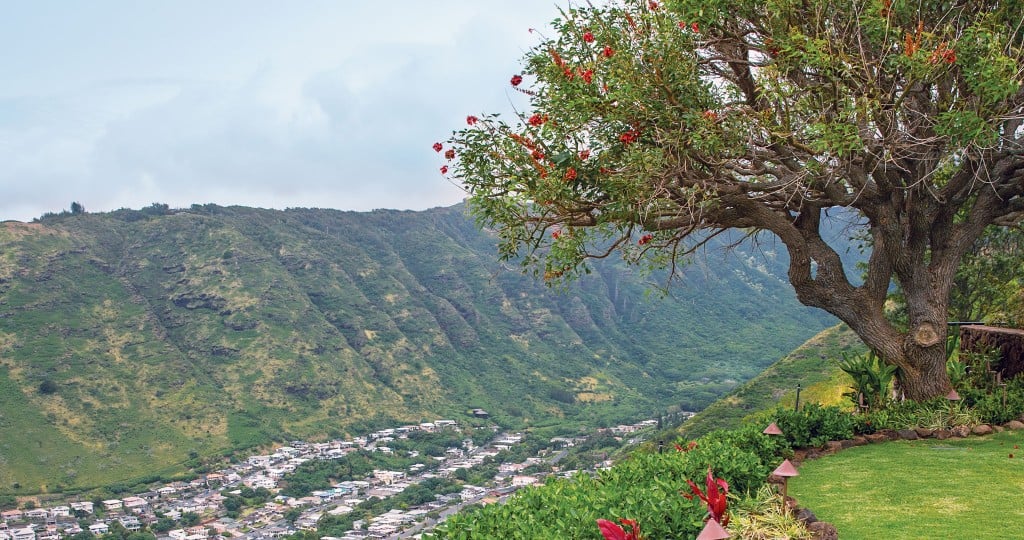 Pulling up to this expansive home on a steep street on Hawaii Loa Ridge, the wind hits you the moment you get out of the car. At times howling, the gusts are consistent — even on the sunniest days. "It's a total wind tunnel. I'd say it blew 15 to 20 miles per hour the entire time we were working on the project," recalls landscaper Steve Dewald. "On occasion, we had 50 miles-per-hour gusts."
The owner of this home came to Dewald to help him reimagine the entire landscape. "He just wasn't happy with any of it," he says. "Our main goal was to keep landscaping to a minimum due to the wind and then take advantage of the natural beauty here."
Working from designs done by award-winning landscape architect Steve Mechler, Steve's Gardening Service got to work updating the lighting, replacing the lanai and installing low-flow irrigation to account for the high winds. Dewald also used wind-tolerant plants throughout, such as dwarf date palms above the expansive waterfalls flowing into the inviting new pool, which was installed by DeBiasi Pacific.
Dewald says the landscape takes advantage of the yard's incredible views while accounting for the battering breezes. "I love the simplicity of this landscape," he says. "I think you can overdo it. In areas like this, there's no need to get overly fancy, just frame in the view and let Mother Nature speak for itself."
4 Tips for Landscaping in High-wind Areas
1. Create a windbreak.
2. Select tolerant plants.
3. Strategically place fencing/walls.
4. Add TLC — water, mulch, prune.