Working The Angles
A contemporary kitchen is the central attraction in a customized Nuuanu home.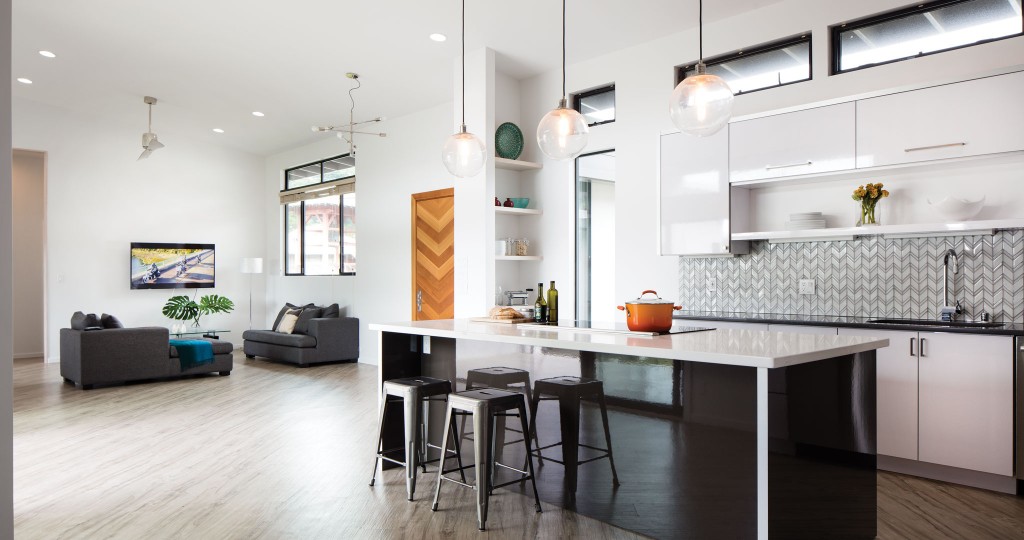 The challenge of building a 2,000- square-foot home on a long, 2-acre parcel was quite real. The length of land dwarfed the homeowners' budgeted square footage and warped the vision for their new home. Rather than building up, contractor Nick Tang of Koolau Builders spread the house out to create an uneven U, with the kitchen and living room as a central hub intersecting two bedroom wings.
Inspired by the homeowners' modern style and love of cooking, Tang and his team designed a sophisticated and functional floor plan to accommodate the long lot and shape a dynamic entertainment space.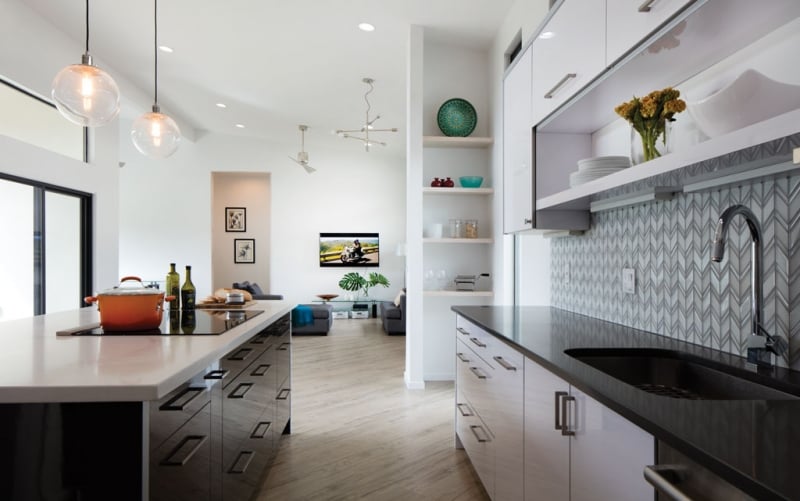 "We actually have a very asymmetrical design, but the flow of the home feels very balanced," explains Tang. "The paint colors and ceiling heights offset the heft of the home's contemporary metals and angles. Creatively distributing the weight on different parts of the room and house was a fun part of this build, and provided the homeowners with their desired modern style."
A lofted, slanting roofline and large, glass-paneled doors add volume to the living room and welcome in natural light. High-gloss, laminate cabinets by Bellmont Cabinet Co. keep a clean, modern visual and hide ample storage. The two-toned cabinetry and black and white quartz countertops are equipoised by a backsplash of gray glass arrows. Tang used an airy color palette, built-in shelving and angular herringbone and chevron patterns to honor the homeowners' minimalist style.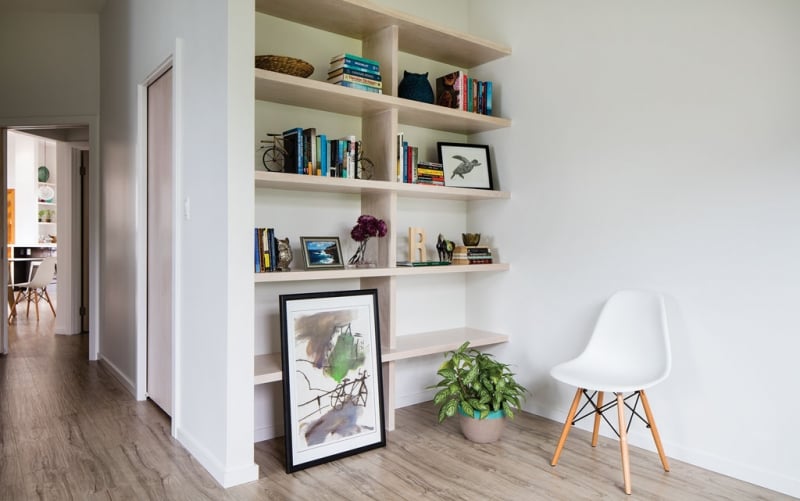 The playful placement of built-ins and stainless steel appliances on the adjacent wall perfect the neat, functional and innovative design. Durable luxury-vinyl flooring, with a weathered hardwood façade, flows throughout the great room and complements the surrounding neutral hues. Opening up to the private backyard patio, the great room expands its potential outside with sliding-glass doors and provides sunset views of downtown Honolulu.
"Working with the homeowners and customizing their space with them is our favorite part of our job," Tang says. "All our designs are done in house, with a lot of hard work and effort."
The next phase of construction for this new build is the installation of custom landscaping. Tang and his team are working with the homeowners to establish a look and balance of tropicals and edibles for the yard. Nuuanu's heavy rainfall will keep tall tropicals lush, citrus trees fruiting and the yard private.