2 Crucial Design Ideas from an Interior Designer
The essential elements to a beautifully crafted abode.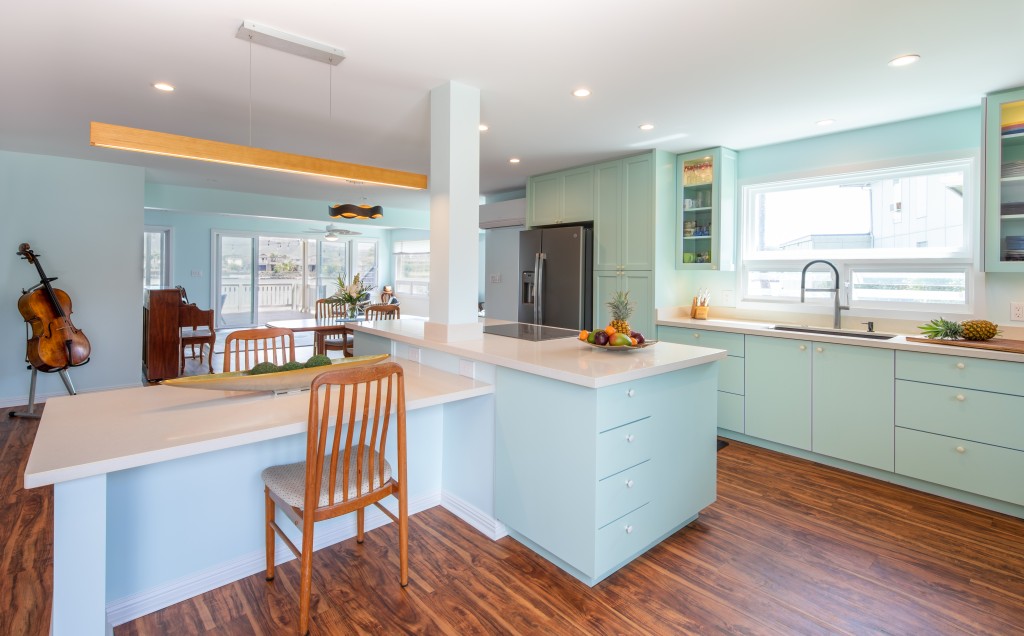 Our homes are so much more than a place of shelter. It's where we work, play and relax, so the way it's designed should reflect that. We spoke to Nancy Schnur of Universal Interiors LLC, a boutique design firm, to ask what key factors homeowners should know about to create a space that's not only practical, but also stylish.
Go with Function Over Fashion
If done right, incorporating the latest trends into your abode can be fun and worthwhile, but you should be mindful of how it'll look and operate over the years. "There are a lot of trends to be swayed by and a lot of appliance gadgetry to excite us, but if you are on a budget or you have a small space, many of the trends and gadgets should step aside for functionality, especially in the cabinetry," says Schnur.
Your cabinetry is one of the biggest investments in the kitchen, so good design and functionality are essential, she adds. "Take for instance, a project I worked on a few years ago. The kitchen was built in the 1950s with a few updates here and there over the years," says Schnur. "The original design had two separate pantries filling one corner of the room. At 24 inches by 28 inches deep, they were very awkward to use, and the end result was most things got buried in the back and never used." Universal Interiors LLC decided to put items on display with open shelving and integrate a small appliance countertop space and some bins to hold items for easier access.
Another major decision for cabinetry? The finishes. "Natural wood cabinets are beautiful but they can require some maintenance and you have to do your research. Some woods change in color over time. Maple can yellow, cherry gets darker and they can all be affected by sunlight," says Schnur. "Painted cabinets are less expensive because paint grade wood is cheaper than stain grade wood. Painted cabinets also work well if you plan to have wood or wood-look flooring."
One more consideration to make is matching your cabinets to the floors for a seamless look. "So take your time, you want your cabinets to last a long time, look nice, but most importantly make the best use of the space they occupy," urges Schnur.
Show Your Home its True Colors
It's understandable that when selecting paint colors, there can be some hesitation. Color can be tricky, shares Schnur, especially bold colors.
She recommends that when selecting a paint color for a particular area in the home, it's important to understand how light will affect the color. "Time of day, type of interior lighting and the chosen level of sheen of the paint all contribute to how the paint will look when finished," says Schnur.
First, go to a paint shop and collect some paint chips to narrow down your choices. "The best way to know if you are going to happy with the color is to buy a small amount of the actual paint you will be using, including sheen level, and paint test patches on several different areas in the room," adds Schnur. "If you are painting the exterior, this means all sides of the house."
Check to see how the paint looks throughout the day. "Once you have decided on your color, you can always start with an accent wall first," says Schnur. "Then, if you feel the space can take it, and your comfort level in the space, go ahead and paint more walls. Lastly, it is best to keep door trim, baseboards and the interiors of closets/pantries, a neutral color so that if you decide later to change the color of the room you won't have to repaint those areas."