2019 Home Trends
Local designers share industry looks that are on the rise.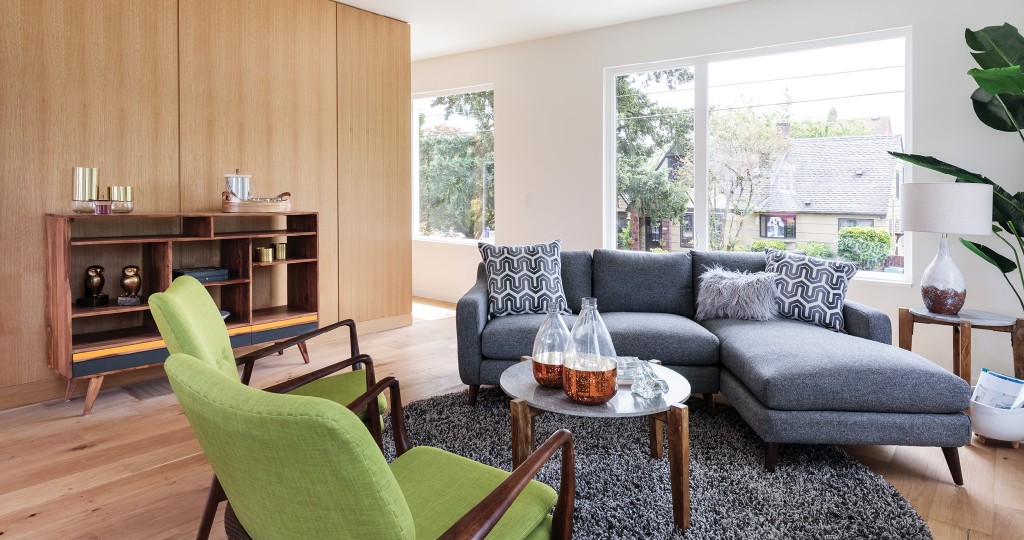 Designers are always on top of the latest trends that we can expect to see on the home front. From 2018's most popular trends — two-tone kitchens, distressed wood, floating shelves and white kitchens accented with warm tones — continuing on to this year's up-and-coming ideas of matte finishes and muted colors, here's a look at what experts are forecasting as the latest home trends that'll keep your dwelling fresh and current.
Modern Markings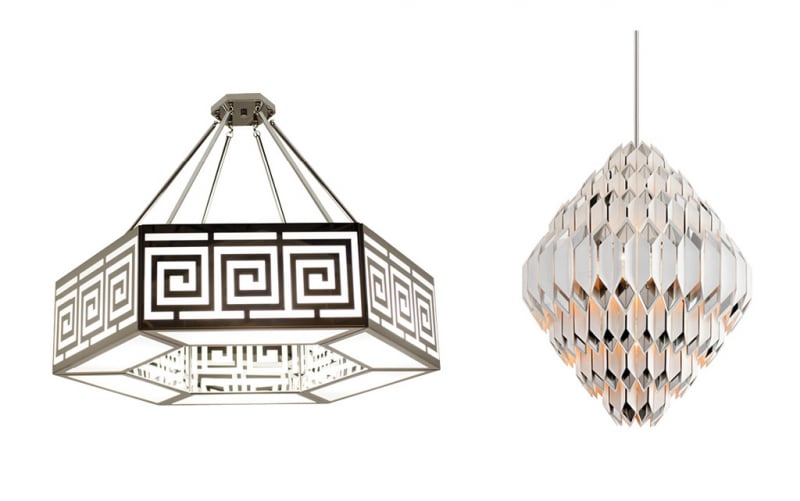 Stonegate by AFX Argos Down Light Pendant in polished chrome (left)
Corbett Haiku Entrance/Foyer Pendant in white (right)
Available at Ferguson Bath, Kitchen & Lighting Gallery.
Midcentury Modern
Midcentury modern design is nothing new and it's not going away anytime soon. "I think this trend is evolving and is constantly being reintroduced through different colors, furnishings, finishes and materials that are less fussy and informal," says Hinano Nahinu of Pacific Source.
"I think we will continue to see a lot of combinations of design elements, such as form, texture, color and shape, being introduced into spaces that create a more midcentury modern and collaborative feel," she says. "It's a style that is popular because it's less restricting and gives you more design freedom rather than some of the other design styles, but still remains timeless."
Along with modern design is modern markings, where geometric and dynamic patterns take center stage, creating a sense of movement in a room.
Brushed & Brass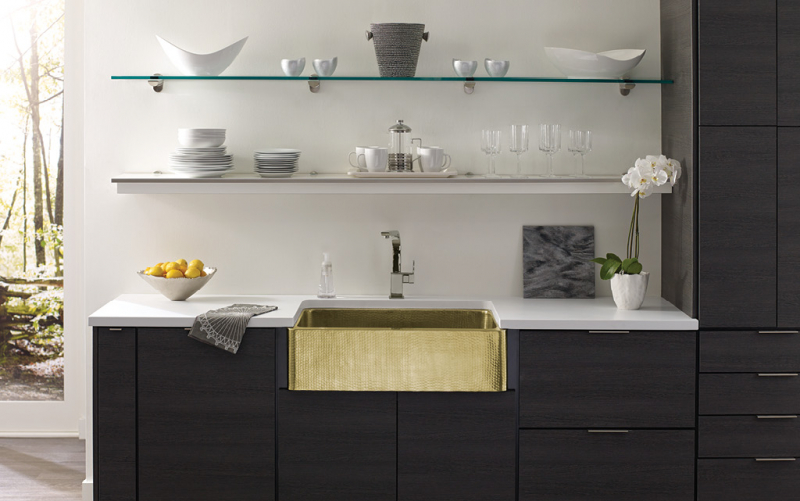 Among the biggest changes that Brenton Liu of Design Trends Construction forecasts are brushed tones, like brushed rose gold or brass, in appliance and fixture finishes. "We're looking at more slate finishes and brushed, black and stainless (styles)," shares Liu. With past years' influx of rose gold and copper accents, this boom comes as no surprise. In fact, the combination of brass tones mixed with classic design has been coined by Ferguson Bath, Kitchen & Lighting Gallery as "Brassic."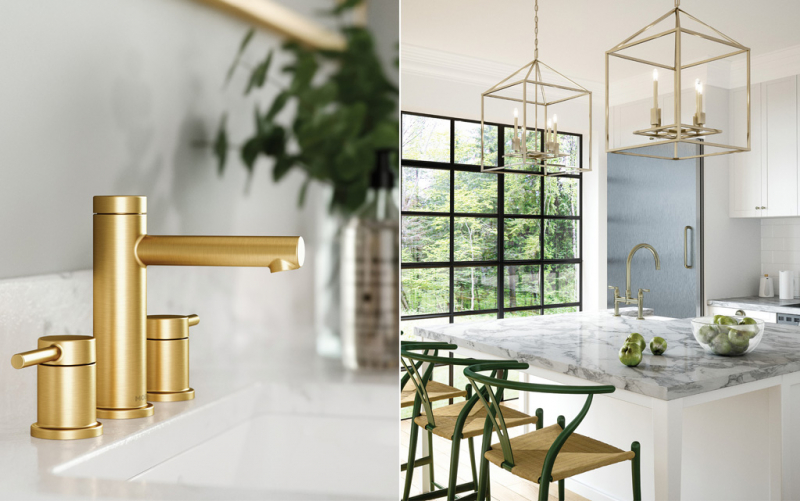 Brassic
Thompson Traders Lucca Apron Front/Specialty Kitchen Sink in hammered brass
Capital Lighting Lyra Entrance/Foyer Pendant in aged brass
Available at Ferguson Bath, Kitchen & Lighting Gallery.
Matte & Muted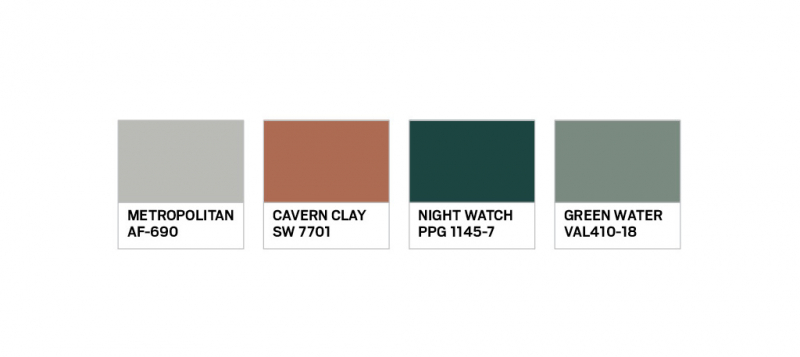 Matte has become increasingly popular as an easy approach to bolder, louder colors — a major shift from glossy kitchens and appliances. "Glossy is typically going to be your contemporary look … and sometimes too much gloss can feel overly tacky, overly done," shares Liu. "Matte, being a softer finish, is a lot more comfortable for most people. It's not as demanding; it's a little softer and easier for them to digest." Meld matte black with warm light grays to create a subtle layer of intrigue and distinction.
Smoldering Hues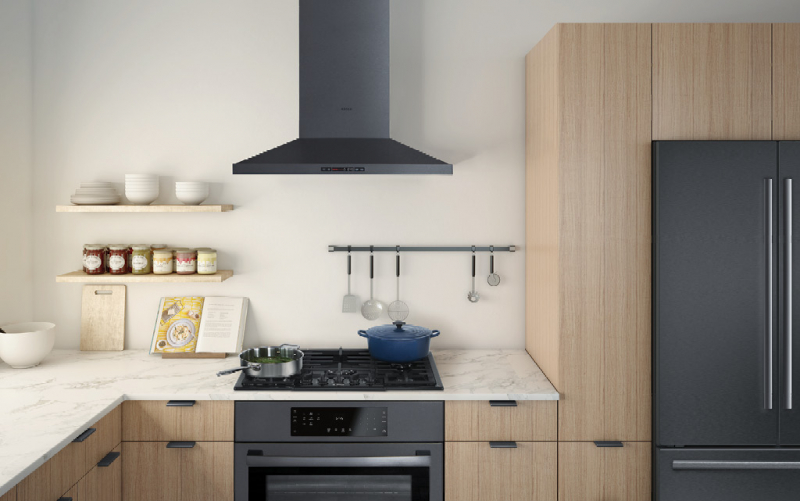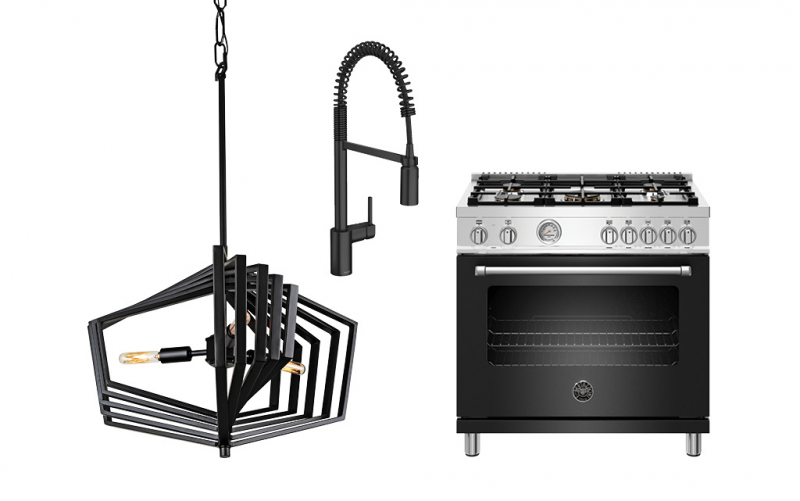 Bosch 800 Series Wall Mounted Range Hood in black stainless steel; Bosch 800 Series French Door Refrigerator in black stainless steel; Bosch 800 Series Single Electric Wall Oven in black stainless steel (top image)
Bertazzoni Master Series Dual Fuel Range in black (bottom right)
Moen Align Pull-Out Spray Kitchen Faucet in matte black (bottom center)
Varaluz Gymnast Down Light Pendant in black (bottom left)
Available at Ferguson Bath, Kitchen & Lighting Gallery.
Shift in Shapes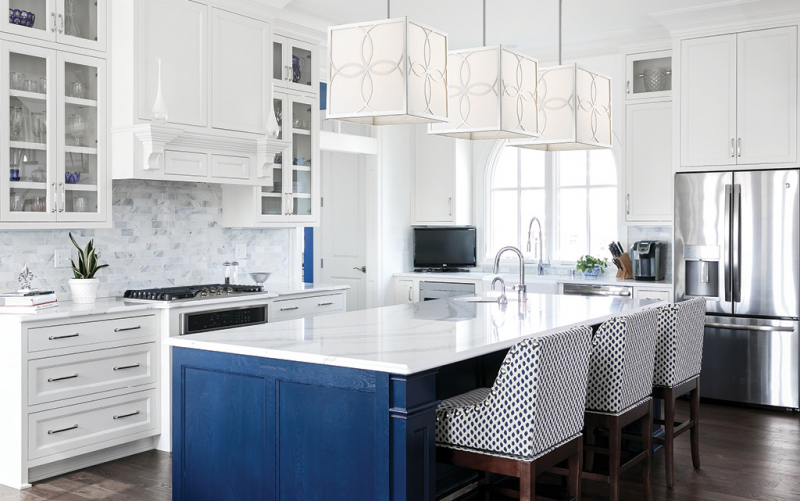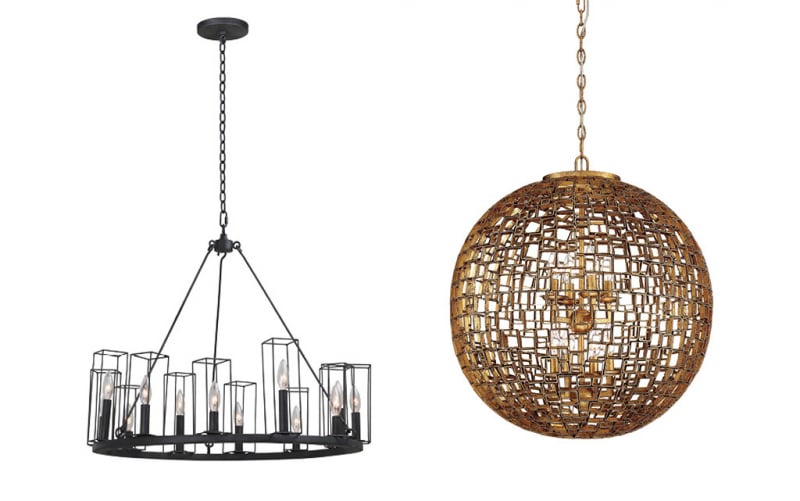 A shift to a broader spectrum and mix of shapes, sizes and patterns is underway in the design world, from backsplashes and tile to fixtures and décor. It's a really good way to express yourself in the design and make it your own, remarks Liu. With backsplashes, more random, organic designs have become more common than symmetrical or staggered shapes. To incorporate this trend, decorate your home by pairing circle and square décor pieces.
Duo of the Year
Crystorama Anniversary Down Light Pendant in polished nickel (top image)
Kalco Lighting Allston Mid Sized Chandelier in black iron (bottom left)
Metropolitan Abbondanza Entrance/Foyer Pendant in halcyon (bottom right)
Available at Ferguson Bath, Kitchen & Lighting Gallery.
A Smarter Home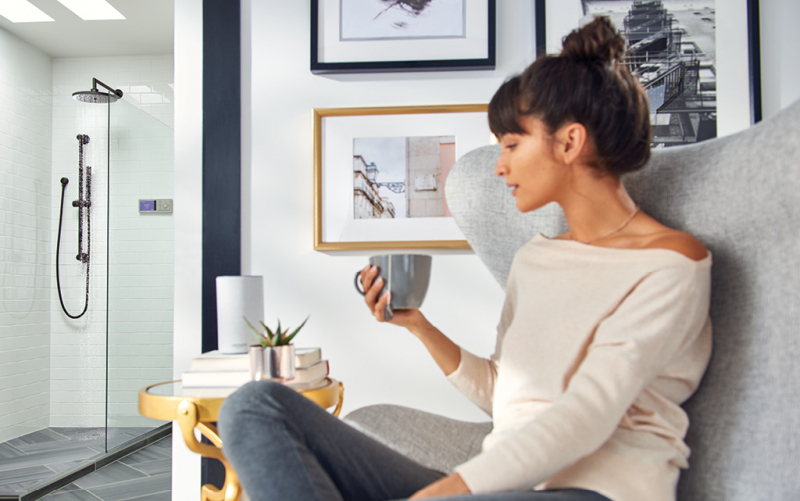 With many designs geared around the smart home, it only makes sense that "smart appliances are becoming more and more prevalent," notes Liu.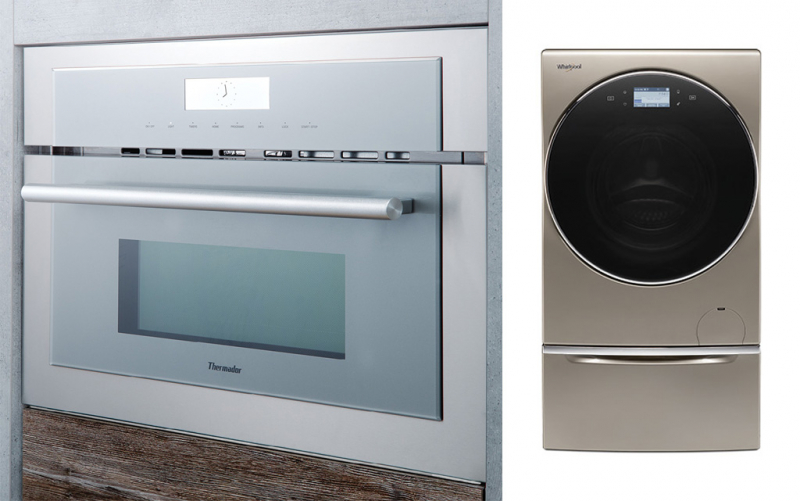 "If you can control the lights, why not control your oven, too?" he adds. Technology integration in the kitchen and bathroom improves your daily routine and helps you get things done.
Talk-To-Me Tech
Moen U Thermostatic Valve Trim in terra beige (top)
Thermador Masterpiece Single Electric Wall Oven in stainless steel (bottom left)
Available at Ferguson Bath, Kitchen & Lighting Gallery.
Intentional Integrations
Whirlpool Front Load Washer in chrome shadow (bottom right)
Available at Ferguson Bath, Kitchen & Lighting Gallery.
AIA Home Design Trends
The American Institute of Architects' quarterly Home Design Trends survey shares emerging trends found in residential design. The 2018 quarter one and two surveys revealed that more people are adding extra rental units or accessory dwellings, and home accessibility has increased as many individuals choose to age in place. What's more, outdoor living areas continue to be popular spaces, as well as making room for furry friends with pet rooms/interior kennels. Visit aia.org for more details.