2023 Home Trends
A mini-handbook of ideas and innovations.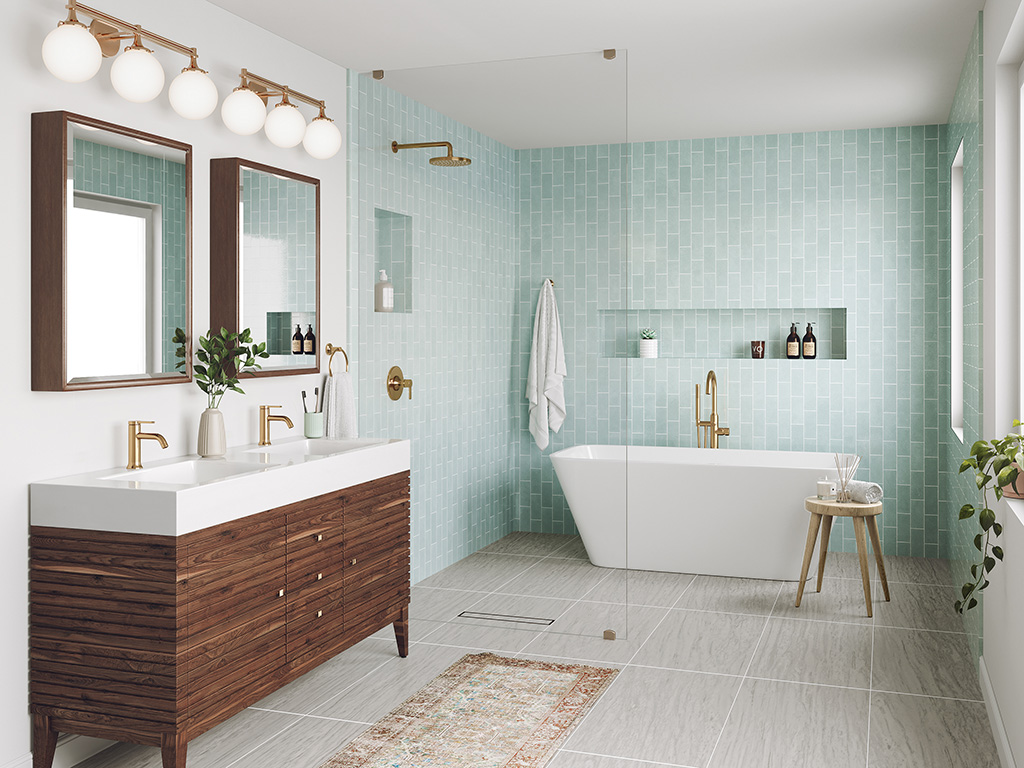 The turn of the year marks a busy period for the home and remodeling industry. As homeowners move to improve their spaces, companies and contractors are exploring trend reports and trade shows to keep up with the latest news.
"Trends are influenced by forecasts in the fashion industry that trickle down to everything else," notes Cris Johnson, owner and co-founder of Hawaii Kitchen & Bath and member of the National Kitchen & Bath Association Aloha Chapter. "It's quite subjective and usually a year in advance by the time we notice them in the design/construction industry."
Whether you investigate trends for fun or for a specific upcoming project, we hope this 2023 guide will leave you heartened. For your home, the new year brings new potential, so read on for inspiration.
2023 Trends & Influences IX
Ferguson Bath, Kitchen & Lighting Gallery released the latest edition of its annual Trends & Influences lookbook in early January. Its highly researched forecasts for 2023 reflect a movement toward expressive elements that reflect "an authentic experience" of a homeowner's personality, moods and values. The top 10 trends noted are:
Wet-Room Bathrooms: Creating completely open, waterproof bath spaces with high-end elements such as frameless zero-entry showers and floating vanities.
Biophilic Intention: Bringing nature into the home, resulting in a harmonious flow and sense of well-being.
Eco-Mindfulness: Selecting earth-conscious plumbing fixtures, recycled materials and smart appliances that use less energy.
Modernized Mid-Century: Adopting integrated, streamlined appliances with cutting-edge technology and clean, uncomplicated lines.
Gothic Glam: Celebrating edginess and boldness with black accents, glamorous wallcoverings and statement fixtures like wrought-iron chandeliers.
Moody Japandi: Meshing Scandinavian and Japanese styles with darker tones in matte black, gold and hints of purple.
Multisensory Design: Activating the five senses with textural elements in fabrics, woods, stone surfaces and more.
Old World Estate: Drawing inspiration from Europe with Grecian marble countertops, Parisian-style chandeliers, lavish decorations and oversized furniture.
Technical Support: Discovering smart devices and home hubs to simplify daily routines with Wi-Fi-enabled appliances and centralized controls.
Royal Aspirations: Embracing regality and Victorian Era elegance with clawfoot tubs, ornate vanities, candelabras and sconce lighting.
National Kitchen & Bath Association
NKBA annually compiles a comprehensive tome of data for its members to gain insights on consumer project scopes, the state of the industry and popular design trends. NKBA Aloha Chapter member Johnson shares her observations from the 2023 report.
Storage and Functionality: "Storage options remain the top request when we discuss our custom cabinetry," says Johnson. Some popular examples include corner swing-out units, multiple tall pantry cabinets with pullout shelves and touch-to-open options.
Sustainability: NKBA notes that nationally, homeowners are becoming increasingly conscientious about eco-friendly materials and sustainable fabricating methods. Johnson shares that locally, however, "we have a mix of customers, and while some put a high importance on sustainability in the kitchen or using eco-friendly materials, it's not a priority. Sometimes pricing can dictate materials."
Color Ways: Greens and blues will continue to be popular in kitchen and bath design, according to the NKBA report. "These colors have been around for a couple of years and are still trending," says Johnson. "But it's more of a mix of materials/colors that we are noticing more in Hawaii."
Other Trends to Watch: "Since our custom cabinets are European-style and some of our raw cabinet materials and accessories come from Germany and Belgium, I often watch those trends," says Johnson. "I'm also looking forward to new and innovative cabinet interior accessories. There are options already in place that make our lives easier and keep clutter off the counter, like in-drawer charging units."
Local Perspective
HPM Building Supply and HPM Design Center locations across the state are known for offering a wide array of kitchen and bath products. Their staffs know what is trending with local homeowners in areas such as cabinetry, countertops, lighting fixtures, faucets, sinks, accessories and hardware. We asked for some of their insights for 2023.
Jesika Gray, kitchen and bath designer (Waimea, Hawaii Island): Gray shares that homeowners have been seeking design options that incorporate "vertical lines, the use of light-toned natural materials like wood and stone, and contrasting accents." She notes that Japandi motifs and Calacatta Gold countertops continue to be a hit. New Bellmont wood stains are on her list of must-watch products in 2023.
Rose Keaweamahi-Hoovler, senior kitchen and bath designer (Kauai): Keaweamahi-Hoovler says she has been seeing an uptick in demand for spalike aesthetic touches and furnishings. "I'm currently working with four clients who are building that do not want standard kitchen cabinet-looking vanity bases in their bathrooms," she says. "They'll be ordering spa-style vanities or wall-hung vanities with open shelving below."
Paul Mendoza, flooring design manager (Hilo): Mendoza notes that the "Vanilla Crème" flooring hue has been one of his store's bestsellers this past year. "I personally feel that this color will do well into 2023," he says. "Its warm, light-toned color is inviting and can brighten up a room. Various colors on this plank make it easy to color match when designing a room. Easy to clean and very durable."
New HPM Showroom on Maui
When you choose Miyake-HPM for your kitchen and bath, new home build or remodeling projects, you have access to local specialists at our Kihei Home Design Center plus access to experts from HPM's owner-employees statewide.
Pictured above at the Kihei Home Design Center grand opening:
Front row, left to right: Cathy Yoshida, Miyake-HPM Building Supply regional operations manager; Kapua Aguiar, HPM Home Design Center program manager; Kehau Amorin, director of HPM Homes & Home Design Centers; Desiree Delo Santos, regional HPM home planning consultant.
Back row, left to right: Gary Danzl, Miyake-HPM Building Supply Maui regional manager; Tom Reyes, Miyake-HPM Building Supply kitchen & bath designer II; Shanon Christian-Saylor, HPM Homes program manager; Paul Mendoza, HPM Building Supply flooring design manager.