3 Tips for a Safe Bathroom
Changes to make for aging in place.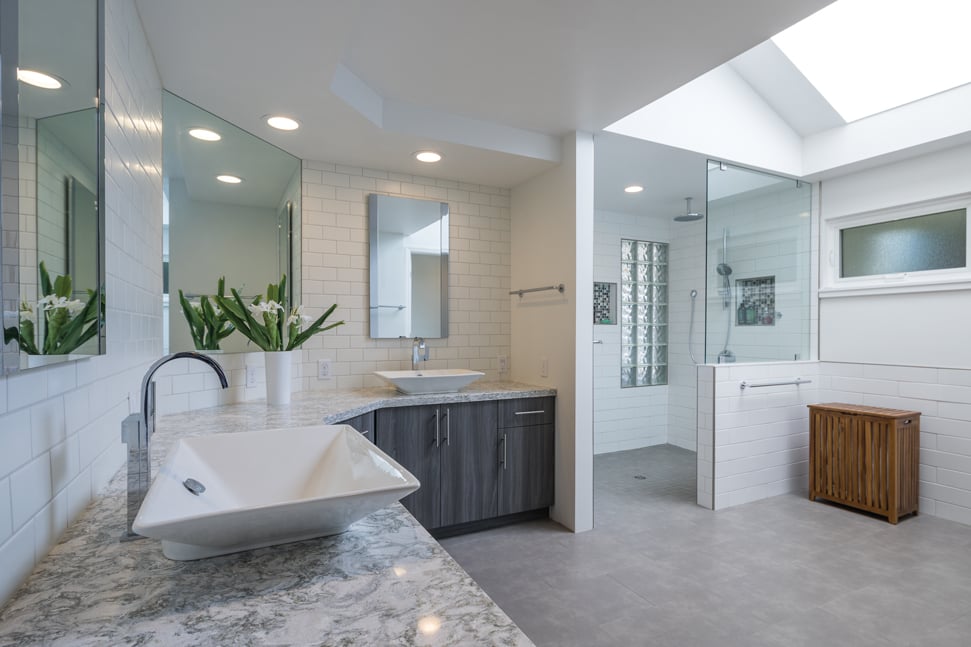 As we and our loved ones grow older and live at home, accessing showers, toilets and sinks can become difficult and even dangerous. Bonnie Oda, a certified aging-in-place specialist at Graham Builders, shares her advice on making bathrooms safer.
Make your colors contrast. "As our vision starts to fail, you want to see where spaces transition," says Oda. Making sure colors from the countertop to the floor, the floor to the cabinet, and the cabinet to the walls all stand out is a subtle method of making your bathroom easier on aging eyes.
Step up your shower game. Showers are a well-known issue for aging in place, and for good reason. Small trip hazards can go from minor inconveniences to major dangers. Oda recommends installing a zero-step shower to cut out one of the biggest potential causes of bathroom slips. Install blocking behind shower walls during a remodel or new build, so grab bars can be added when they are needed.
Get a grip. As people age and lose strength in their hands, tasks such as twisting knobs become more difficult, Oda says. Lever faucets are gentler to use and offer a simple way to make your bathroom safer. Oda also recommends a hand-held adjustable-height shower head, which allows individuals to sit on a bench or stool rather than standing in a slippery shower.