4 Interior Designers Divulge Their Need-to-Know Style Tips
Delving into design.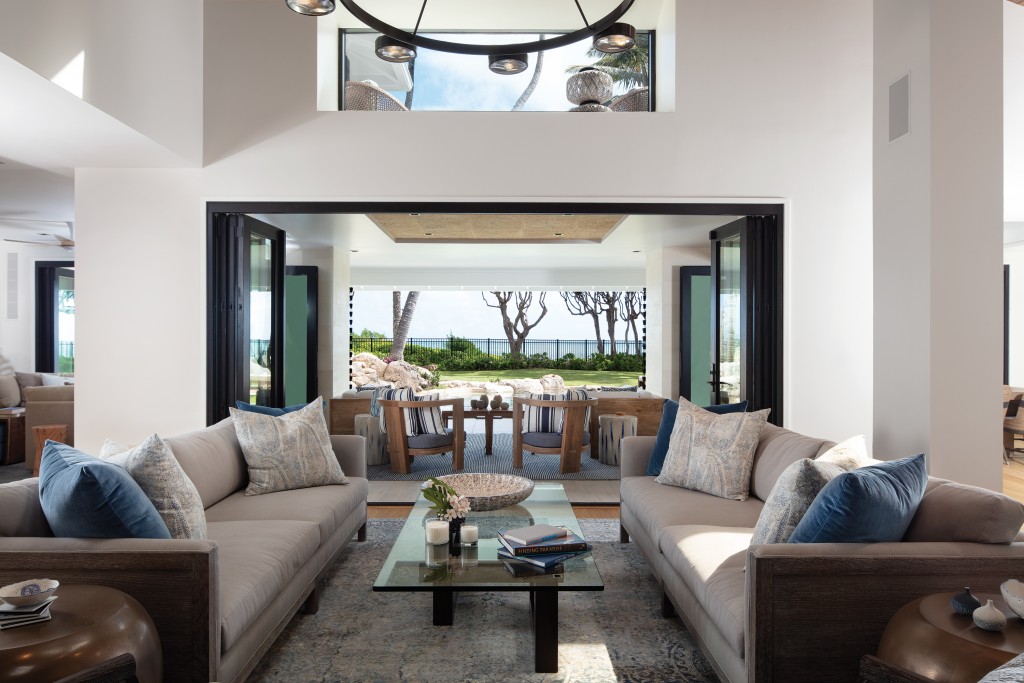 Putting together a thoughtful, expertly designed abode requires time and patience, and for even the most creative individuals and home improvement enthusiasts, hiring an interior designer can be beneficial.
"Designers not only enhance the look of a space, they also enhance the function," says Shawn Moynahan of Trans-Pacific Design, a luxury interior design studio on Hawaii Island. From space planning and layout design to material and furniture selection, an interior designer can make all the difference in making a house feel like home.
We asked several accomplished designers to share their advice for homeowners in need of some assistance.
Interior Designers are Knowledgeable
Professional interior designers are trained in their craft and keep up with design styles, trends and everything in between. Interior designers work with clients to create functional spaces, shares Moynahan. They understand interior architecture and work closely with architects to design interior spaces, and they have experience in the construction industry too.
Those affiliated with professional organizations such as the American Society of Interior Designers or International Interior Design Association have years of experience and keep abreast of new ideas and practices through continuing-education courses. "This keeps them educated in all the new requirements for health and safety, new products and finish options, etc.," says Susan Moss of Trans-Pacific Design.
Interior designers have an eye for design and can hunt down pieces for their clients. "Interior designers are really good at using multiple sources and knowing where to get anything and everything," says Catherine Valentine, project designer for Philpotts Interiors, an award-winning interior design firm on Oahu. "Philpotts Interiors is especially successful at creating a look that is thoughtful, garnered and well curated."
Designer or Decorator?
Have you ever wondered what the difference is between an interior designer and an interior decorator? According to Moss, it comes down to the scope of work involved. "If you are looking to make interior wall changes to the building, you should hire an interior designer with the training required to complete the design and documentation required for the project," she says. "If you are looking for strictly aesthetic help (wallpaper, paint, furnishing, etc.) an interior decorator may be the right choice."
It Gets Personal
When resources are limited, finding the right product for your home can take a little more time — but that's OK. "The good news is some of the best spaces are created over time," explains Valentine. "When homes are full of pieces that are found, collected and personal, a warmth is achieved that can't be duplicated."
On that, Valentine shares some important advice: "Find something that inspires you — a piece of art on a trip, a rug your cousin brought back from overseas, or save up for that one vintage chair you've always had your eye on. It'll be worth the wait and the extra effort. The best part of this process? You'll accumulate some great stories to share."
Let the Space Speak for Itself
"The biggest challenge can be working within the confines of an existing space," shares Christine Reimer, a senior interior designer for MCYIA Interior Architecture and Design and the incoming president of the Hawaii chapter of the ASID. "Embracing the existing and taking advantage of the structural elements can be a positive thing for a project."
Design for How You Live
"It's easy to design a space that looks great on a magazine cover, social media or one that impresses visiting guests. The real challenge is designing a room or home that functions for how our clients truly live," says Valentine.
Over the years, she's seen a decline in homes designed with formal sit-down dining rooms and museum-like interiors and an increase in homes made for multigenerational living where there are intentional spaces for everyone in the family.
"Whether it's a client's main home or vacation destination, these spaces need to be comfortable and pleasing to all ages," says Valentine. "Providing different types of seating is especially important. Sectionals for large families, chairs with arms and a higher seat for tutu, chaise lounges for cuddling keiki, punee for teenagers on phones, bar stools with backs for recipe-critiquing aunties, and swivel chairs for those that like to be a part of everything. Well-designed spaces make everyone feel welcome and at home."
Clean, Open Spaces are Always in Style
A simple color palette can be very attractive, shares Reimer, though she recommends taking the time to play with the textures of your home instead. "Mixing in the use of textures — from tiles and cabinets to furniture — can help elevate a room from being plain to refreshing," says Reimer. "A combination of organic, free-flowing forms to sleek clean edges can create a visually interesting space."
Infuse Health and Wellness
Since last year, there has been an ongoing conversation about incorporating health and wellness into spaces — with a connection to nature. "It is necessary to bring the outdoors into the indoor environment," says Moynahan. "The reference to nature can be brought into the indoor environment in obvious or subtle ways."
Trans-Pacific Design shares these key design features to consider:
Illuminate Your Spaces.

"Light is an important element in design," says Moynahan. "The use of natural light or artificial lighting that mimics daylight within a space improves productivity, alertness and mood."

Make Things Comfortable.

"The comfort of the user of space is the key," shares Moynahan. "Good interior design needs to be comfortable, efficient and aesthetically pleasing."
Create with Color.

Color has a strong impact on not only the look of a space but also the way it feels. "When choosing color, it is important to always factor in personal preferences and never follow general color advice," says Moynahan.
Be Innovative
If nothing seems to fit your home or needs, it might be a good idea to get a custom-made product. Work with your designer to create something new and unique just for your home. For instance, Moss designed a wall-mounted TV cabinet with bi-fold doors that, when closed, display a four-paneled piece of art; when opened, the artwork folds to frame the TV. This innovation ended up winning a top prize at the ASID Hawaii 2020 Design Excellence Awards.
Don't Take it Too Seriously
Enjoy the process of putting your home together. At the end of the day, it should be a restful place, not a stressful one. "Whether you hire a professional interior designer or plan on decorating your own space, have some fun with it! Don't be afraid to be a bit silly and include something unique," says Valentine. "Adding a touch of whimsy or humor to your room can be so positively impactful. Want to add a lamp with rabbit ears? How about a wallcovering with giant pineapples? Go for it!"
But if you're still too scared to make any drastic changes, consider fun art, accessories or accent fabrics that are easy to swap out. "In a world with so much darkness, we all deserve to have something that makes us and others smile," says Valentine. "The décor in your home is a wonderful opportunity to do just that."
Have You Seen These Trends?
Free-standing sculptural bathtubs

have been the "go-to centerpiece" in master bathrooms, shares Moss.

Polished and brushed nickel plumbing fixtures

have bubbled up in popularity, as well as gold, brass and mixed metal finishes.

Non-touch faucets

have become a staple in kitchens and bathrooms, and today's models are increasingly voice-activated. "You can ask for one cup of water and that's what will flow out of the faucet — no measuring cups are needed!" says Moss.