6 Incredible Home Offices You Would Want As Your Own
Work from home in comfort, luxury with the help of California Closets.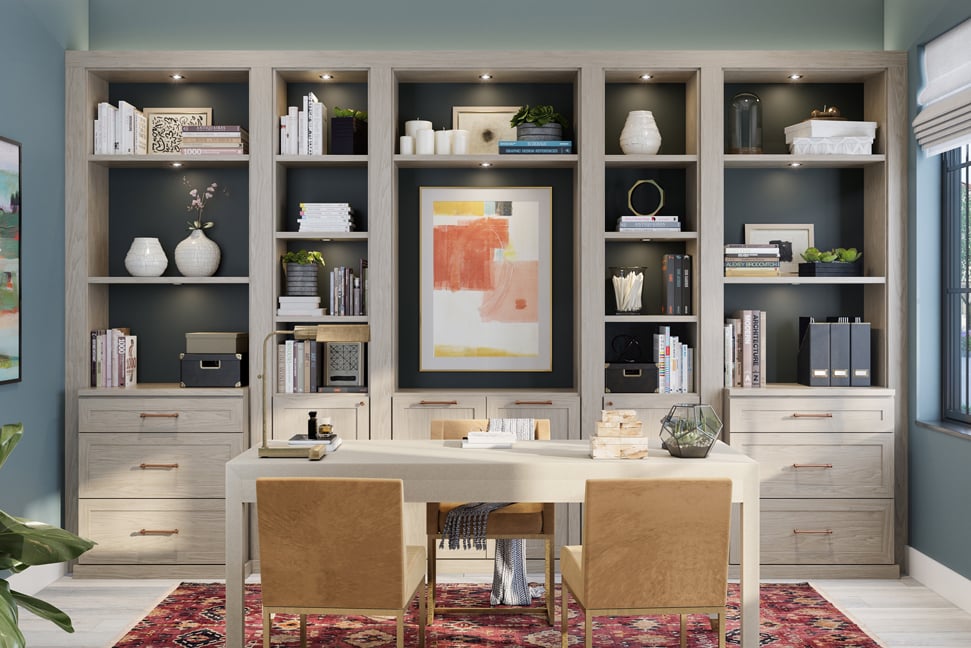 With more people working remotely, home offices have become increasingly popular. And whether you've worked full-time from home for a while or just started several weeks ago, it's good to have a devoted space to work from. The best home offices should inspire productivity and keep things stylish — and you can have it all with the help of California Closets.
"California Closets offers multipurpose workspaces and home offices to meet many needs," shares design consultant Roland Gabriel of California Closets. It's important to have separate spaces for work and home life, stresses Gabriel, ensuring that you have a place free of distractions to focus on tasks and host virtual meetings. "Creating a dedicated space — ideally not the kitchen table — creates a clear delineation between work and home [and] provides for better organization and more efficiency."
There are so many ways to personalize your home office to make it shine. Use customized drawers, inspirational pieces — awards, diplomas, certifications — and home décor and accents, suggests Gabriel. Take inspiration from these crafted home offices featuring California Closets. They'll get you motivated in no time.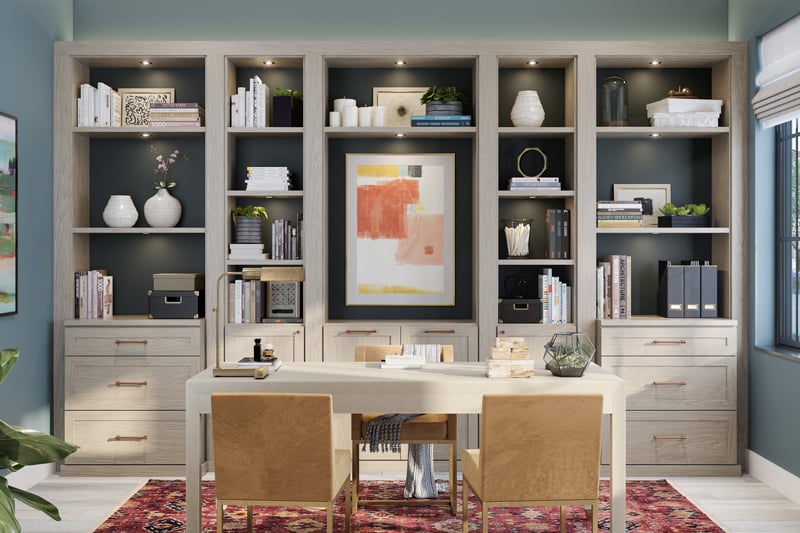 Command Room
The setup of this home office allows for complete focus while offering a gorgeous backdrop for virtual meetings. Lit display shelves show off home accents, personal treasures and important files in stylish folders. Closed storage and file drawers allow for additional space and privacy.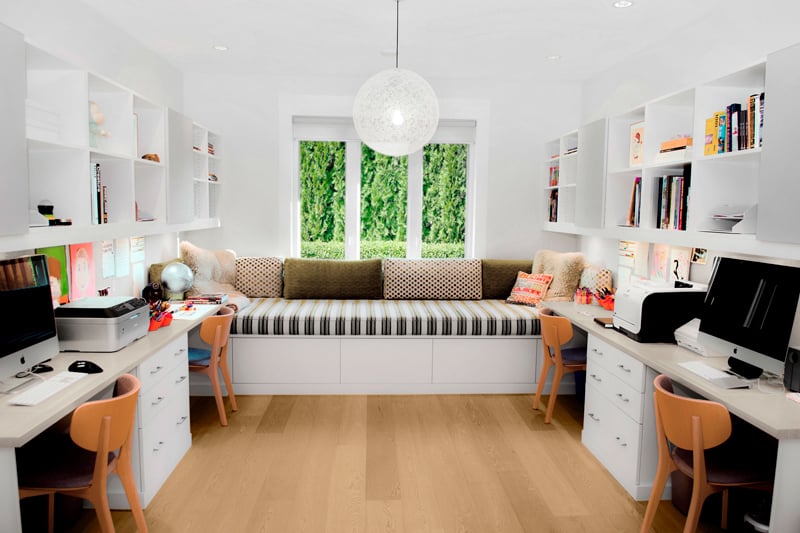 Clean and Bright
Combining comfort and creativity — this home office space creates zones for different activities and uses white to brighten up the room. There are two workstations with white cabinetry, white slab drawers and Cassini Beach countertops. Adjustable shelving allows for flexibility. A cozy nook by the window is perfect for reading and leisure.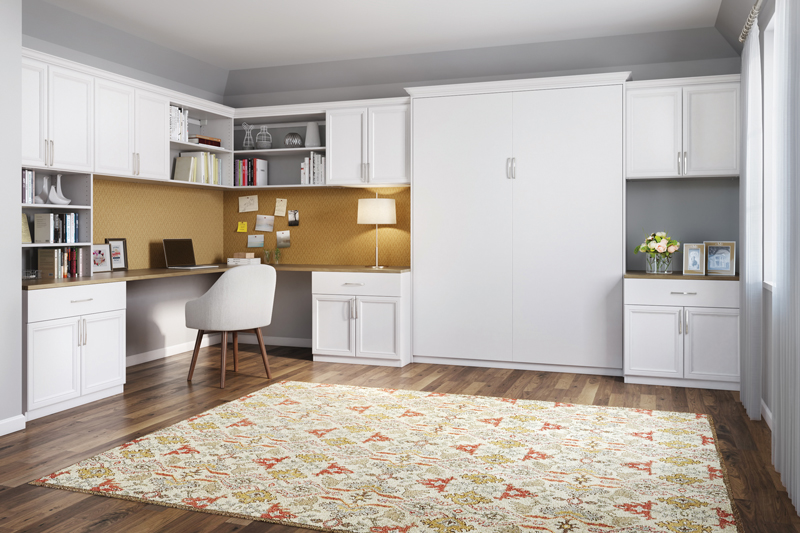 Simple Elegance
This elegant, organized space is part guest room, part office space. It's designed to make room for a neat desk area, ample storage behind light shaker-style cabinetry doors and drawers throughout, and a hideaway vertical Murphy bed.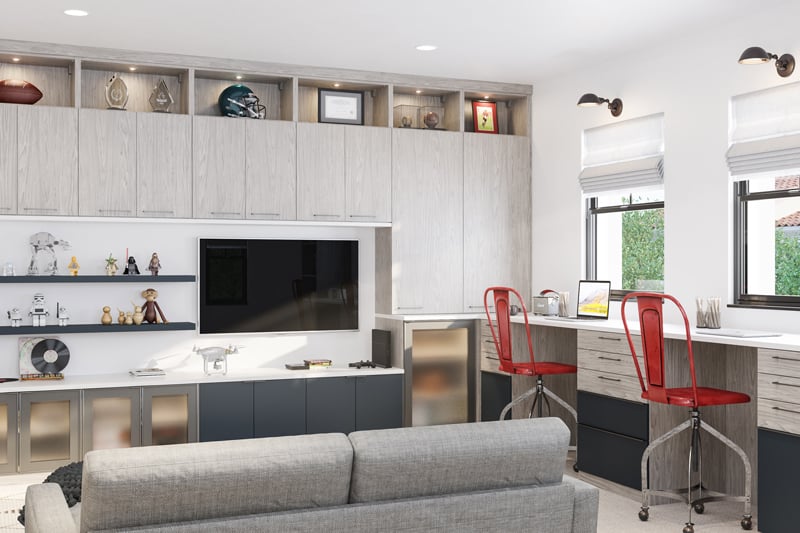 Kid Friendly
Don't forget to include the kids by having flexible, designated workstations for you to use during the day and for your kids to use after school for homework, crafts and assignments. High desk areas, which allow for sitting and standing, are paired with open and closed storage spaces, and a tall bookcase to display items.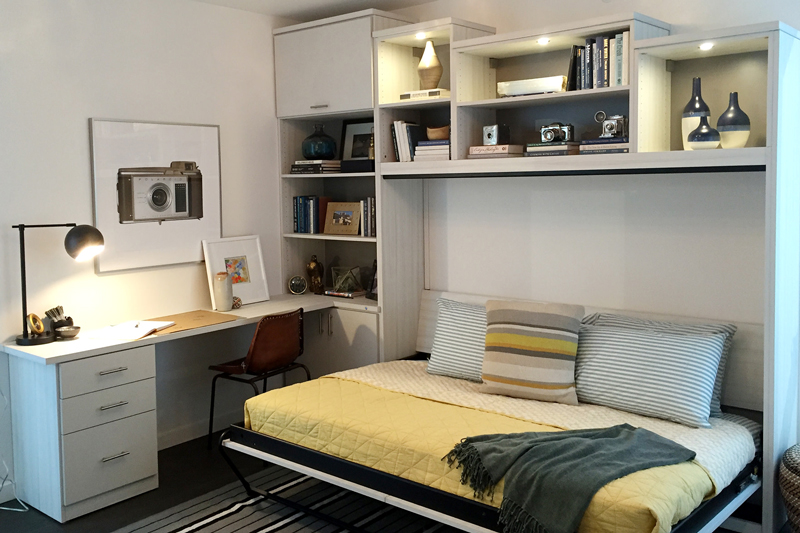 Maximize the Minimal
The best way to make the most of your small space is to make it multifunctional. This room combines an office, creative storage and a full-sized tilt wall bed — featuring Tesoro Tuscan Moon finish, Tesoro Linen slab door and drawer fronts, and stainless-steel decorative hardware.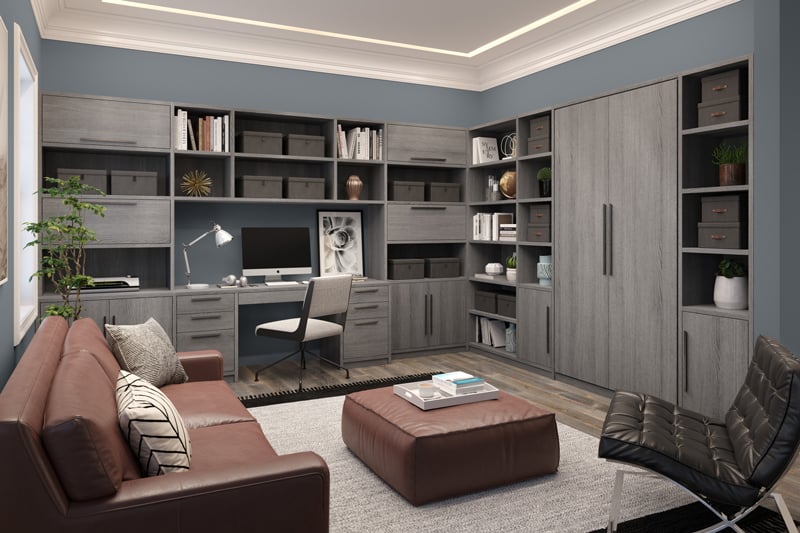 Sleek and Slim
Along with pulling double duty, this guest room/office space — with a soft-motion wall bed and workstation — sports a darker color palette, with gray cabinetry and brown and black furnishings.
Visit the California Closets showroom at Kahala Mall on Oahu or Kailua-Kona on Hawaii Island for examples of home office spaces, as well as finish options. California Closets also offers virtual design consultations to assist you.