7 'Anything but White' Kitchen Cabinets We Love
If you're looking for cabinet inspiration but want an alternative to white, try these styles.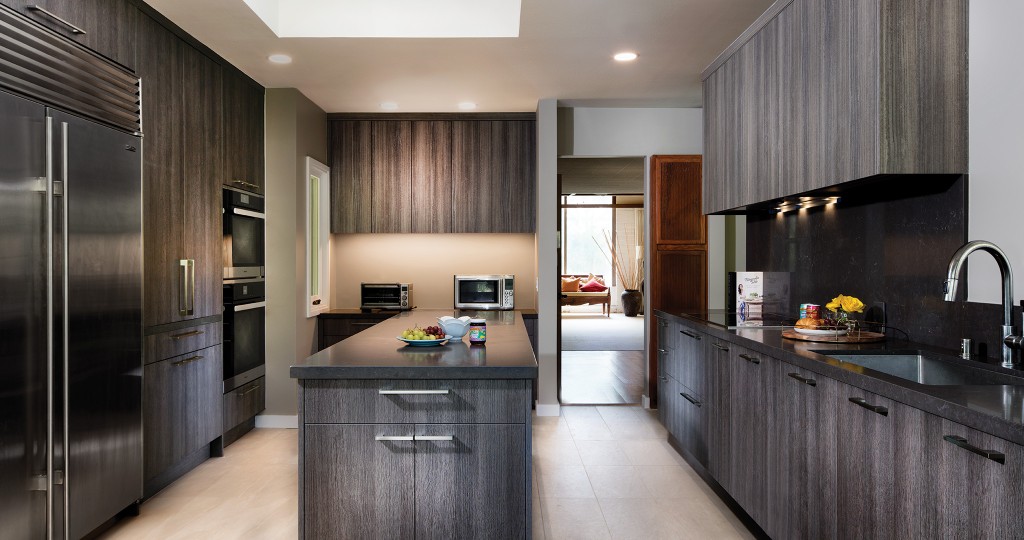 Lots of people love the look of clean, white cabinets in their kitchen, but it's definitely not for everyone. If you're looking for cabinet inspiration but your personal style is ABW (anything but white), check out these custom cabinetry designs.
The Dark Minimalist (featured)
These Downsview textured laminate cabinets in Ascari and Castalina offer lots of storage, leaving the dark piatra gray countertops clutter-free in this no-frills kitchen designed by Details International. Lighter flooring with porcelain tile was installed to balance the dark countertops, creating a stylish, minimalist end result.
The Sleek, Sexy Black Look
These glossy black lacquer ValDesign cabinets from Italy, custom designed by INspiration's resident kitchen designers, are surprisingly low-profile, and their rich, dark surface reflects the wall of moss rock outside the window. Glass cabinet doors and wood-veneer accent pieces, including floating shelves perpendicular to the upper cabinets, skillfully enhance the distribution of mass and light in the room.
The Eco-friendly Bali Bamboo
The owners of this lovely, warm and eco-friendly kitchen selected Bali Solid Lumbercore Bamboo in Caramelized Natural Color from the John Cook Kitchens showroom for their cabinets because of its sustainability. "It's very durable and sturdy," says designer Shelley Tanner of John Cook Kitchens. "It's easy to clean and maintain."
The Southern Charmer
These Bellmont Cabinet Co., 1900 Series plantation-style painted shaker cabinets add rustic character to the overall aesthetic of the home. They're made with a painted finish on medium-density fiberboard core, a material recommended for climates with high humidity like Hawaii because of its resistance to expansion and contraction. Painted door styles like these, in a kitchen designed by John Cook Kitchens, are especially popular in areas such as Manoa and Nuuanu, where homeowners want to reflect the character and classic charm of an older home.
The Two-Tone Natural Wood Look
In this gorgeous ocean-themed kitchen, there's a lot to look at, from the frosted etched designs of stingrays, seahorses and coral on the cabinet doors to the beautiful striped two-tone wood finish of the cabinets (Bellmont Cabinet Co. – 1900 series) and Palo Alto door in Sapele Natural. Glass shelving was included in the display cabinet. Overall, this kitchen by John Cook Kitchens highlights quality materials, ocean-inspired finishes and unique features in a way that makes us want to linger.
The Artsy-Retro Midcentury Modern Homage
Here, retro red appliances and cabinets from Downsview Kitchens pay homage to the 1950s-era house, originally designed by well-known architect Alfred Preis for historical novelist Oswald Bushnell and his wife. After an extensive remodel by new owners Rebecca and Jordan Kandell, the house and kitchen retained its midcentury-modern character, but with a few changes. The cabinetry is stocked with modern, user-friendly features from Details International with custom laminate doors made by Reiner Arts.
The Kitchen/Art Gallery
In this kitchen you'll find a number of subtle, unconventional elements, like the stylish glass cabinet that doubles as both a showcase for the owner's father-in-law's beautiful handmade ceramic pieces and additional storage. While the homeowner receives a lot of compliments about the glass cabinet and the artwork inside, we're also drawn to the warm neutral beige cabinets in two styles: Downsview Moda in Boston Satinwood and Downsview Contrada in custom glazed finish, from Details International.