Hawaii Flowers for Summer Vibes
These 7 tropical island florals are the colors of the season.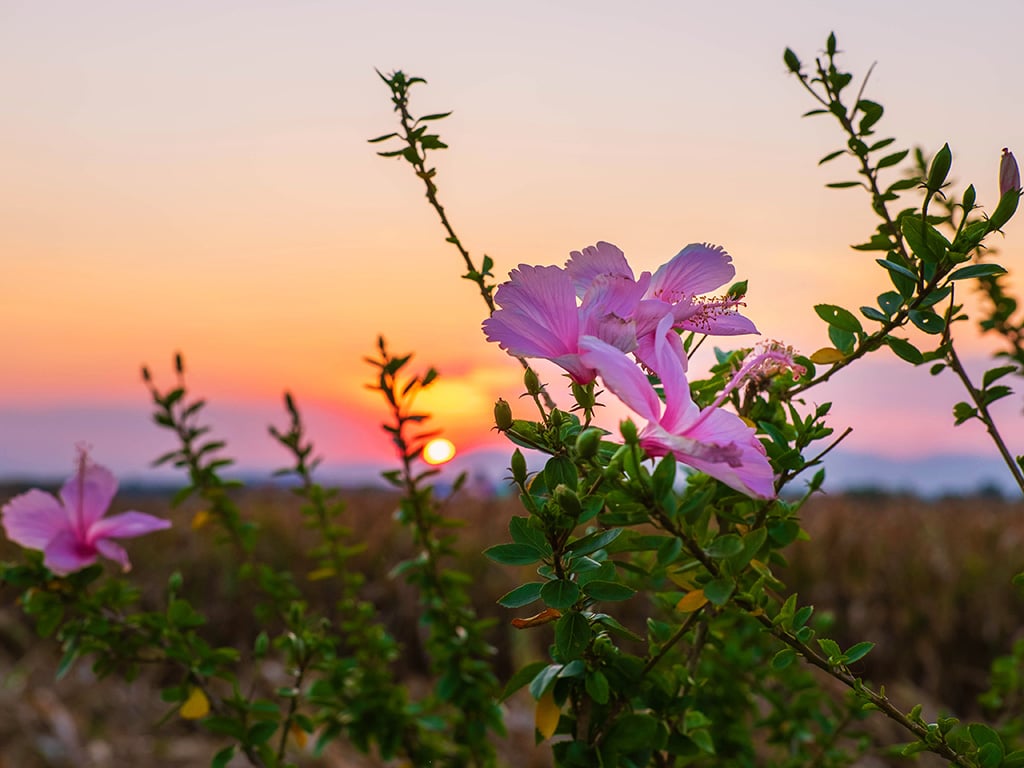 Hawaii residents are no strangers to the beauty of tropical flowers and foliage. Traditionally, Hawaii's homes boasted gardens full of brightly colored flora to be used for making lei, decorating a dining table, or visiting relatives. Breezy trade winds, sunshine-filled days, and regular rainfall create the perfect conditions for the addition of bright flowers to bring color to your home and outdoor spaces. If you are wondering where to get started, we hope you are inspired by these Hawaii flowers for summer.
Plumeria: The perfect flower for the iconic Hawaiian lei
The plumeria tree can be found at homes throughout the Islands and thrives in full sun with very little maintenance. Plumeria is a favorite for making lei and infusing spaces with its delicate fragrance. Although this flower is most recognizably associated with Hawaii landscaping, it is not native to the Islands — but our tropical climate and soil conditions are perfect for easy propagation through branch cuttings. If you are looking for vibrant Hawaii flowers for summer, this one is for you.

Hibiscus: Ideal for garden hedges with a colorful display of blooms
With hundreds of variations of Hawaii's state flower, it's common to find hibiscus blooming in the Islands all year. This fast-growing shrub is relatively low-maintenance and has a high tolerance for pruning. Use mulch around this plant to aid in water retention and ease-of-care. Its large leaves enjoy Hawaii's long sunny days. These leaves provide the perfect backdrop to showcase large, colorful blooms with paper thin petals — one of the best Hawaii flowers for summer that the entire neighborhood can enjoy!
Red ginger: Flowers that aren't really flowers at all
Red ginger was once the most common flower found in Hawaii gardens. They are a hearty plant that, when harvested for their bright red flower-like bracts, are the perfect addition to a tropical flower arrangement. Locals in Hawaii also traditionally use red ginger to decorate their loved ones' headstones because of its long-lasting shelf life. The red cone that we associate with the ginger flower isn't a flower at all, but rather a waxy tract that provides the bedding for the actual tiny white flowers that sprout at the top of the cone. If you're looking for durable Hawaii flowers for summer, red ginger is a good option.
Hydrangea: Perfectly perennial and prolific
Hydrangea is native to Asia and North America, but now has also made its home in Hawaii thanks to its propensity for fertile soil and sunny climate. This shrub provides large bouquets of colorful flowers for your garden and can be grown from cuttings easily. The leaves of the hydrangea will wilt if the soil is not properly watered, especially during the growing season. The flower color is dictated by the acidity of the soil and the same plant grown in two different locations will vary in hue. This shrub is one of the most prolific Hawaii flowers for summer, and will continue to bloom year after year.
Anthurium: An indoor and outdoor delight
The anthurium was introduced to Hawaii in the late 1800s and became a common garden flower within the ensuing decade. In addition to the many types of anthurium found throughout the world, there are a few that can only be obtained here in Hawaii. Colors of the waxy, heart-shaped bracts of this plant include — but aren't limited to — pink, red, white, purple and green. Tiny flowers can be found on the thick spadix protruding from the bract. The cuttings are perfect for those seeking Hawaii flowers for summer home décor and last for weeks in a simple vase. The plant requires watering and will thrive in shady areas of your garden or in a beautiful pot indoors.
Bird of paradise: The jewel of tropical flower arrangements
The bird of paradise plant is a fan favorite when creating a tropical flower arrangement. With its long stem and flowers that provide a myriad of spectacular colors, it's the perfect way to add height to your design. Flower arrangements aren't the only use for this iconic Hawaiian tropical plant — we've seen it in stunning ornamental hair pieces donned by Hawaii's most distinguished women in the music industry. It has also become a darling of design in Hawaii art and has been featured on the wide spectrum of products from wall canvases to aloha shirts. Your array of Hawaii flowers for summer would be remiss without the bird of paradise.
Heliconia: Variations of size and color make this a beautiful theme for a garden
If your goal is to create a tropical oasis of Hawaii flowers for summer in your garden, you could engineer an entire section that is dedicated to the heliconia and still have tons of variation in that space. They are amazing for edging along a stone wall and provide a beautiful screen of incredible colors and thick leaves that point to the sky. Don't limit your imagination to just one variation — with different sizes and colors, there are endless applications for this flora as a stand alone or in concert with others.
Find these Island flowers and more at Koolau Farmers, City Mill and other local garden shops.
---
This post was last updated on June 4, 2023 from an original post published on June 22, 2020.