A Hardworking Home Office
Crafting a comfortable, functional space that'll spark productivity.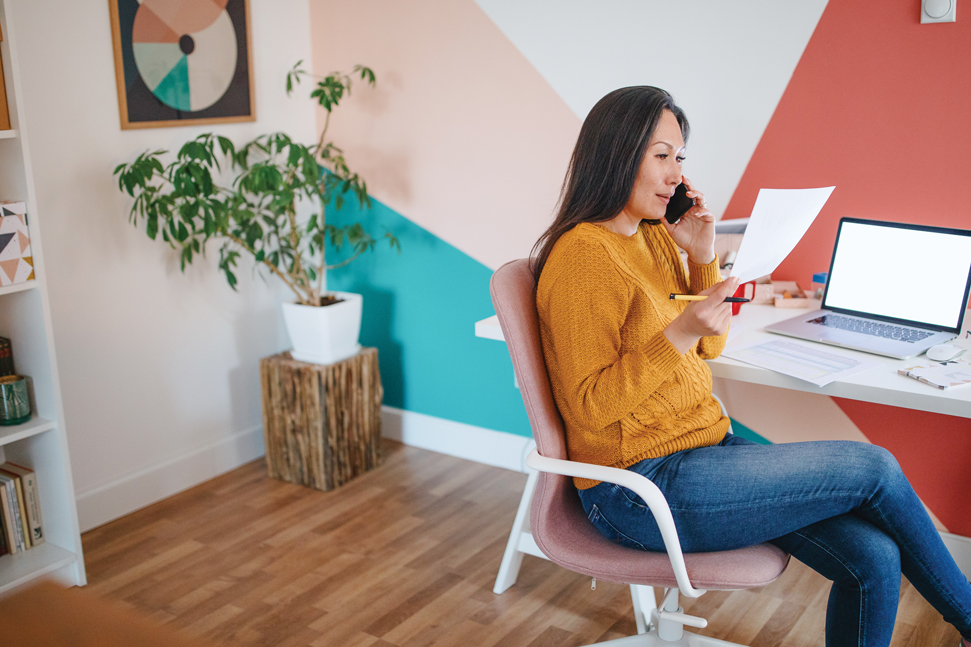 Since we're all working and learning remotely, the need for dedicated home workspaces has skyrocketed. While there are many perks to working from home — flexibility in your schedule, no commute — if you're still operating from a temporary setting, you're not making the most of your new normal. To be successful in remote work and learning, you'll have to set up a proper work environment that's free of distractions and that promotes productivity.
Create a Space That Works for You
For smaller upgrades, you'll want to invest in quality devices and furnishings — from high-end speakers and a desk lamp for Zoom meetings and lessons to an ergonomic office chair for back support and adjustable height desk that can go from standing to sitting.
To create a space for maximum efficiency, consider a mega makeover. Renovating a former guest bedroom or storage room will allow you to map out the home office of your dreams. Creating a functional yet fashionable home office starts with identifying your needs. Perhaps you need a small desk and a larger worktable, storage space or even an in-home studio. Once you have the layout designed, you can work on the finishing touches: comfortable furnishings, task and natural lighting, high-speed internet and a computer.
Down to Business: Financing Your Home Office
When it comes to financing your home office improvements, HawaiiUSA FCU recommends a home equity line of credit, or HELOC, which gives you the flexibility of having cash on hand without having to apply and qualify for a loan. You'll also save money, with lower interest rates available.
The local credit union has seen an uptick in requests for office supplies and electronics purchases, and its staff has been working diligently to meet the needs of its members. Cheryl Vera Cruz, consumer loan officer at HawaiiUSA FCU, has financed some of the office and educational improvements in her own home.
"I recently refinanced my first mortgage to take advantage of the lower rates and to free up some cash flow," says Cruz. "It allowed me to use the extra funds I'd save to purchase computer desks, chairs and other necessities needed for my kids so they both had their own private spaces without distracting each other since I have a kindergartner and a fifth grader."
She adds: "Prices on office supplies increased due to supply and demand, which meant more out of pocket. Thankfully their school provided their students personal laptops and a pocket Wi-Fi for each family so we didn't need to purchase any of those, ultimately saving us a lot. The refinancing gave me the peace of mind knowing I'm in a better financial situation."
Learn more about financing your next home project by visiting a HawaiiUSA FCU branch or its website, hawaiiusafcu.com.