A Hawaii Home Renovation From Pinterest to Pualei
A Hawaii Home + Remodeling reader shares her colorful Diamond Head condo renovation.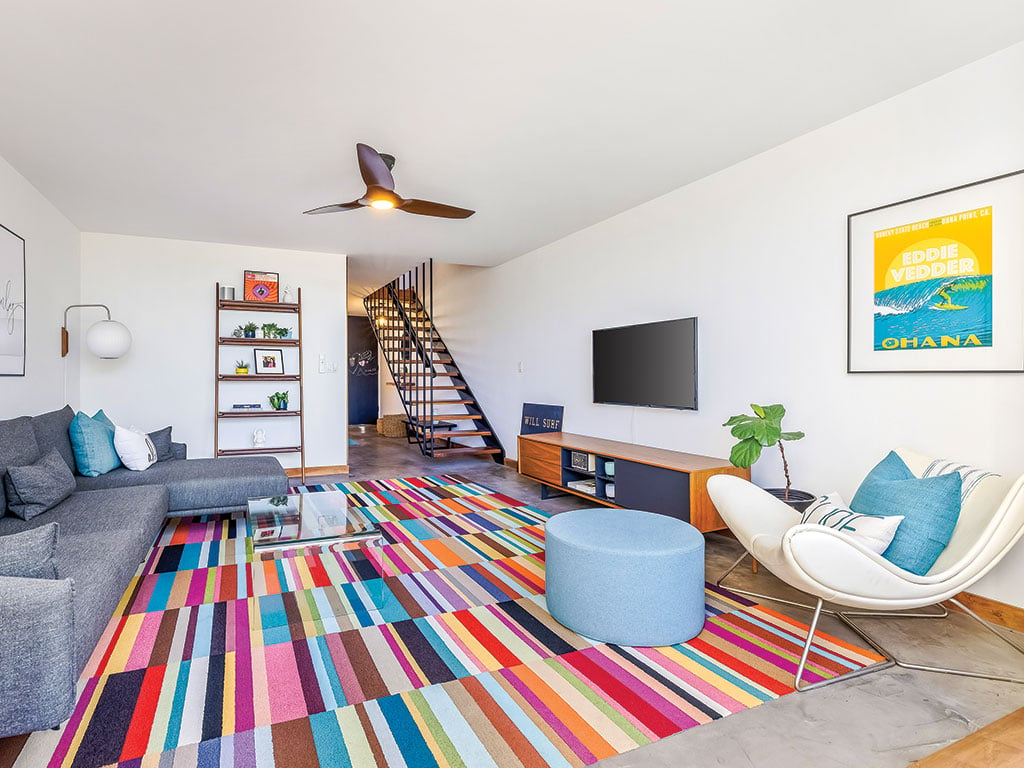 When Elyn Yao reached out to Hawaii Home + Remodeling to share the stunning Hawaii home renovation transformation of her Pualei Circle condo, she aptly described it as a midcentury modern surf shack. "I'm a design enthusiast," she says with a laugh. "Design and renovation have always been a passion of mine."
She discovered Pualei Circle in 2015 while living in Seattle and began manifesting her dream to one day own a condo in the Diamond Head complex. For ideas and motivation, she put together a mood board on Pinterest titled "Surf Shack," gathering photos inspired by her love of surfing and the midcentury modern furniture she had acquired. While on surf trips to Bali and New Zealand, she collected art for her future spaces, and made frequent visits to Greenroom Gallery Hawaii on Oahu for additional prints and pieces.
"I collected surf art and artifacts from my adventures and midcentury modern pieces found on Craigslist and eBay. I just kept collecting, thinking to myself, 'I'm going to curate this art collection and move to that building and make it a surf shack,'" she explains.
In 2018, Yao moved back to Hawaii after two decades on the mainland. She was thrilled when a condo at Pualei Circle became available for purchase. It was an ideal locale for an avid surfer, and the outdated interiors made for a perfect Hawaii home renovation project. She bought the place and enlisted the help of general contractor Reyn Oshiro, and in nine months transformed the two-bedroom, two-bath condo into the home she had always imagined.
Maintaining her minimalist style was important. Yao opted to brighten the walls and ceilings, painting them white to contrast with the condo's concrete flooring and rich walnut accents and furnishings. "When I first purchased the home there was tile on the first floor, bamboo on the second, and different floorings elsewhere," she recalls.
Yao collaborated with Oshiro to create consistency throughout the condo with a monochromatic foundation while adding pops of color and print throughout the space. They replaced all the wood with custom walnut, including the doors, stair treads and door jambs — one of Yao's favorite features. In the master bedroom, a sliding barn door was used to maximize space and functionality while tying the midcentury modern walnut furniture into a cohesive aesthetic.
Exquisite woodwork by Danny Ovryn of Rust and Root is seen throughout the condo, from the AC cover on the lanai to the stately living room console and the vanity in the master bedroom. "He even made me a fin box holder out of walnut as a gift!" exclaims Yao.
Sentimental details make a house a home, and in this Pualei residence, key elements reflect the surf culture near and dear to Yao's heart. From treasured photos taken on surf trips to art prints and surf contest posters, to her prized pink Gerry Lopez surfboard — each piece in the place serves a purpose and holds special meaning.

Pops of Color in the Kitchen

Yao and Oshiro worked with Hawaii Kitchen & Bath to reimagine her kitchen and outfitted it with sophisticated cabinets and countertops. Smeg appliances were chosen to give the kitchen a retro feel, while the floor carpet tiles added a pop of ocean blue as well as functionality. "The floor carpet tiles help with sound-proofing and transmission value, and added a versatile, aesthetic appeal. If you spill wine on the carpet you can pull out one tile without having to replace the entire rug," she explains.
Yao says she has learned how to balance design and functionality while imbuing personality into her decor throughout this inspiring Hawaii home renovation project. "I look at my home as my personal surf/art gallery, and I want there to be a story behind everything," she shares.
We're looking for reader-submitted stories to cultivate creativity and ideas in our community. Do you have a renovation, redecorating or reorganizing project inspired by Hawaii Home + Remodeling? If so, we'd love to hear from you! Send your photos and project information to darlenedc@hawaiihomemag.com.
---
Editor's Note: This article has been slightly modified from the original print version for optimal online reading. To view the full print story, subscribe to our digital edition or pick up your copy of Hawaii Home + Remodeling at one of our partner locations.