A Small But Mighty Townhouse Renovation for Two
This townhome remodel packs a punch with a complete kitchen and bath transformation.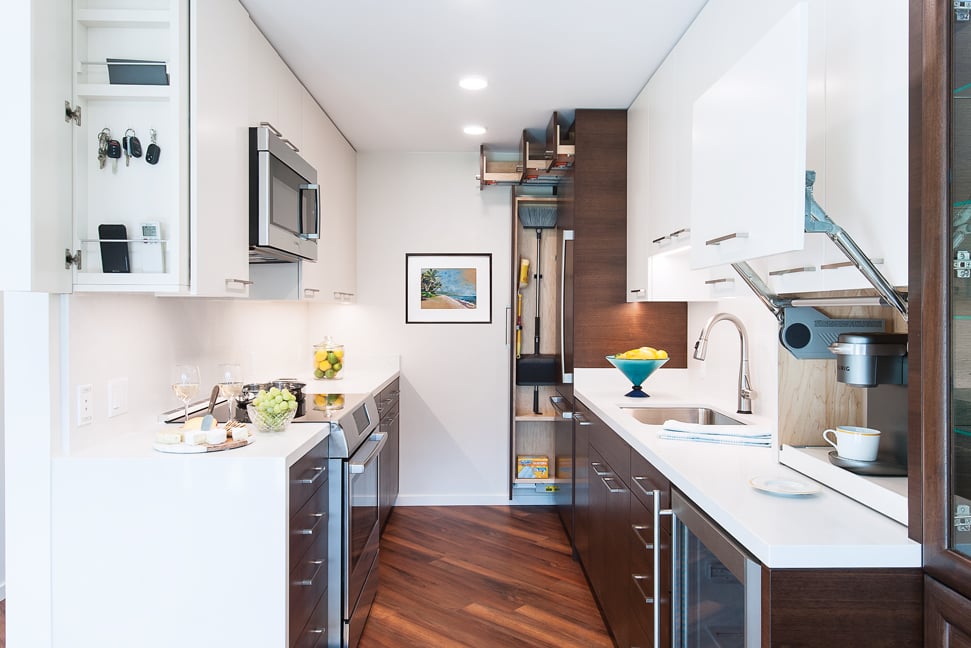 This makeover completely changed the outdated, underutilized spaces in this townhouse. The owners had wanted to update their home to not only reflect their tastes, but also their needs through the years as they age in place.
The home renovation team involved interior designer Dian Cleve and architect Jack Levin at Hawaii Modern Architecture and Design, John Sutton of Sutton Construction, and Jesse Makainai of Makainai Cabinet Systems. The overall vision for the home was driven by what will support the owners' lifestyle, shares Cleve. "Everything is clean, very modern, but at the same time, there is a comfort level that's very important."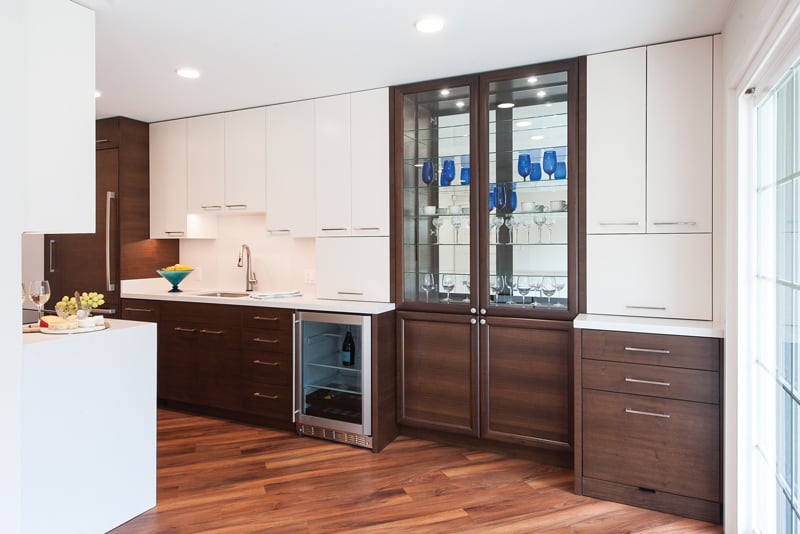 The 700-square-foot home underwent a stunning transformation while retaining its original footprint. All doors, hardware and trim were replaced, the walls were painted a warm white, surface mounted LED lighting was added, and carpets and flooring were removed to make way for waterproof planks — which were placed on a diagonal to create longer lines and movement.
With the carpet gone, another major concern was noise reduction, especially with the home being on the bottom floor. To remedy this, an acoustic engineer was hired to work with the team to come up with an acoustic solution that would help minimize the noise from above.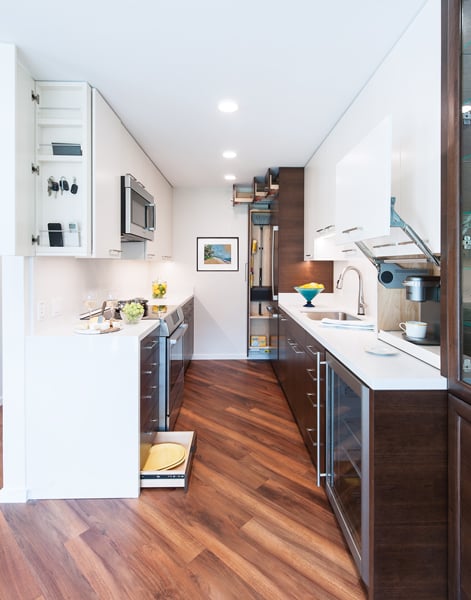 In the kitchen, the focus was to make the most of the existing space while incorporating high-end materials, from the quartz countertop to brand-new Bosch appliances from Ferguson Bath, Kitchen & Lighting Gallery. The two-tone custom cabinetry by Makainai Cabinet Systems brings a balance of brightness and warmth while offering great storage.
"My cabinet capacity was probably at least doubled thanks to my outstanding cabinet contractor," shares the homeowner. Numerous space-saving features can be found throughout: display and storage cabinets for dishes, collectibles and pots; pullouts and slots for spices, knives and utensils; an appliance garage; toe-kick drawers for platters; and a hidden pullout pantry to hide cleaning supplies.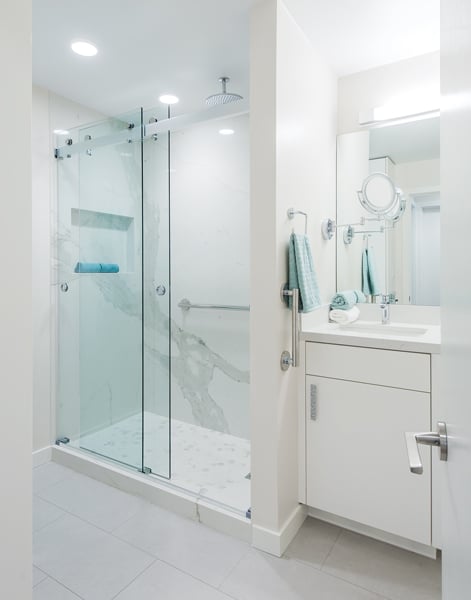 Above the refrigerator — which is paneled to match the cabinets and blend into the kitchen — are creative sideway drawers for more storage. "It's a matter of using every possible inch as cleverly as we could," shares Cleve. There's even a special upper cabinet in the kitchen to safely store and hide keys, wallets and phones — while also charging them.
Along with the kitchen, the bathroom was remade into a clean space that's packed with storage and style. "The bathroom is now a masterpiece," shares the homeowner. There's a sleek walk-in shower with glass frameless double bypass barn doors that make it easy to step in and out.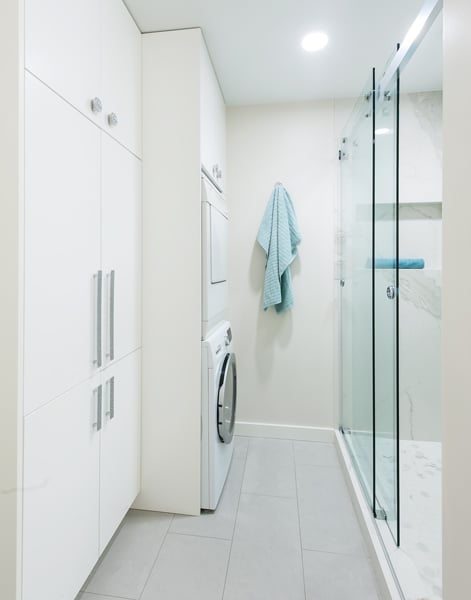 Careful planning and material selection was important in this space, shares Cleve, such as custom cabinetry to create ample storage and large format porcelain tile to minimize maintenance. "I wanted a shower that had the least amount of grout lines, so we went for the full panel sheets of porcelain tile, which gave it a beautiful spa feeling," adds the homeowner.
This renovation has helped reimagine this townhouse into the owners' forever home with all the tools they need to age in place comfortably. "I love all the storage space — there is never too much," says the homeowner.