Add a Splash of Color to Your Outdoor Space
The ideal pool caters to all the senses, delighting homeowners in and out of the water.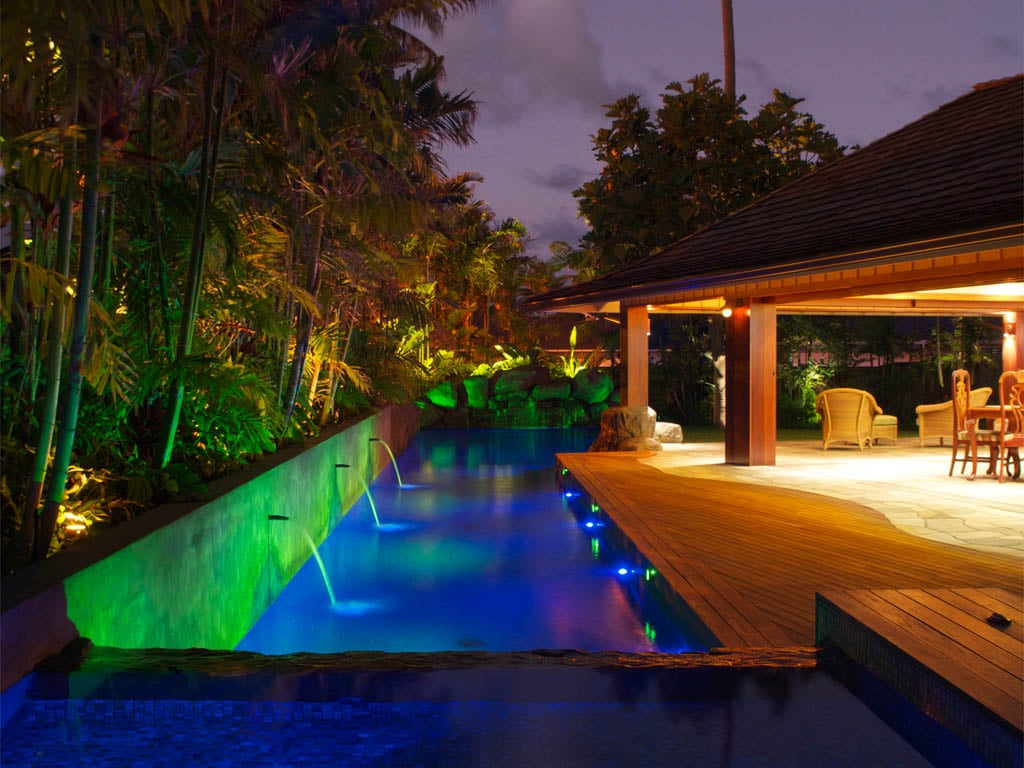 The addition or renovation of a pool or spa adds tremendous value to any property. "The cookie-cutter, hole-in-the-ground pool is out," says Clifton Crawford of C & J Construction, "my team makes pools that are attractions." With more than 20 years of experience building pools, spas and water features, Crawford says that an easy way to add allure to any pool is through the strategic use of color. This can be as simple as the colored plaster lining the pool's interior or the installation of multi-colored lighting below the surface of the water.
Whether you use your pool space for entertainment, exercise or relaxation, we've got some expert tips that make sure your pool doesn't go unnoticed — day or night.

TILES
Homeowners concerned about cost can easily enhance their pool or spa by installing a tile ring around the perimeter of their pool's interior. While a completely tiled pool can be somewhat expensive, a tile ring visible just above the waterline adds an eye-catching layer of detail and color that reflects across the surface of the water. Tile Warehouse supplies a competitive range of materials locally. Tile prices range from a few dollars per square foot to two-hundred dollars per square foot. Crawford recommends 6-inch by 6-inch tiles for easy maintenance.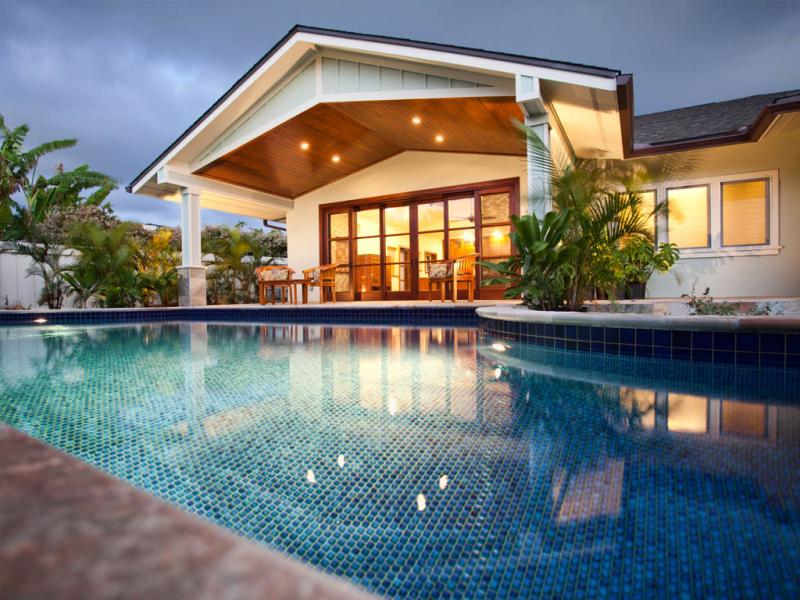 MOSAICS
The addition of decorative tiles or mosaics to a pool's interior is a signature touch for a new or renovated pool. Whether it's azure blue tiles that remind you of your Kauai honeymoon, or the koi mosaics that add a bit of whimsy to your Japanese style garden, decorative tiles can make the difference between something new and something distinctly you.
PLASTER
If you opt out of a tile pool interior and decide to go with a plaster pool bottom, consider the ways different hues of plaster can set the tone for your poolscape and yard. White and other light-toned plaster reflect the colors of the sky and accentuate tinted pool lights at night — creating a dazzling display of color after sunset. Black and other dark plaster colors will create a tranquil, deep ocean hue that better conceals stains and grime.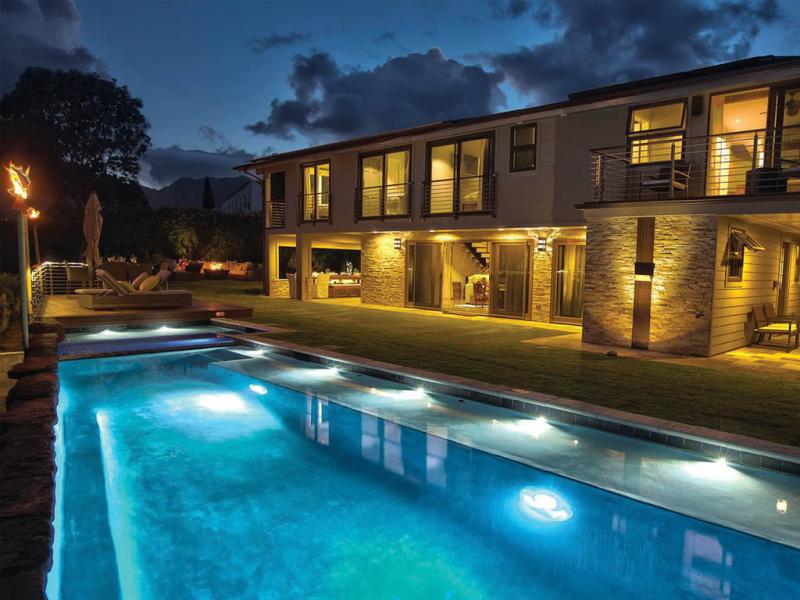 LIGHTING
By installing underwater colored lights, a nighttime pool can be transformed into a font of tranquil ambient lighting or a source of visual entertainment through color-changing light sequences. "I try to create an attraction versus a trend," says Crawford, who likes to incorporate colored lights and fire features in his pool projects because they create fun and help homeowners enjoy their outdoor spaces at any hour. Light fixtures from Jandy or Tentare, available in LED models, can spotlight your custom tile mosaics or saturate your pool with a range colors.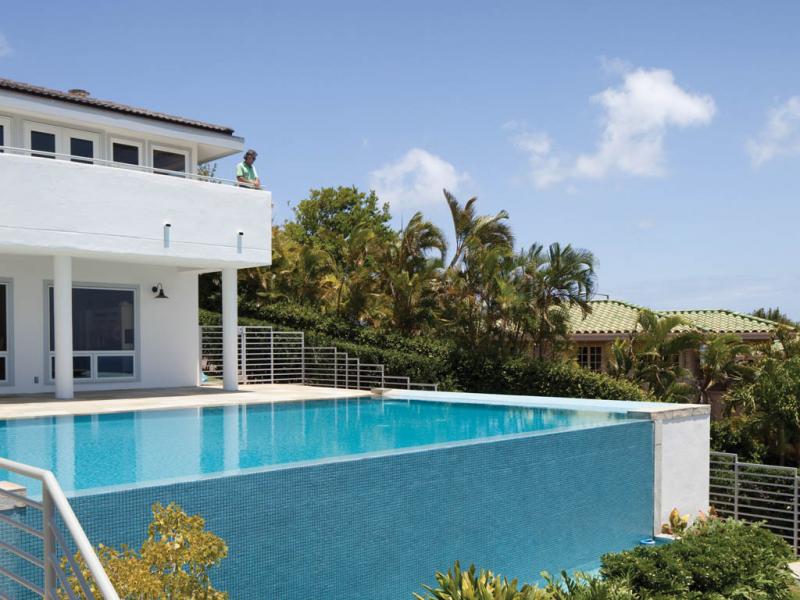 WATER FEATURES
"Pools that incorporate sound and light are especially attractive and generate more use by homeowners," says Crawford. A water feature as simple as a spout shooting water across the pool creates a relaxing soundscape and adds a playful element to colored lighting. Geobunga provides a tasteful selection of water fountains, pottery and statues to add personality and intrigue to any pool space.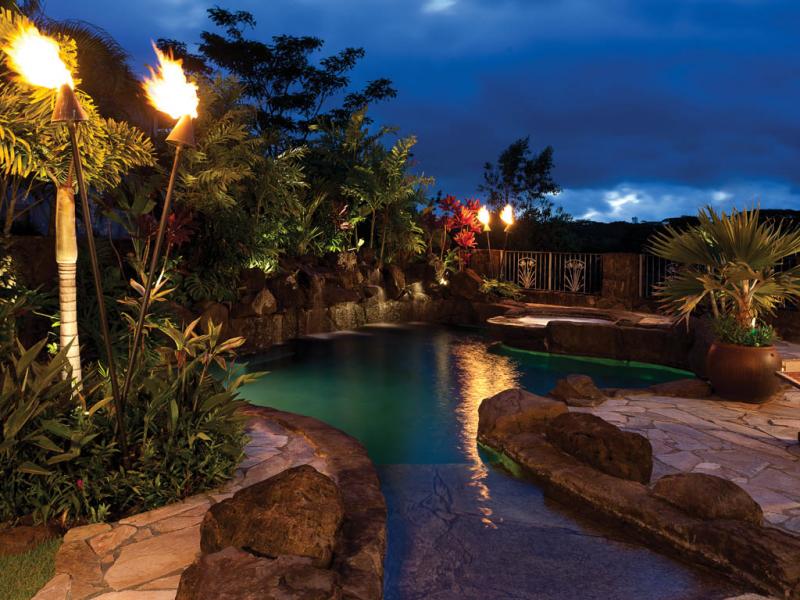 LANDSCAPING
"Most of our landscaping choices for pool areas are contingent on tile color," says Steve Dewald of Steve's Gardening Service. "White-colored plants complement the deep-blue illusion of tiled pools—striped and variegated white foliage makes pool color pop." In order to achieve striking contrast without rubbish, avoid small leaf plants like Banyan trees or Bougainvillea — plants that demand constant upkeep — and instead use palms, variegated flax and multi-colored Ti and Ginger plants to accentuate your pool's surroundings. These hardy plants shed very few leaves and usually withstand splashes from salt or chlorine pools.
"Do your homework. Even though landscaping seems secondary to a pool, it's worth your while to consult with your landscaper before pool construction. That way, you can be certain landscape and pool complement each other." — Steve Dewald, Steve's Gardening Service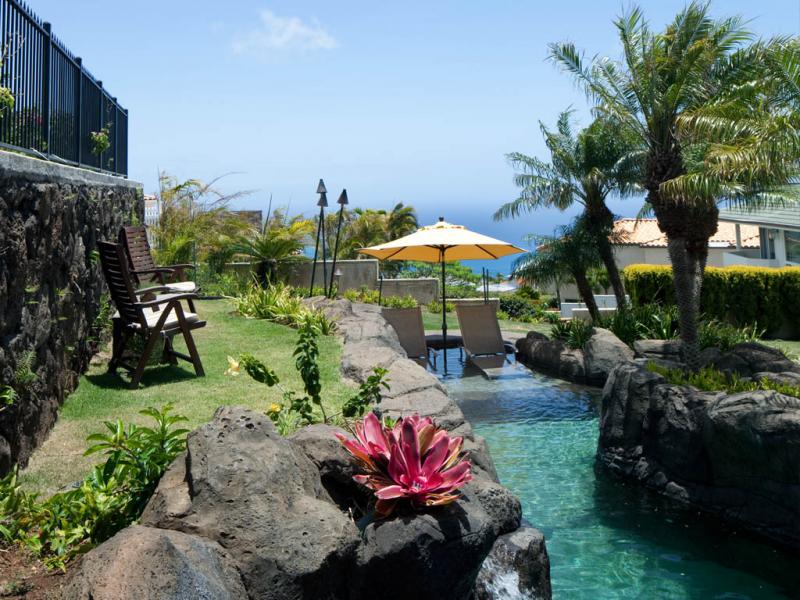 WHAT WE LOVE
Fire pits add a flair of resort luxury to your pool and draw non-swimmers outside.
Larger, shallow entries into pools are not only aesthetic but practical.  They create a serene area for sunbathers in lounge chairs but also space for kids and non-swimmers to wade and cool off.