Aging in Place: What You Need to Know
Expert tips for making your home comfortable, safe and accessible as you get older.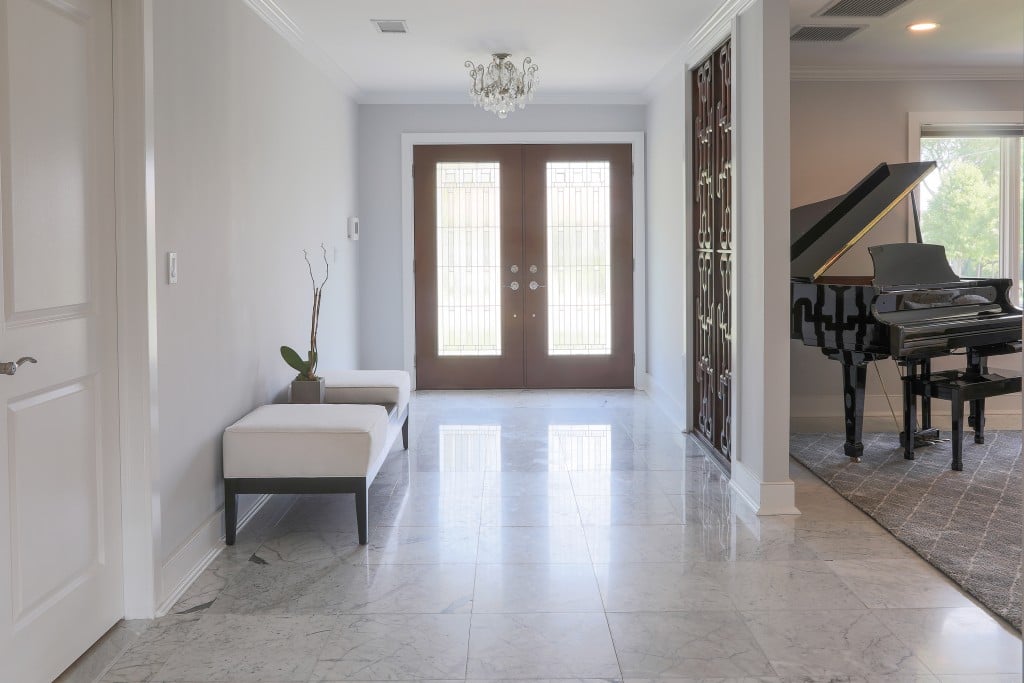 Aging in place comfortably is a big factor to consider whether you plan to remodel your current house or design a new home, or if you think you may become a caregiver for a loved one. Even if you aren't yet worried about mobility issues for yourself, certain modifications can and should be made early in order to spread out the work (and costs) and to ensure your home is ready in case of emergencies.
Marshall Hickox, a certified aging-in-place specialist and president of Homeworks Construction, suggests putting in blocking for grab bars and handrails so they can be easily installed later, as well as making sure there is adequate lighting throughout the home. "Proper lighting is essential because as we age, our vision is just not as adaptive as in our youth," he says. "Added lighting helps us to avoid pets, scrunched up carpet or runners, things left on the floor by the grandkids, and even remembering that there is one more step at the bottom of the stairs." And make sure light switches aren't too high, adds Craig Yamagishi of Wasco Builders.
Beyond making it easier to see, lots of natural light can help in other ways. "It is good to have large windows or wide glass doors to see outside. Elders can easily feel disengaged and allowing the outdoors into their room is refreshing and good for their emotional health," says Bonnie Oda, a certified aging-in-place specialist with Graham Builders. Windows should be at the right height for those in wheelchairs, especially in the bedroom. "It's a real nightmare when someone's in there and can't see out the window," Yamagishi says.
Passageways, such as doors and halls, should be at least 36 inches wide to accommodate not only wheelchairs, but strollers and large furniture. Yamagishi suggests pocket doors, not swing doors, to maximize space. You should also minimize trip hazards, such as raised transition strips in the flooring, bulky door thresholds and slippery floors, Hickox says.
Whether or not you're currently in a wheelchair, it's important that the house can accommodate one both inside and out. "Wheelchair ramps can take up a lot of space and we do make sure if one is needed in the future that we have the space for it" in the designing phase, Hickox says. "Sometimes we plan for it to be off a deck in the rear of the house, so we make sure we design in such a way it's accessible more easily from the parking area and we have a nice wide access to it."
Oda says that overall, good design should be barrier-free. For example, zero-step or low-threshold showers with adjustable-height shower heads can allow for more independence. Elevated toilets are better for those with bad backs or knees. Closets should also have adjustable levels. Though they're more expensive, Yamagishi says specialized pull-down pantries can be worth it for those who want to live alone. You can also install a secondary sink at a lower height if you're not ready to transform the entire kitchen but want to be inclusive in the meantime.
Many of these changes can end up coming in handy when emergencies arise. For instance, "What happens if a teenage son sustains an injury playing soccer," asks Oda, but his bedroom and bathroom are upstairs? "Graham Builders recommends having an accessible full bath and a room that can serve as a bedroom on the ground floor." Oda also suggests having a room for a caregiver nearby. "I provided hospice care for my father and currently oversee the care of my 87-year-old mother who broke her hip last year. Both have illuminated that having an extra room/space within eyesight of the elder's bed is very helpful."
Yamagishi says that stairlifts, such as those from Access Lifts of Hawaii, can also be a great option since they're cheaper than elevators, and all you really need to prepare in advance is an electrical outlet at the bottom of the stairs. "People kind of look at them as humbug, but when they realize they can have a chair going up the stairs, they realize how important that is," he says.
In general, "a lot of it is just common sense," Yamagishi says. "Go through every obstacle you can imagine and eliminate them. … When you're doing a custom home, you can do anything." His rule is safety first, then convenience, to make a home as practical and welcoming as possible.
"While the client themselves might not be on in years, they will have parents, grandparents and older visitors to their home," Hickox says, "so making it safe now makes sense too."