All in the Details
H-1 Construction highlights important things to consider for your next project.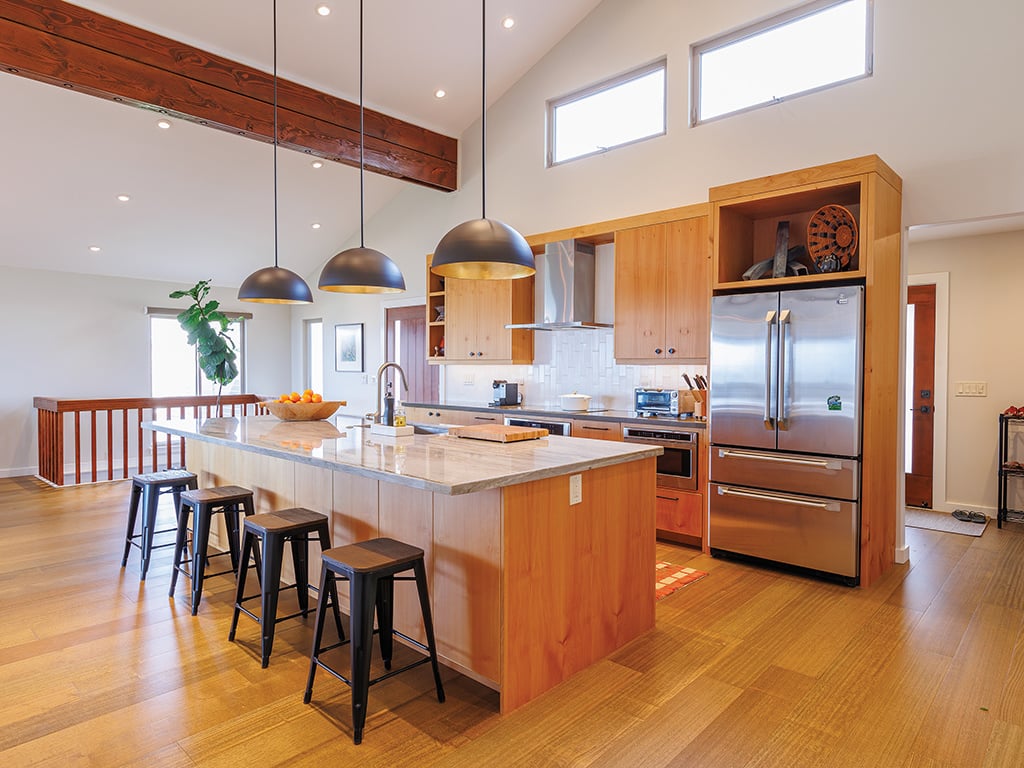 Whether building a new home or embarking on a major renovation of your existing spaces, the process is bound to be complex. H-1 Construction, a local family-owned general contracting firm, is keen about informing clients of the many details that go into creating a home that fits their ever-evolving lifestyle. The company operates under the motto, "Building with integrity through transparency."
H-1 Construction owner Lucas Stensland shares his expertise on key things homeowners may not think about when building or renovating their homes.
Preparing upfront
According to Stensland, homeowners often don't realize the amount of time and commitment that's required on their part to ensure a successful project. "Clients really need to understand that they need to do their homework," he notes. "They need to pregame before going into the building specifics."
Planning your expectations and budget carefully at the start is vital to finding the right contractor to work with you to achieve your desired results. "A budget-friendly cost generally involves more time and investment made by the client," explains Stensland. Some cost-saving contractors, for example, may require homeowners to handle their own finishing selections, procurement of materials and more.
Stensland says "don't keep your budget hidden" when vetting contractors. "Be sure to also check eCourt* Kokua, the Hawaii State Judiciary website, to see if contractors have any open or pending lawsuits before committing."
Working with your project team
Selecting a licensed and "bondable" contracting company and understanding the various roles of key personnel on your project are also important, says Stensland. An architect, building official and general contractor are responsible for very different parts of the process.
"H-1 Construction handles all architectural and design services to help streamline the process," explains Stensland, "which in return saves on confusion and stress for the client."
Keep your project team aware of your long-term plans for the home. Stensland advises letting team members know whether you plan to pass it down to the next generation or expect to stay in it for two years before selling. Or maybe you want to rent it out for additional income. Functional considerations and design will be adjusted as well, Stensland explains, for those who are homebodies vs. those who spend more time out and about.
Being as detailed as possible will help your architect with drafting thorough plans, your building official with getting the right permits and your general contractor in executing the vision of your home to a tee.
"We work with a hybrid of what the client wants, needs and fits within the allowable budget," shares Stensland.
Communication and documentation
Homeowners should also note how project communication is managed with their contractor of choice. Stensland recommends asking questions such as: "How are delays and scope modifications handled?" and "How does the general contractor prevent delays?"
H-1 Construction conducts weekly site meetings with the project team and keeps the client regularly updated on construction progress. Once completed, H-1 staff works with the project team on final documentation such as filing the required notice of completion and lien waivers. And clients are offered one-year workmanship warranties and 10-year structural warranties as part of H-1 Construction's services.
For more information on H-1 Construction, visit h1constructionhawaii.com.