An Australian-Inspired North Shore Home is Designed for Coastal Durability
Partnering with Pacific Source, the family chose stylish modern materials that could withstand harsh weather.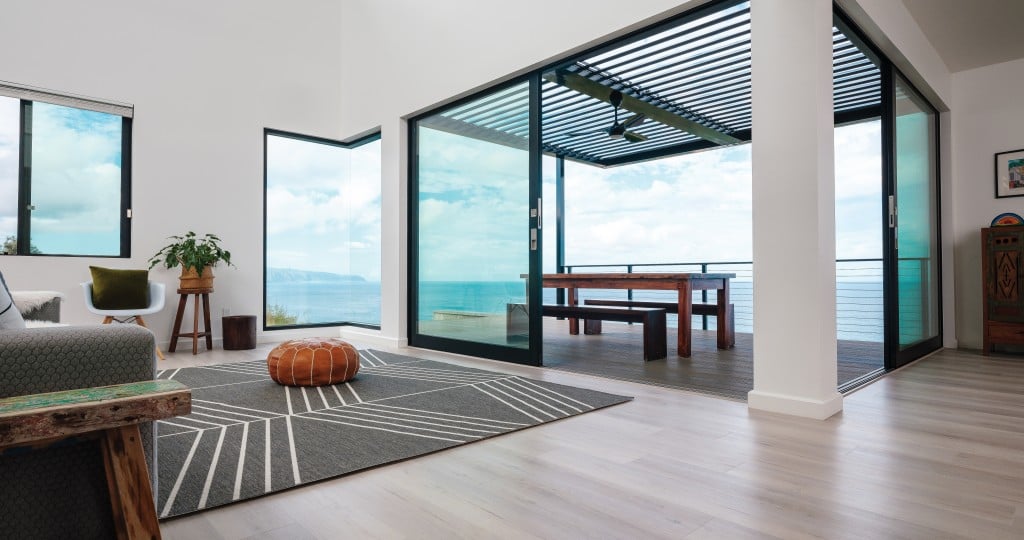 Coastal living brings a lot of joy, but it's not without its hazards. For this surf-centric family, designing their dream home that could withstand winters on Oahu's North Shore demanded calculated risk and creativity.
The home's design takes cues from Australia's popular "kit homes" — steel frame homes known for their prefabricated parts, affordability and ease of production. "We have traveled there many times and love the modern designs found in Australia," says the homeowner. Hardy building materials include precast cement, steel and natural wood throughout the interior and exterior of the home. Partnering with Pacific Source, the family chose to outfit their home with Fleetwood Windows & Doors, a brand known to withstand the corrosive effects of sun, salt and sideways rain.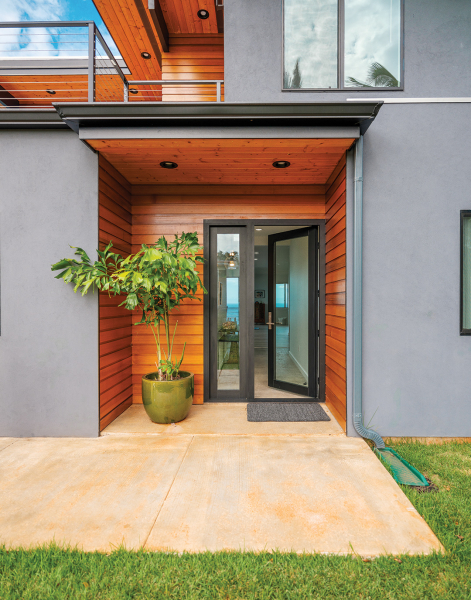 "We fell in love with Fleetwood's black aluminum product line because it matched our Australian-inspired design," says the homeowner. "We went to the showroom at Pacific Source and really liked the hardware, as well as the feel of them. They glide smoothly and function well."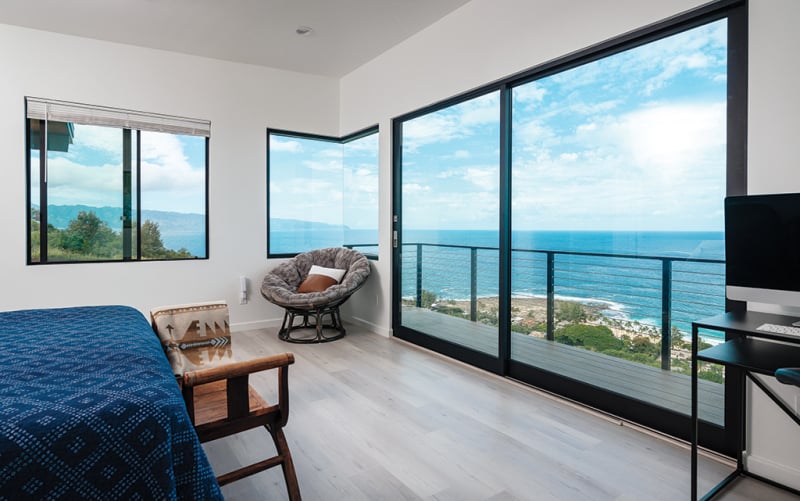 Says Chris Ayers, consultant at Pacific Source: "Fleetwood specializes in large and high-performance openings that can withstand gale-force winds and wind-driven rains." The black window and door trim — a rising trend among modern home enthusiasts — is achieved by dipping the aluminum frames in a chemical bath that fortifies the metal's porous surface with an anodized finish. This onyx-colored treatment is more durable than painted aluminum trimmings. Inside each window and door frame are two layers of glass and an interior air barrier. The glass is treated with low emissivity (Low-E) glass coatings to prevent UV rays from penetrating the interior of the home, which was built by Landmark Builders.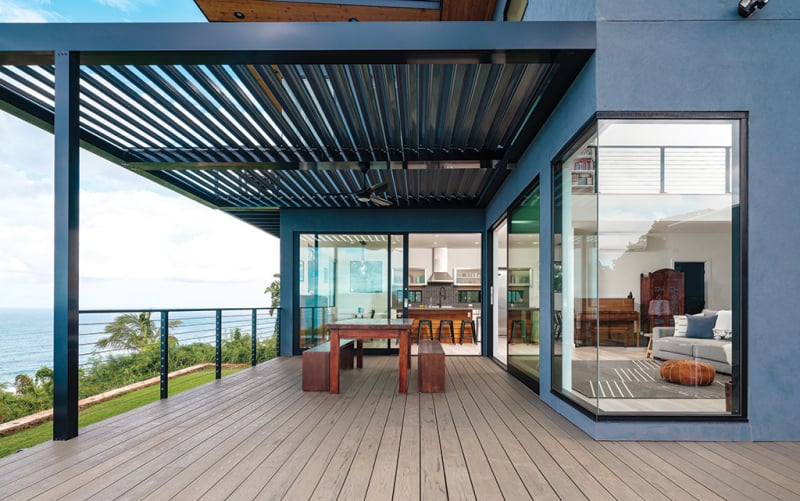 The minimalist window and door frames provide a maximalist view of the North Shore's most famous surf breaks. Multi-slide stack doors open onto an ocean-facing deck covered by a pergola with mobile slats. Located high on the wall of the great room are a set of clerestory windows that allow natural light to pour into the two-story living area from above.
Despite the home's generous use of concrete and metal, the overarching design articulates a sense of airy lightness that brings outdoor living in. Natural wood furnishings, glass light fixtures and soft textiles add warmth and a sense of intimacy to the spacious floor plan. Today, the family enjoys spending time in the shade of the lanai or swimming in the infinity pool that juts to the edge of the terraced lot. "We've lived in this neighborhood for many years," says the homeowner, "but moving in felt like moving home."