An Outdoor Kitchen Makes the Most of a Family's Living Spaces
This Hawaii Kai family of four enjoys entertaining and eating outside with their new outdoor kitchen.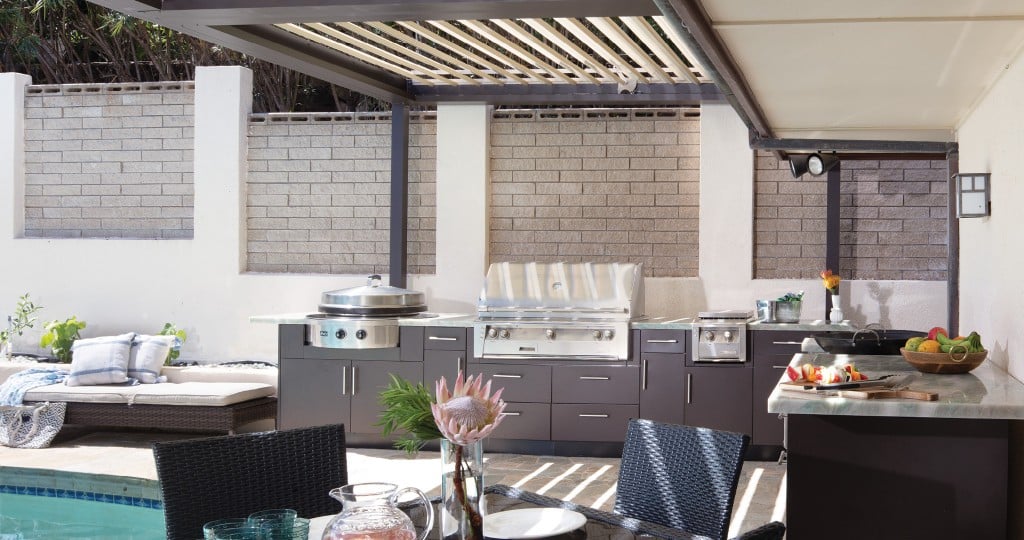 Hot dogs and burgers on the grill, while the roars of the football gameplay on TV. Mongolian barbecue dinners for guests visiting from out of town. A date night for two under the stars, complete with surf and turf on the menu. This family of four truly enjoys the indoor-outdoor living of their Hawaii Kai abode.
"Cooking and eating outside always feels like a special occasion," says Jay Hudson, who shares that his family made the move to the east side two years ago to be closer to their children's school. The gorgeous view from their new locale, plus the additional space and pool, made the move to their new home even better. "It's the perfect place for the kids to have friends over."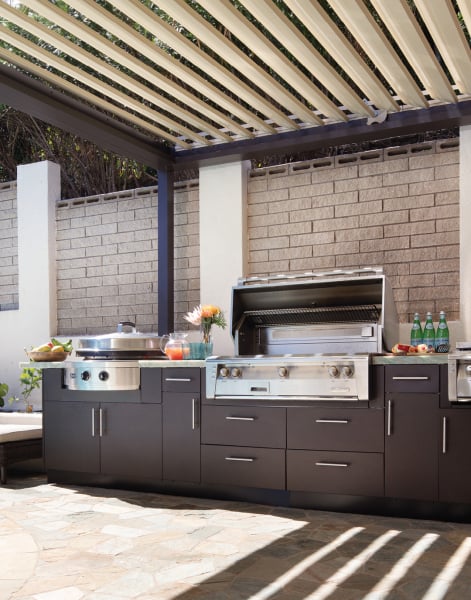 For the Hudsons, an outdoor kitchen was a must to continue their love of entertaining and eating outside at their new home. The couple had put together an outdoor kitchen at their previous house themselves but found it to be very difficult. "We made mistakes that an expert wouldn't make," shares Hudson. Learning from that experience, they reached out to Details International to help them this time around. "Details International truly guided us and the project from our initial ideas to a finished project," he adds.
"Everyone congregates in the kitchen. If the kitchen is outside, everyone can spread out and enjoy the cool evening air while the kids swim. It's a social space."
— Jay Hudson, Homeowner
The first step was to decide where the outdoor kitchen would go — it had to be close enough to the pool with easy accessibility to the inside kitchen. The homeowners then shared the components they'd like to have in their space. "We wanted a large grill, Mongolian barbecue, and, if possible, side burners," says Hudson.
Details International outfitted the kitchen with Danver stainless steel outdoor kitchen cabinets with a Hampton door style in Java II color. "It gives you a kitchen that looks like an indoor kitchen and feels substantial," shares Luke Anderson of Details International. The cabinets are equipped with storage space and accessories of their own, including a hidden space for trash and recycling bins. "This hides your rubbish, so you don't need a big ugly trash can out when you're entertaining." The cabinetry is topped with a granite countertop.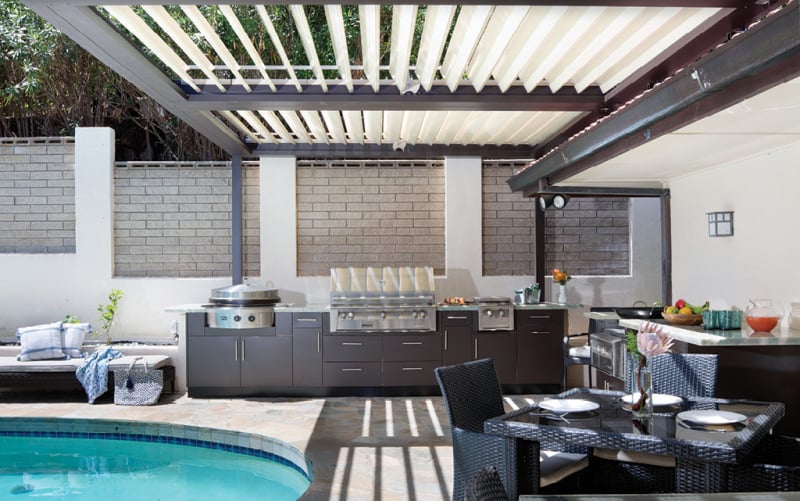 Grilling and barbecue elements were seamlessly incorporated into the layout, one of the main features of the kitchen. The kitchen has a 42-inch Alfresco grill with double side burners for steaming or frying; 30-inch versa burners for the 22-inch Alfresco wok; and an EVO grill that's perfect for Mongolian barbecue. The grills were key to the space, says Hudson.
"The 42-inch Alfresco grill is a high-quality gas grill," shares Anderson. "If you look at the grill, you can see a little drawer on the front. This drawer is to put wood into, so you don't have to miss out on the smoky flavor of barbecue."
The homeowners absolutely love their new outdoor kitchen, making the most of their home's indoor-outdoor living spaces. "Everyone congregates in the kitchen. If the kitchen is outside, everyone can spread out and enjoy the cool evening air while the kids swim. It's a social space," says Hudson. "We also added a shade that can open or close as needed for rain, sun or stars."