Bearing Great Fruit
Sharon's Plants inspires a community of home gardeners.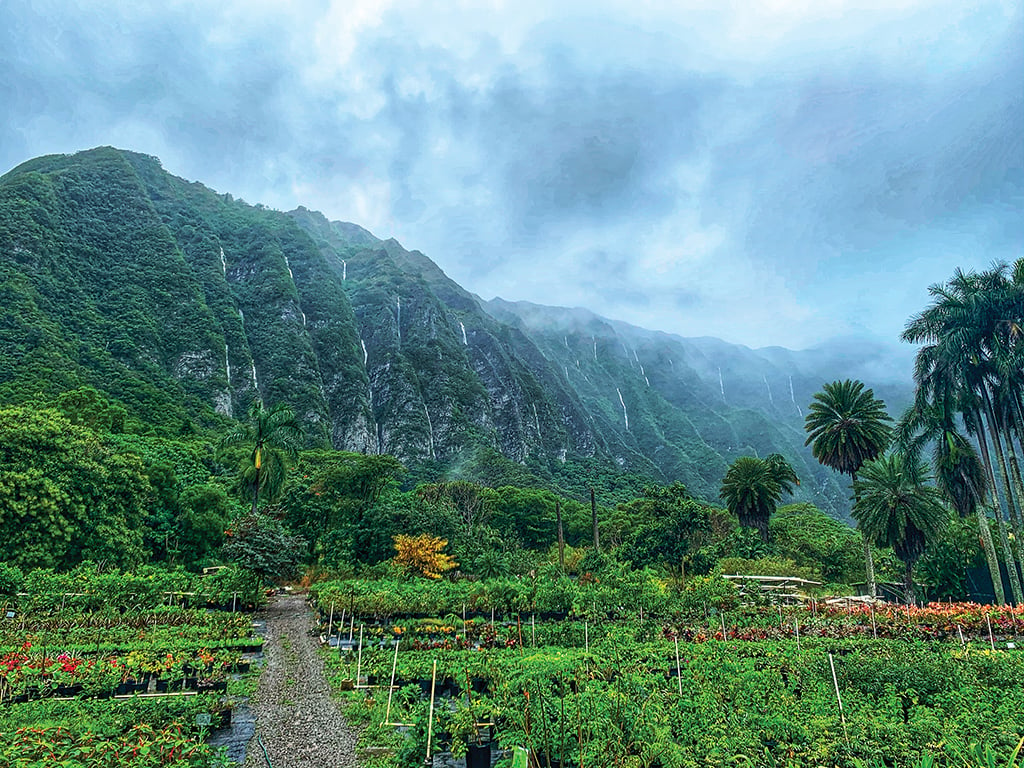 In the heart of Waimanalo, Sharon's Plants drew attention across the island during the COVID-19 pandemic, when more people began embracing the idea of cultivating their own fruit trees at home. They flocked to the 20-acre farm and caused traffic along the typically quiet roadways surrounding the nursery just to get in on the growing trend.
"It was a crazy phenomenon," says Robin Petersen, daughter of Sharon Petersen, who founded the nursery in 1977. She notes that at the peak of the fruit tree fad between 2020 and 2021, Sharon's Plants sold roughly 250 trees per week — some of their bestsellers included mango, lychee and avocado.
"There are thousands of yards with fruit trees now," she says. "They all have their own food source. It's a blessing and I'm so happy."
Sharon's Plants has long been a treasured local spot for finding a wide range of plants, trees, flowers and more. The family-run company — Petersen grew up in the business and has been at the helm since her mom's recent passing — is also a valuable community resource, part of what Petersen describes as a "win-win" network of expert growers in the Waimanalo area.
Fruit trees have become one of the most sought-after products as homeowners rediscover their beauty and benefits. Sharon's Plants carries semi-dwarf fruit trees for easy startups. Petersen offers a wealth of advice for visitors seeking fruit trees for their own yards, and is planning to bring in key experts for workshops to share their knowledge with clients, too.
She notes that a prominent Island contractor worked with Sharon's Plants to select fruit trees for a newly built affordable housing complex on Oahu. It's that kind of give-back relationship that she appreciates and one that she encourages other homeowners to consider when picking up fruit trees for home projects. The impact of a single fruit tree can be truly inspiring, says Petersen.
"What better gift in Hawaii to give than a basket of mangoes and avocados grown in your yard?" she asks. "There's plenty to go around."
---
All About Fruit Trees:
A Q&A With Fruit Tree Expert Jamie Nahl
When: Saturday, April 29, 2023
Times: 10 a.m. and 2 p.m.
Location: 41-614 Waikupanaha St., Waimanalo, HI 96795
Free and open to the public, hosted by Sharon's Plants. Whether you are a fruit tree novice or a longtime expert, join the community in talking story with Jamie Nahl of Plant It Hawaii. She has decades of knowledge about fruit trees and will share her expertise on understanding which trees are best for each geographical zone in our Island home, as well as answer any questions you may have about the fruit trees you dream of growing.