Beds & Mattresses
Where to start with getting a good night's sleep.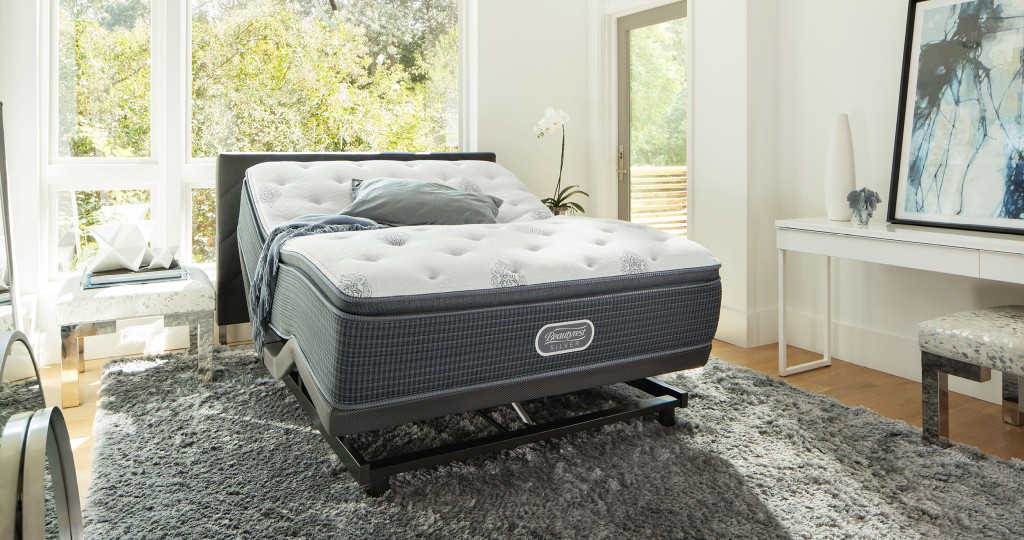 This article is part of the 2019 Hawaii Home + Remodeling Resource Guide, an organized and vetted directory of professionals, services and shops in the building and home improvement industry.

Sleep — or lack thereof — affects everything from your mood and overall health to your memory and even weight. A good bed and mattress can help you get the quality sleep you need. But where do you start? There are so many different mattresses to choose from, depending on your specific needs and wants. Memory foam mattresses provide great hip and shoulder support for side sleepers, while gel mattresses are good for dissipating body heat more effectively. Pillow tops are perfect for those who love an extra cushiony sleeping space; adjustable bases help target sleep-related problems including muscle aches, back pain and sleep apnea, to name a few.
SlumberWorld carries all of the above and more, and its helpful staff can aid you in selecting the right mattress for a good night's sleep. One popular option is the Simmons BeautyRest SmartMotion Base. Available in three models, the SmartMotion Base is more than a place to rest your head — it's like a personalized masseuse and sleep guardian. The adjusting bed profile allows for the most comfortable position for reading, watching TV and, of course, sleeping. Select models also feature a six-level massage system for both your head and feet. And, with the split-king setup, a quick push of a button on your partner's remote will raise their head for a more peaceful, snore-free sleeping position. The SmartMotion Base is all about getting your sleep, your way.
---
ABC Furniture
94-137 Leoleo St.
Waipahu, Oahu
677-2322
abcfurniturehawaii.com
America's Mattress
98-107 Kamehameha Hwy.
Aiea, Oahu
486-5253
americasmattress.com
Ashley Furniture
HomeStore Hawaii
455 Ward Ave.
Honolulu, Oahu
791-3300
4360 Malaai St.
Honolulu, Oahu
421-3100
98-107 Kamehameha Hwy.
Aiea, Oahu
485-3450
707 Manawai St.
Kapolei, Oahu
792-3202
ashleyfurniture.com
Bali Aga
307D Kamani St.
Honolulu, Oahu
593-9030
bali-aga.com
Bali Boo Furniture Store
201 Kapaa Quarry Pl., Ste. 401
Kailua, Oahu
263-8400
baliboohawaii.com
Bali Moon Hawaii
66-935 Kaukonahua Rd., #4
Waialua, Oahu
637-6666
balimoonhawaii.com
BedMart Mattress Superstores
Nine locations statewide
alohabedmart.com
Big Island Beds
1081 Manono St.
Hilo, Big Island
808-965-0405
bigislandbeds.com
C.S. Wo & Sons Ltd.
702 S. Beretania St.
Honolulu, Oahu
543-5388
cswo.com
California Closets
75-1006 Henry St.
Kailua-Kona, Big Island
808-327-3810
4211 Waialae Ave., Ste. 1070
Honolulu, Oahu
739-7300
californiaclosets.com
Creative Furniture
943 Waimanu St.
Honolulu, Oahu
591-2833
creativefurniturehi.net
Da Kine Mattress & Furniture
531 Waiakamilo Rd.
Honolulu, Oahu
841-5500
94-155 Leoole St., B205
Waipahu, Oahu
671-5500
dakinemattress.com
Discount Furniture
345 N. Nimitz Hwy.
Honolulu, Oahu
535-9695
hawaiidiscountfurniture.com
Elite Discount Furniture
900 N. Nimitz Hwy.
Honolulu, Oahu
200-3871
98-820 Moanalua Rd.
Aiea, Oahu
744-8089
elitediscountfurniture.com
FLEXA Hawaii
885 Queen St., Unit B
Honolulu, Oahu
955-4434 | flexahawaii.com
HomeWorld Furniture
944-Kinoole St.
Hilo, Big Island
808-935-2917
73-5593 Maiau St.
Kailua-Kona, Big Island
808-326-7591
374 Hanakai St.
Kahului, Maui
808-877-5503
702 S. Beretania St.
Honolulu, Oahu
543-5300
98-107 Kamehameha Hwy.
Aiea, Oahu
488-1065
707 Manawai St.
Kapolei, Oahu
792-3201
homeworld.com
Honolulu Furniture Company
Honolulu, Oahu
597-9193
honolulufurniturecompany.com
Island Mattress
Honolulu, Oahu
428-7577
islandmattress.net
Macy's
12 locations statewide
1450 Ala Moana Blvd.
Honolulu, Oahu
941-2345
macys.com
Mattress Firm
10 locations statewide
mattressfirm.com
Maui Bed Store
380 Huku Lii Pl.
Kihei, Maui
808-280-9524
11 Ulupono St.
Lahaina, Maui
808-463-7270
mauibedstore.com
Red Knot
702 S. Beretania St.
Honolulu, Oahu
543-5360
4360 Malaai St.
Honolulu, Oahu
421-3190
98-107 Kamehameha Hwy.
Aiea, Oahu
485-3460
707 Manawai St.
Kapolei, Oahu
792-3203
redknothawaii.com
Sears
Five locations statewide
sears.com
Sleep Number
4460 Kapolei Pkwy.
Kapolei, Oahu
638-3972
sleepnumber.com
SlumberWorld
944 Kinoole St.
Hilo, Big Island
808-935-2917
73-5593 Maiau St.
Kailua-Kona, Big Island
808-326-7591
374 Hanakai St.
Kahului, Maui
808-877-5503
702 S. Beretania St.
Honolulu, Oahu
545-3555
455 Ward Ave.
Honolulu, Oahu
791-3300
4360 Malaai St.
Honolulu, Oahu
421-3111
98-107 Kamehameha Hwy.
Aiea, Oahu
487-1291
707 Manawai St.
Kapolei, Oahu
792-3204
slumberworldhawaii.com
Swan Interiors
2103 W. Vineyard St.
Wailuku, Maui
808-243-3316
swaninteriorsmaui.com
The Aloha Boy Platform Beds
Kapolei, Oahu
927-5347
thealohaboy.com
The Mind's Eye Interiors Inc.
1068 Limahana Pl.
Lahaina, Maui
808-667-7748
mindseyeinterior.com
Worldwide Furnishings
970 Queen St.
Honolulu, Oahu
593-2127