Between the Lines
Geoffrey Lewis of Nuuanu-based Geoffrey Lewis Architect Inc. discusses why designing a house where everyone can be comfortable is as aesthetically pleasing as less-accessible living spaces.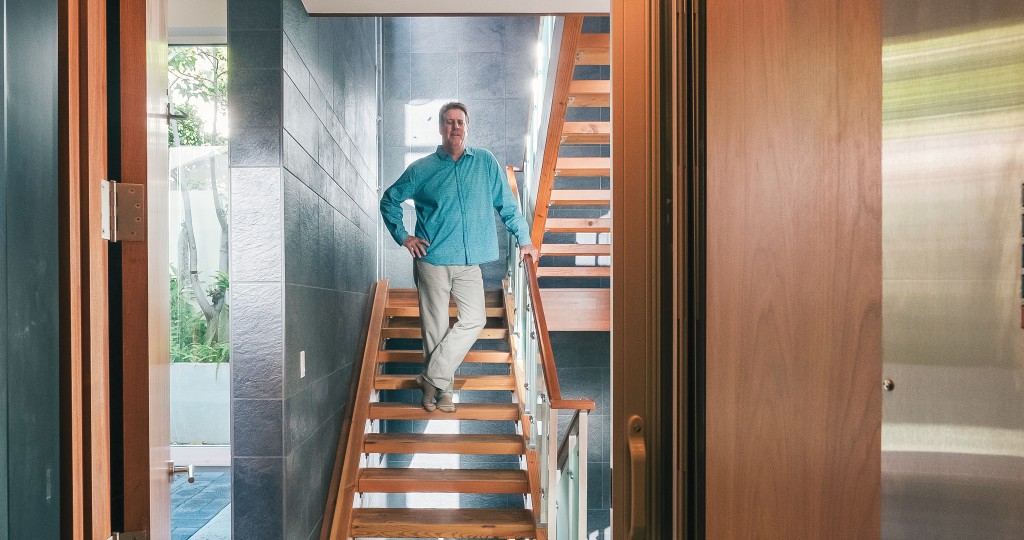 Geoffrey Lewis designed this house to accommodate the needs of different generations. An elevator is located across the wide hallway from the staircase, giving family members accessibility options.
A home can be designed to age in place in without showing signs of growing old. Many of the design features that accomplish this support the atmosphere of a welcoming home, with open spaces, wide hallways and seamless transitions, all of which are necessary for aging in place. Architect Geoffrey Lewis tells Hawaii Home + Remodeling more about this universal design.
HHR: Why is universal design important in Hawaii homes?
GL: With land costs so high, extended family living is critical to retaining our local kids in Hawaii as well as managing the cost of living. Generational housing requires universal design.
HHR: What is the difference between universal design and aging in place?
GL: They carry similar qualities. You're looking for ease of use, mainly so someone of an older age could get around and it would be barrier free. For a younger generation, you would probably do the same. You make it easy for them but, in reality, it would be nice to do that for everyone. For example, rather than a step up or down between indoor and outdoor spaces, if you do a flush transition, someone who is aging in place will use it but it's also good for guests, as there is no tripping hazard.
HHR: When should homeowners consider universal design?
GL: A lot of times what we do is prepare. We put blocking in the bathroom walls so that at some point, you could install grab bars or a flip-down seat in the shower. When the need comes, you're prepared for it. Elevators add up in cost, but we put a shaft in so the elevator is ready to be installed, but for now they use it as closets on each floor, or storage. It's good to plan ahead.
HHR: What do you like about universal design?
GL: I like the psychological effect of it for people who are aging. I think it allows them to age gracefully. Having seen the barriers people deal with, it is amazing the stuff we take for granted. The beauty of universal design is it allows everybody a sense of equality, a sense of ease of use. Barrier free is really a pretty amazing thing.
HHR: What are the long-term benefits of universal design?
GL: I think it's really important for architects and/or designers to broach the subject with clients and discuss the idea with extended family. It should be part of the conversation early on and planned for. It allows you to stay in place and not have to move. It's easy to plan for and can be generational. It allows families to be able to maintain a property and pass it on to generations because they've solved the barrier issues.
HHR: How do you blend universal design so it is architecturally appealing?
GL: I think it's really easy. It blends in harmoniously. A stair is something someone has to deal with. When you go barrier free or universal, it creates a very natural flow. There's something very experientially nice about it.
---
Five Must-Have Features of Universal Design
Minimum 3-foot-wide hallways and doorways.
Flat transitions between spaces — no steps or thresholds.
Gradual ramp pathway in place of steps.
Blocking behind walls in the bathroom to install grab bars and flip-down shower seats, if and when needed.
A 6-foot-by-7-foot closet that can later be turned into an elevator.