Blue Oasis
Beautifully designed outdoor kitchen centers around water.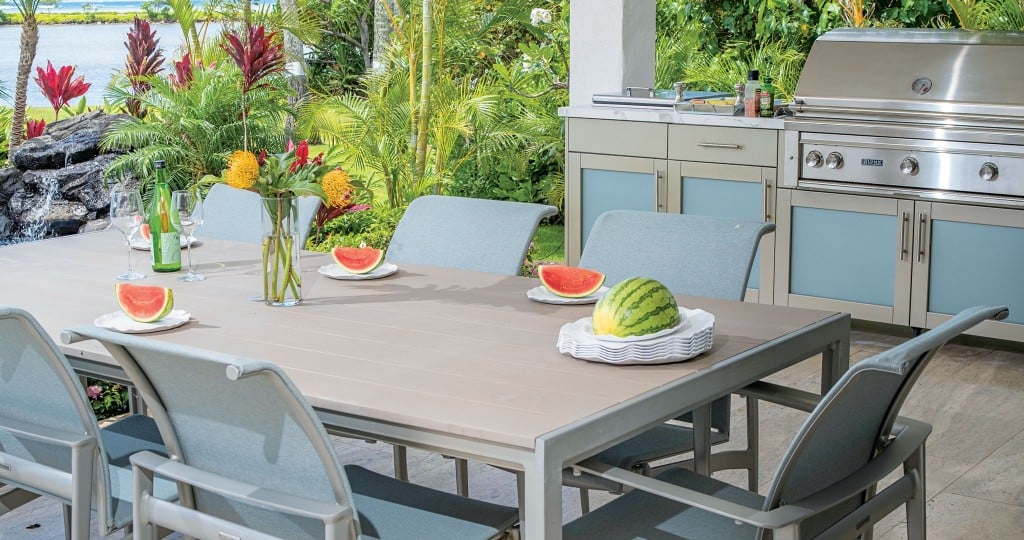 A sparkling azure lagoon, swaying palm trees and lush, tropical greenery are the backdrop for this home's outdoor kitchen in Hawaii Kai. The homeowners, who decided the home needed to be completely rebuilt, first focused on their outdoor kitchen.
The homeowners enjoy entertaining family and friends, and were seeking a designer who understood their needs. The homeowners, who wanted a well-designed area to accommodate entertaining with ease, connected with Glenda Anderson of Details International to team up with their contractor to design the outdoor space.
"It was beautifully designed and executed, and we were very fortunate to be invited to participate in the project," says Glenda.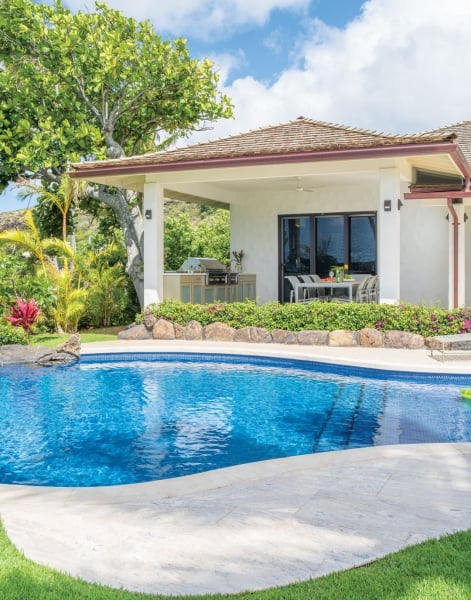 As someone who also enjoys cooking and entertaining, Glenda was able to design a comfortably spacious area that seamlessly flowed from the home's indoor kitchen and down to the pool and yard.
Glenda and the Details International team used Danver stainless steel outdoor kitchen cabinets to house the homeowners' barbecue equipment. She also anticipated the need for counter space and Dekton's scratch-resistant countertops were used, which can also withstand harsh lighting without yellowing.
To accommodate all the appliances, the lanai was extended from its original size. Details International used Brown Jordan outdoor furniture. This unique Danver/Brown Jordan collaboration makes it possible to coordinate outdoor appliances and furniture. Details International is the state's exclusive supplier of these Danver/Brown Jordan outdoor kitchens.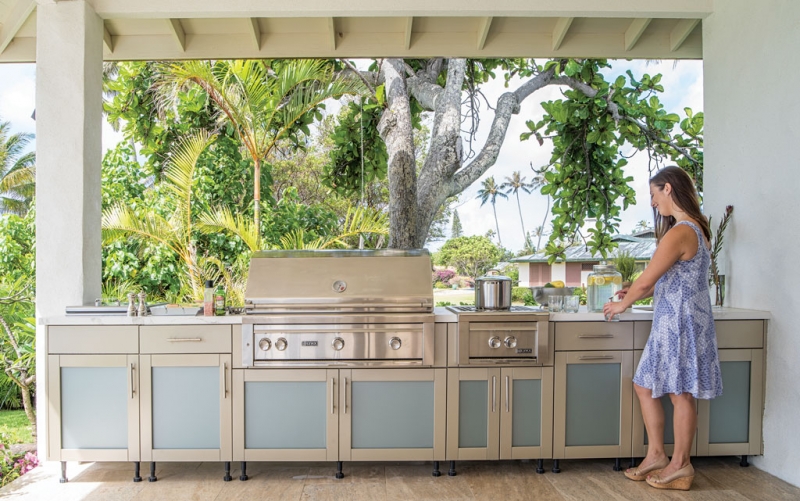 According to Luke Anderson of Details International, this cabinetry is becoming sought after. "Hawaii just eats everything up," says Luke, noting rust and termites as the main dangers. "With steel — you can't really beat it — and especially when it's powder-coated. No oxygen gets to the steel so all these finished panels will never rust," he said.
The outdoor cabinetry is easy to install and reduce the cost of labor for homeowners. "These things are like Legos," Luke said. "They just pop together, you adjust them and they're good. It takes about a half-hour per linear foot for someone who's new to put them together," he said.
Details International also offers appliances that fit seamlessly into the cabinetry. To complete the look, the colors for the cabinetry and furniture can be made to match.
In this outdoor kitchen's case, the seafoam color works perfectly. "As you can see, we're surrounded by water everywhere you look," says Luke. "It really blends nicely with the surrounding water."
Details International also installed energy-efficient LED lights to the posts and ceiling, which lights up gatherings that extend into the evening.
The whole project went smoothly, which Glenda attributed to the great teamwork with the contractor, and the homeowners were happy with the result. "That's what our goal is. We don't want anyone to not be ecstatic," Glenda says.
Where To Get It
Cabinetry: Danver, from Details International, Inc.
Countertops: Dekton, from Carlos Marble & Granite
Flooring: Veined Travertine, from Bella Pietra, installation by Josh Sydow
Lighting: LED, from Details International, Inc.
Barbecue Appliances: Lynx from T. Oki Trading Co.
Dining Set: Brown Jordan, from Details International, Inc.