Bright and Open
Custom cabinets combine classic style and functionality in this kitchen.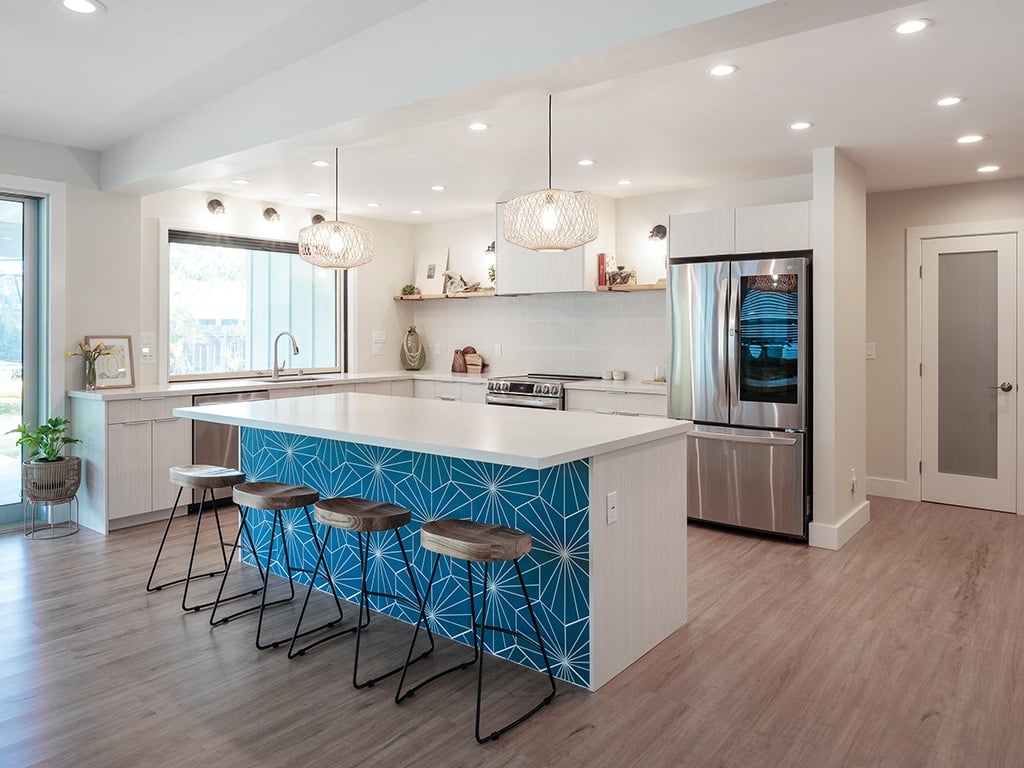 Kailua homeowners Giorgio and Cassie were in the middle of a whole house remodel in 2021 when they contacted Hawaii Kitchen & Bath to fine-tune details for their new kitchen. The couple — who ventured into their kitchen renovation without a designer — came prepared for their first consultation. With social media photos and a lengthy list of trends they researched, Giorgio and Cassie put all their ideas on the table for the local cabinetry specialists to consider.
"This was a completely collaborative effort," says Cris Johnson, owner and co-founder of Hawaii Kitchen & Bath. "Almost always, owners are coming to us with every trend packed into their initial kitchen floor plan. Not every trend or kitchen-of-the-moment will work for the owner's own space, everyday tasks or family."
The original kitchen was galley-style, long and narrow with a small pass-through that led to the living room. None of the prior kitchen elements would be kept since the entire home was being renovated as well. Giorgio and Cassie had a basic layout draft of their fresh kitchen space, which Johnson and the Hawaii Kitchen & Bath team relied on to brainstorm creative and practical cabinet options.
"For the majority of homeowners, the selection of cabinetry sets the tone for the rest of the kitchen, and the cabinet selection also affects the other aesthetics like countertops, appliances, lighting and fixtures," notes Johnson.
"We educate customers on our cabinets — the box construction, hardware and workmanship, and the importance of working with high-quality materials and plywood. From there, we discuss aesthetics of the kitchen, wish lists for functionality and of course colors and textures."
Keeping the kitchen bright and open was key. Neutral and white textured melamine was the perfect material for the cabinetry — according to Johnson, it provides the semblance of a wood grain but with an aesthetically pleasing light "grain" texture. Crafting this neutral material into flat-panel style cabinets established a timeless foundation that can work well as kitchen design trends come and go. It's also simple to clean and durable.
Opting not to clutter the walls with overhead cabinets, Giorgio and Cassie instead found reclaimed wood to use as neutral-complementing floating shelves for displaying dishes and ceramicware. These shelves flank a custom-built range hood boxed cabinet, which is easily accessible for hood installation and maintenance.
Another unique feature in the kitchen is a coffee and beverage center. Specialty cabinetry was added to an otherwise unusable nook space, turning this part of the kitchen into a hospitality hub with a coffee maker and under-counter refrigerator. A microwave, cups and other dishes are stored out of view in a Blum lift-up upper cabinet.
The skilled cabinetmakers at Hawaii Kitchen & Bath also built a customized trash pullout and installed large drawers at the island that are big enough to hold bowls, cups, pots and pans. Giorgio and Cassie chose to add bold blue accent tiles on the back panel of the island. With its standout burst of color and geometric pattern, the island is an example of the stellar cabinet craftsmanship throughout the kitchen.
"We are extremely happy with the final product and the kitchen is what we get the most compliments on when people come over," shares Giorgio. "Hawaii Kitchen & Bath probably saved us two to three months in terms of completion. They really did an amazing job turning the cabinets around in such a short time period and under such difficult circumstances."
The project was planned and executed as supply chain issues lingered from the COVID-19 pandemic. Johnson notes that everything from hardware at Hawaii Kitchen & Bath's West Coast supplier to interior accessories such as spice pullouts and Lazy Susans could only be obtained on back order. To stay on track and on budget, the company talked often with Giorgio and Cassie about adjusted timelines and options.
"During this time of meetings and planning, our industry was going through a tailspin," says Johnson. "Simple materials like cabinet glides and hinges were almost impossible to obtain right away. We worked tirelessly to find material options and accessories from other sources besides our normal chain of suppliers. In the end, we were able to find the perfect material, color and accessories without compromising the layout or initial requests from the homeowners."