Build a Better Kitchen and Bath With HPM Building Supply
Find professional guidance and quality products for your next home project.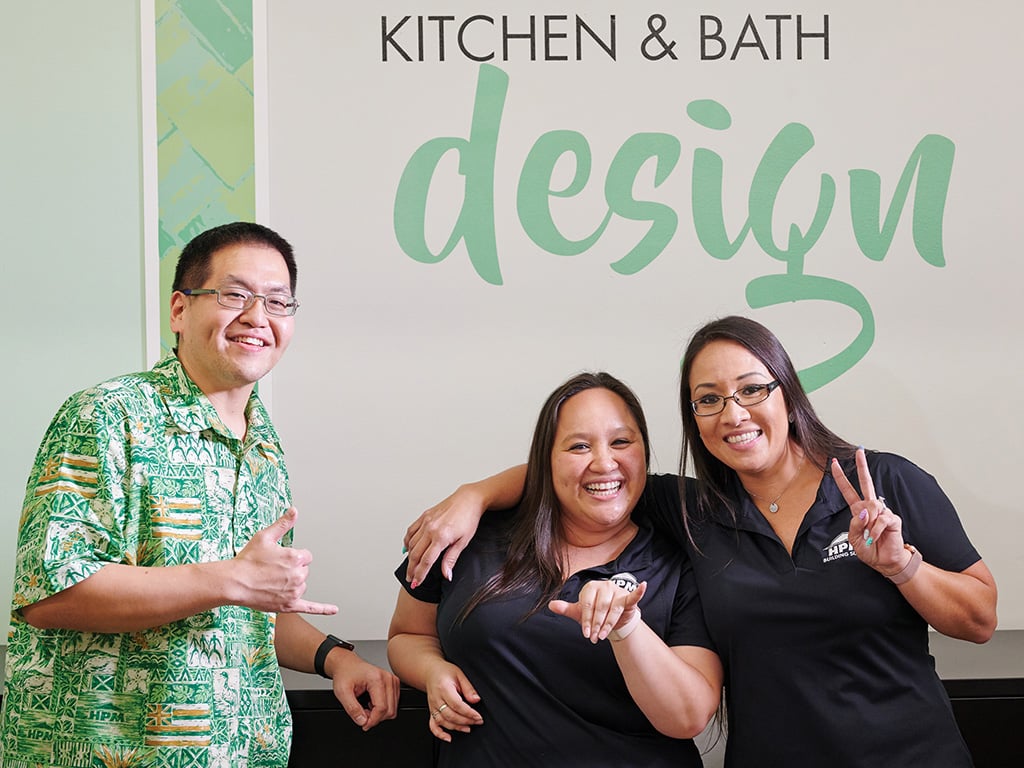 Your kitchen and bathroom are vital spaces in your home: spaces to create memories with your 'ohana, entertain friends, and relax and revitalize as you unwind at the end of the day. The team at HPM Building Supply's Home Design Centers can help create kitchen and bath spaces where these experiences can be cherished for decades to come.
For your next kitchen or bathroom new build or remodeling project, schedule a consultation with an HPM Kitchen & Bath Designer where you can gain expert advice on planning your space, guidance on product selection, and a reliable partner to help you through the entire project.
Design Made Easy
The HPM design team guides you through the whole process, from the first spark of inspiration to the final installation, so you can focus on achieving your vision for a gorgeous bathroom or kitchen.
1. Get inspired.
Save your favorite Pinterest pins and browse HPM's kitchen and bath brands online or in their showrooms for inspiration. While you're there, have a quick chat with a designer who can share options that fit your aesthetic.
2. Prepare your budget and measurements.
Get your blueprints or remodeling measurements ready. Set your budget range, and remember to plan for labor not provided by HPM. If you need help finding a reputable contractor, check out HPM's Better Builder Directory.
3. Make an appointment to meet with a designer.
During the consultation, an HPM Designer will learn more about your wants and needs and guide you through their kitchen and bath product offerings. Afterward, you'll receive a project quote and 3D rendering of your design based on the discussion.
4. Select and order your materials.
Once you approve the plans and your contractor confirms the product measurements in your quote, HPM will place your order.
5. Schedule delivery.
When your order arrives, HPM will call to schedule delivery and confirm you have everything needed for the installation and completion of your project.
Impressive Kitchen & Bath Product Selection
HPM offers a comprehensive catalog of kitchen and bath products, including cabinets, countertops, lighting fixtures, faucets, sinks, as well as accompanying accessories and hardware. Special orders are also available from a number of reliable brands.
To provide cabinets specifically designed for Hawaii's climate, HPM curated the Akamai Cabinet Collection. The locally assembled, all-wood cabinetry is handcrafted from fine-grained wood. 'Ilima and ʻŌhiʻa, the two thoughtfully designed collections, offer a variety of locally stocked colors and finishes to match every space.
Visit an HPM Home Design Center to schedule a free consultation today!
Hilo Home Design Center
380 Kanoelehua Avenue
Hilo, HI 96720
Kona Home Design Center
74-5511 Luhia Street
Kailua-Kona, HI 96740
Waimea Home Design Center
64-1027 Mamalahoa Highway
Kamuela, HI 96743
Kauai Home Design Center
3419 Iwipoo Road
Kalaheo, HI 96741
Maui Home Design Center
369 Huku Lii Place
Kihei, HI 96753