Cabinetry & Woodwork
Cabinetry is vital to making sure your kitchen is designed right.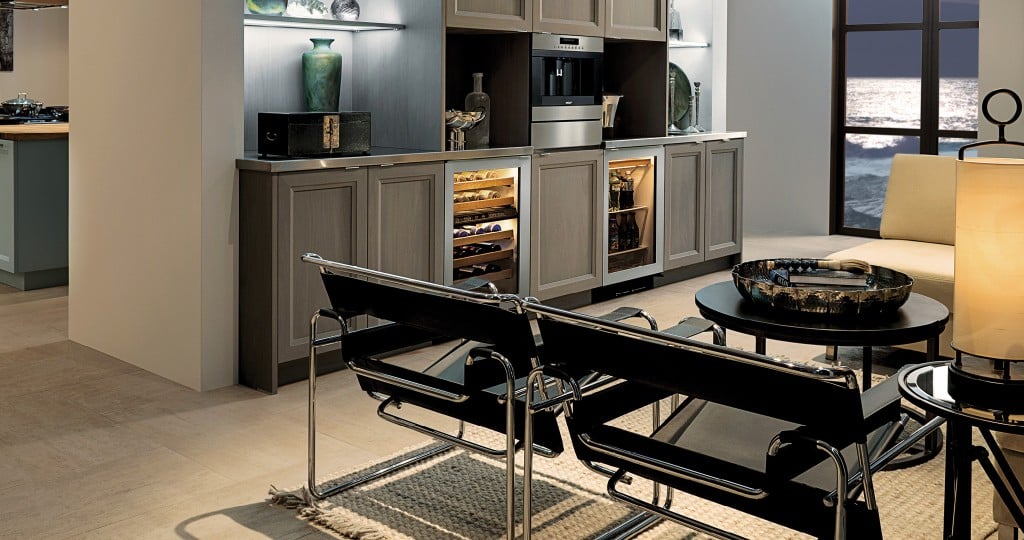 This article is part of the 2019 Hawaii Home + Remodeling Resource Guide, an organized and vetted directory of professionals, services and shops in the building and home improvement industry.

Cabinetry is vital to organizing a kitchen and creating the desired atmosphere. The kitchen is one of the most highly trafficked areas in the home, so it is important to ensure that it's designed right. "I believe cabinetry helps to create and define a space," says Hinano Nahinu, a cabinet design expert with Pacific Source. "Our ability to design the space determines how it will function and flow." Cabinetry becomes not only one of the important decisions for the kitchen, but of the entire home. Its style and appearance will be one of the most defining features of the house, and the cabinetry's practical applications benefit greatly from proper planning.
Cutting-Edge Cabinetry Trends
Touch to Open
This advancement in cabinetry technology utilizes an electronic opening system that allows a cabinet door to be opened with only a light touch of the finger.
Integrated Appliances
Growing in popularity is the use of integrated appliances that fit and blend around the cabinetry itself – providing a sleek and seamless appearance and saving valuable countertop and floor space.
Custom Drawers
Custom drawers within cabinetry can be designed in limitless configurations, helping you to manage your kitchen necessities efficiently and ensuring everything is easily accessible.
---
87Zero
560 N. Nimitz Hwy., Ste. 123
Honolulu, Oahu
791-9870
87zerohi.com
American Cabinetry Inc.
725 Kapiolani Blvd., C101
Honolulu, Oahu
838-7770
americancabinetry.com
Architectural Woods Inc.
2312 Kamehameha Hwy., #E3
Honolulu, Oahu
833-1600
awi-wa.com
Bekin Cabinets
In-stock, semi-custom and full-custom cabinets. North American solid wood. Full kitchen/bath design. Call for estimate.
565 Kokea St., #G6
Honolulu, Oahu
843-2284
build@bekinhawaii.com
bekinhawaii.com
Busekrus Cabinets, Doors
& Windows
220 Ohana St.
Kailua, Oahu
330-5216
bcdwinc.com
Cunningham Cabinets Ltd.
1911 Kalani St.
Honolulu, Oahu
842-4733
cunningham-cabinets.com
Custom Built Cabinetry Inc.
600 Kailua Rd., #141
Kailua, Oahu
351-8287
cbckailua.com
Da Wing Trading
98-1277 Kaahumanu St.
Honolulu, Oahu
487-3288
Dangler Design, a division of Dangler Construction Inc.
735 Bishop St., Ste. 433
Honolulu, Oahu
526-4541
danglerdesign.com
Design Trends Construction Inc.
Design Trends is able to bring a "turnkey" approach with their renovations, from interior design to completion of the renovations work. All you have to do is dream big… they'll handle the rest!
96-1185 Waihona St., D1
Pearl City, Oahu
455-5215
info@dtchawaii.com
3465 Waialae Ave., #280
Honolulu, Oahu
455-5215
info@dtchawaii.com
dtchawaii.com
DESiGNER Kitchens & Baths
1573 Kaminaka Dr.
Honolulu, Oahu
734-2891
DesignerKitchensHawaii.com
Details International Inc.
Details provides holistic design, elegant European-style cabinetry, fine appliances and architectural accessories to enhance island living both indoors and out.
560 N. Nimitz Hwy., Ste. 104
Na Lama Kukui
Honolulu, Oahu
521-7424
details@details-international.com
details-international.com
DeWils Fine Cabinetry
P.O. Box 820568
Vancouver, Washington
360-604-2213
dewils.com
Discount Windows, Doors & Cabinets
45-564 Kamehameha Hwy., A1
Kaneohe, Oahu
673-6656
discountwindowshawaii.com
Doctor Cabinet Refacing
92-796 Palailai St.
Kapolei, Oahu
672-6862
doctorcabinetrefacing.com
Eco Floors & Cabinets
98-019 Kamehameha Hwy., Ste. 2
Aiea, Oahu
484-1500
Essential Cabinet Refacing
212 Mohonua Pl., #C3
Honolulu, Oahu
847-7835
essentialcabinetrefacing.com
Fine Woods Hawaii LLC
Old Waialua Sugar Mill
Waialua, Oahu
388-6046
finewoodshawaii.com
Golden Cabinets & Stone
Golden Cabinets & Stone is one of the largest, most professional companies in the cabinets and countertops industry in Hawaii, specializing in prefabricated cabinets and granite countertops.
1299 Kaumualii St.
Honolulu, Oahu
836-8181
admin@goldencabinetsstone.com
goldencabinetsstone.com
Hawaii Kitchen & Bath Inc.
201 Kapaa Quarry Pl., Bldg. 7A,
Unit 701
Kailua, Oahu
261-0357
hawaiikitchenandbath.com
Hawaii's Finest In-Stock Cabinets
400 Hana Hwy. Ste. G
Kahului, Maui
808-873-8800
instockcabs.com
Hawaiian Style Flooring, division of Bamboo Flooring Hawaii LLC
521 Ala Moana Blvd., #213
Honolulu, Oahu
550-8080
bambooflooringhawaii.com
HB Supply
649 Mapunapuna St.
Honolulu, Oahu
834-2959
arcadegreen.com
Highline Kitchen Systems
1276 Young St., Ste. A
Honolulu, Oahu
589-1104
highlinekitchensystems.com
Homeowners Design Center Inc. Hawaii's premiere new construction and remodeling resource. Kitchen and bath design, cabinets, flooring, carpet, window-coverings, countertops, appliances and interior design services available.
1030 Kohou St., Ste. 201
Honolulu, Oahu
847-0216
lori@homeownersdesign.com
homeownersdesign.com
Honsador Lumber LLC
5 locations statewide
honsador.com
Interior Design Solutions
3031 Old Haleakala Hwy.
Makawao, Maui
808-891-8800
idsmaui.com
Ion Builders
4117 Pahoa Avenue
Honolulu
599-0212
ionbuildersllc.com
Island Shutters Inc.
A locally owned and operated company specializing in custom tropical polymer and natural hardwood shutters.
1031 Lauia St.
Kapolei, Oahu
690-8182
islandshuttershawaii.com
Island Style Kitchen
& Bath Inc.
430 Alamaha St., #102
Kahului, Maui
808-871-5877
islandstyledesigns.com
John Cook Kitchens
John Cook Kitchens has been an award-winning kitchen and bath design and remodeling company for more than 30 years. We pride ourselves on quality products, great customer service and attention to detail.
623 Kakoi St., Bay 3
Honolulu, Oahu
599-3533
johncookkitchens.com
Ken Do Construction Inc.
4366 Punee Rd.
Koloa, Kauai
808-742-9446
kendoconstruction.com
Kieselbach Woodworks
823 Halekauwila St.
Honolulu, Oahu
589-1411
kieselbachwoodworks.com
Kitchen Cabinets Inc.
73-7620 Kauhola St., Unit 3
Kaloko Light Industrial Park
Kailua-Kona, Big Island
808-329-5836
kitchencabinetshawaii.com
Kona Kitchen & Bath
74-5491 Kaiwi St. #20
Kailua-Kona, Big Island
808-327-0001
konakitchenandbath.com
Layout Etc. Inc.
94-425 Maikoiko St.
Waikele Shopping Center
Waipahu, Oahu
678-0020
layout-etc.com
Makainai Cabinet Systems
Kaneohe, Oahu
842-6087
Maui Custom Woodworks Inc.
251 Lalo St., L-1
Kahului, Maui
808-877-0239
mauicustomwoodworks.com
Newport Pacific Cabinets Inc.
99-129B Waiua Wy.
Aiea, Oahu
486-6008
O'Donnell Construction LLC
45-024 Ka Hanahou Cir.
Kaneohe, Oahu
235-3150
odconstruction.com
Oriental Cabinet & Granite LLC
1320 Kalani St., Bay 106
Honolulu, Oahu
841-9425
orientalcabinetandgranite.com
Ozzy's Construction Inc.
201 Kapaa Quarry Pl., Bldg. 25
Kailua, Oahu
259-9859
ozzysconstruction.com
Pacific Source Inc.
73-4278 Hulikoa Dr.
Kailua-Kona, Big Island
808-331-2574
pacsource.com
4473 Pahee St., Ste. J
Lihue, Kauai
808-246-3500
180 Sand Island Access Rd.
Honolulu, Oahu
450-2400
2524 Kolo Rd.
Kilauea, Kauai
808-828-6606
515 E. Uahi Wy.
Wailuku, Maui
808-986-0380
pacsource.com
Seattle, Washington
888-343-1515
pacsource.com
Plus Interiors
Kitchen cabinetry, interior glass doors and custom closet systems. Locally made in Hawaii using quality materials and contemporary finishes.
4211 Waialae Ave., #1080
Kahala Mall
Honolulu, Oahu
739-7300
75-1006 Henry St., #2
The Crossroads in Kona
Kailua-Kona, Big Island
808-327-3810
info@plusinteriors.com
plusinteriors.com
Plywood Hawaii
1062 Kikowaena Pl.
Honolulu, Oahu
834-1144
plywoodhawaii.com
Rinell Wood Systems Inc.
2706 Kilihau St., Unit 100
Honolulu, Oahu
834-1344
info@rinellwoodsystems.com
rinellwoodsystems.com
R.K. Builders Inc.
Hilo, Big Island
808-959-4060
rkbuildershawaii.com
Roy Lambrecht Woodworking Inc.
73-5573 Kauhola St.
Kailua-Kona, Big Island
808-326-9585
Rui Building Supply
155 Sand Island Access Rd.
Honolulu, Oahu
848-8820
ruisupplyandconstruction.com
Woodworking Hawaii
41-625 Kaulukanu St.
Waimanalo, Oahu
227-9473
woodworkinghawaii.com