Coastal Chic Beach House
A family's new modern home on Maui embraces indoor-outdoor living.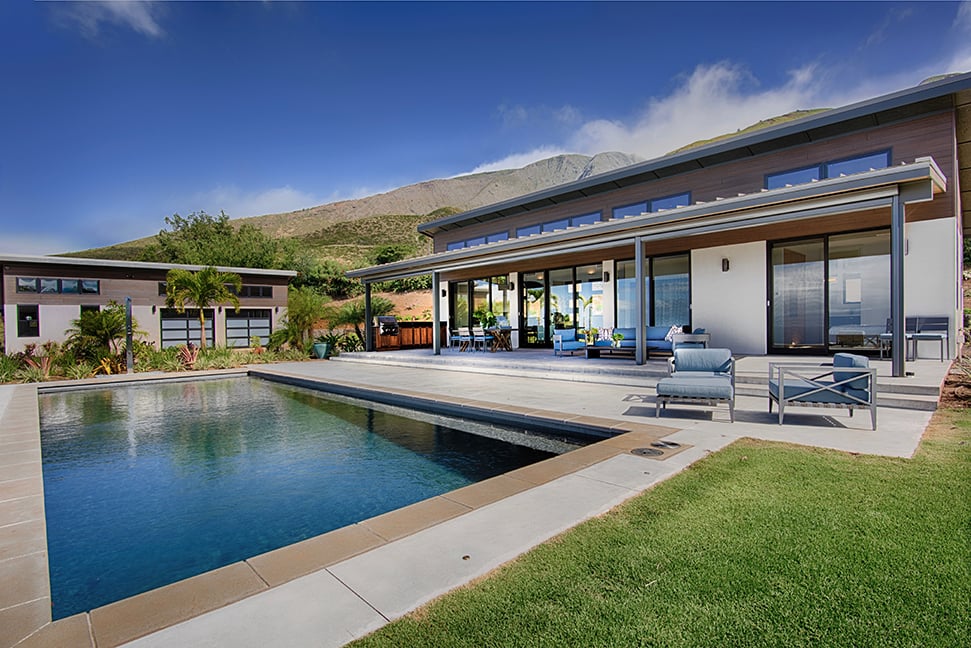 While searching for their future home, Julie and Tom Fuller stumbled upon a house built by Todd Boyd of Boyd Construction – and they were instantly inspired. Today, they enjoy gorgeous ocean and mountain views from their own new house in Lahaina.
"We fell in love with one of Todd's homes in the neighborhood and asked him to create something similar, but custom for our family," shares Julie. "Todd found the lot, we made changes and updates to the plans and began construction. The neighborhood is quiet, beautiful and offers incredible views of the island of Lanai."
Everything fell into place after the homeowners saw the inspiration home. In addition to Boyd Construction, they also used that home's architectural and interior designer, Linda Lange, a distinguished designer on Maui. Along with Boyd and Lange, Sarah Schmidt of Dwellingpoint Design was brought on as decorator and Gina Dunker of Pacific Source for the cabinetry design. Pacific Source was also utilized as one of the key material sources for the home.
"We told the team that we wanted the home to be small, nice, cool (modern) and to be centered around the view," shares Julie. "Items that were important: clean lines, simple materials with as little maintenance as possible, modern design, minimalist thinking in décor and beautifully organized."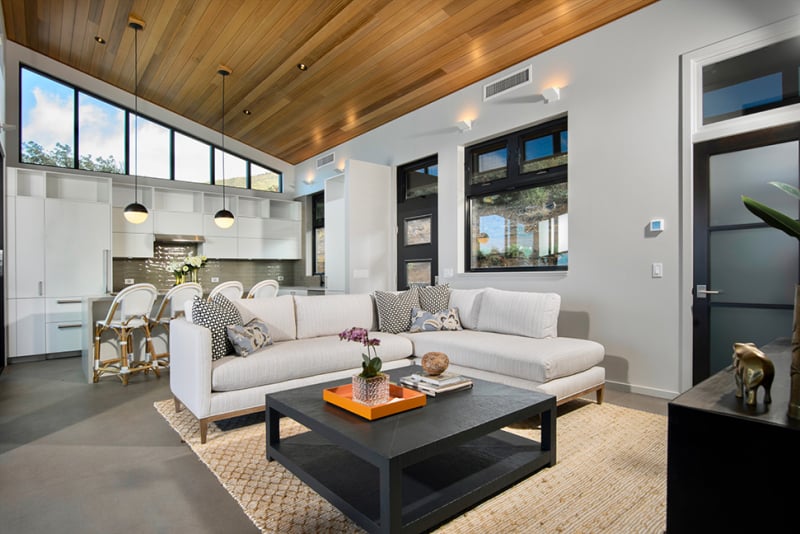 The open-concept home features 1,000 square feet of space with two bedrooms, two bathrooms, a kitchen, living room and extensive outdoor space. "The lanai doubles the home's footprint with an outdoor barbecue, dining table and lounge area, and we find we spend most of our time there," says Julie.
"[A] clean, modern look, but with a bit of island feel was important to the client," says Lange, adding that the homeowners came up with a list of items that they wanted, and the team worked within the budget and available square footage to get things done.
The home features polished concrete floors throughout; cool and warm tones are highlighted through wood accents, neutral furnishings and white cabinetry and built-ins.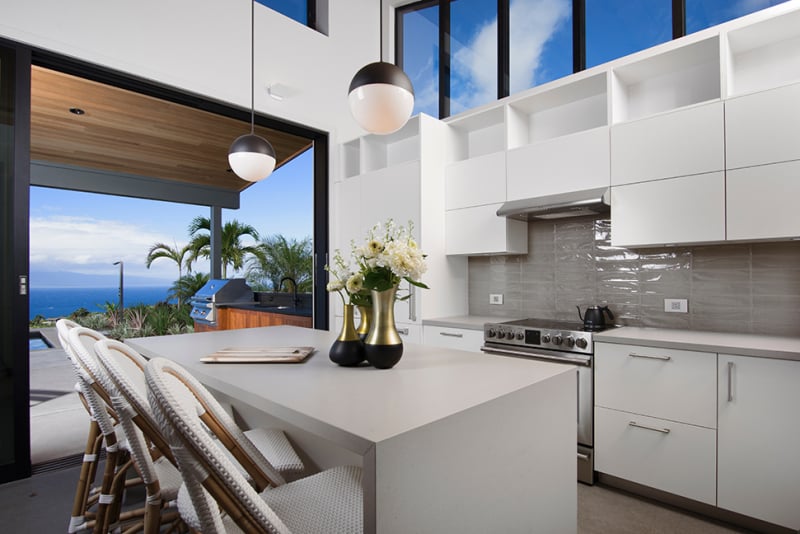 "For the kitchen, we went with Bauformat because the owners wanted a sleek, modern design with great interior storage solutions, which also was true for the bathrooms," shares Dunker.
Pacific Source supplied Fleetwood sliding doors that connect the interior and exterior spaces, Andersen windows and Aristocratic cabinets for the closets and built-ins in the bedroom.
"For the closets/built-ins we found great laminate finishes in Aristocratic cabinetry. Aristocratic is a smaller, very custom oriented manufacturer that allowed us to basically come up with any configuration," says Dunker.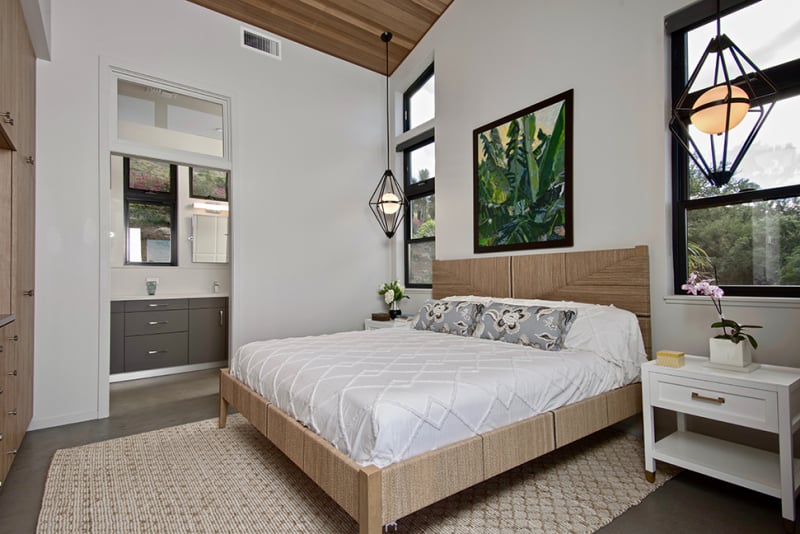 Schmidt was brought on for the final décor touches, creating the overall mood for the home. "It's a small space — everything has to be chosen with care because it's so small," says Schmidt. She worked with natural elements indoors to warm up the cool concrete flooring and neutral colors outdoors where the view was the main focus. "You don't want to take anything away from the outside," says Schmidt.
"Low maintenance, minimalist and environmentally friendly materials were important to the design," says Julie. Blooming Gardens was brought on to create the bright and lush landscape that's meant to blend into the surrounding neighborhood.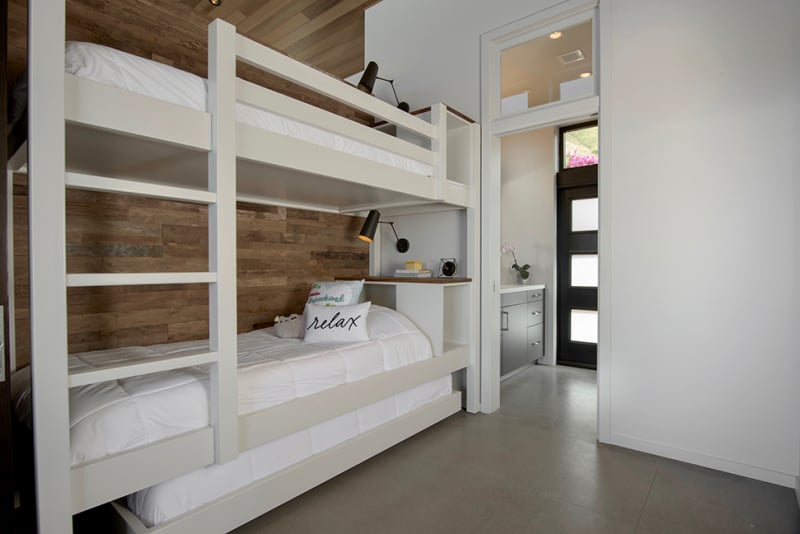 But the best part of this new home journey? The kids had no idea that their parents were building their Maui dream home. "They should have known what was coming, their laps piled high with linens and boxes blocking their view out the window as we approached, but they had no clue," says Tom. "'I don't believe this,' our son repeated over and over while our daughter critiqued every inch of the interior decorating while Todd, Linda and Sarah — three people we had kept secret from them for 2 ½ years as we worked on the project — looked on."
The Fullers worked with their design team to orchestrate their new build — including designing and furnishing the whole home — before the family's arrival. Constant communication among everyone, along with a hardworking team of experts made it happen.
"It is truly amazing," Julie says of her home. "The cement floors, wood ceilings, beautifully designed kitchen thanks to Linda and Pacific Source, light fixtures, custom-built bunk beds for the kids, so many things. Sarah helped us with furnishing the entire space. We were able to purchase items on the Mainland and have them shipped over along with sourcing items on-island. It has been a labor of love."