Countertops
These professionals can help with selecting the right surface.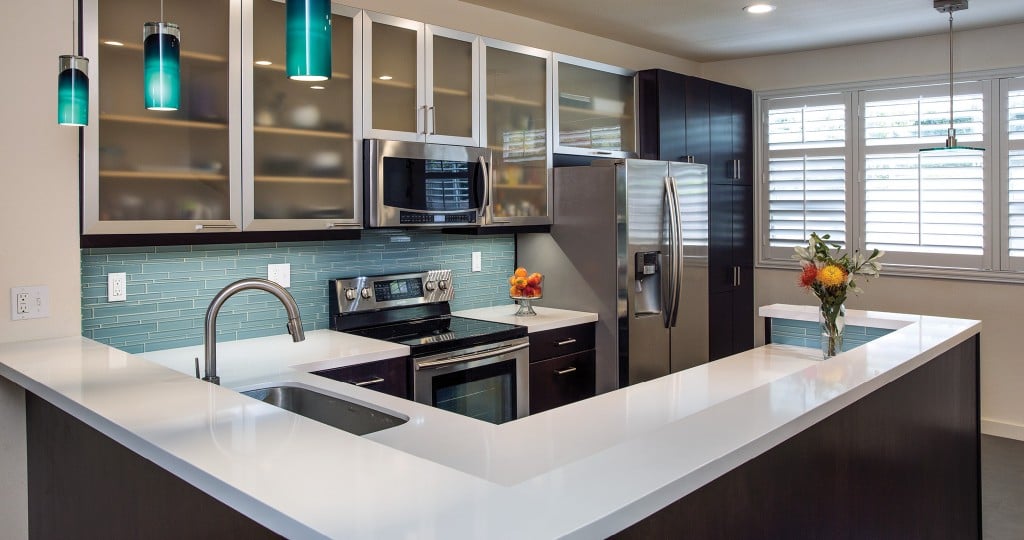 This article is part of the 2019 Hawaii Home + Remodeling Resource Guide, an organized and vetted directory of professionals, services and shops in the building and home improvement industry.

The professionals at Top Priority, located in Waipahu, Oahu, offer homeowners a diverse selection of stone, engineered and solid surface countertops in addition to countertop fabrication and installation. Following are expert tips on surface selection from Top Priority.
Quartz
"Quartz countertops have been a first choice for all our kitchen projects — the durability for young families is unparalleled," says Chino Haynes, vice president of Top Priority. Unlike granite, a natural stone, quartz countertops are made from an engineered stone, formed from quartz with binders including resins and polymers, as well as various pigments for color.
"Thanks to the quartz content, it's tough, durable and resistant to stains and scratches," says Haynes. "In terms of maintenance, no sealants or wax are needed. Quartz countertops are nonporous, making them easier to clean and fend off bacteria — often a parent's dream."
Quartz is available in a wide range of colors at Top Priority, from solid colors to imitation granite. "Some styles resemble natural stone in a way that it's almost impossible to differentiate," Haynes says. "While most quartz countertops are known for their smooth and shiny finish, it can go beyond the polished look, too. Silestone, for instance, offers a suede texture with a softer feel as well as a volcano texture that's pitted for a more rustic look."
Textured vs. Polished Finishes
Honed and leather surfaces are the most common countertop surfaces and can be applied to many different materials, such as granite, marble and quartz. While polished surfaces remain the most popular, there are advantages to honed and leather surfaces.
A honed finish is a matte finish with little to no shine. The overall look will vary depending on the stone, but the honed finish should have a low sheen and a smooth surface. Honed finishes work well with marble, since their lack of shine conceals any flaws or scratch marks. A leathered finish has a soft sheen, less glossy from a polished slab, and feels softer to the touch.
A leather finish retains the stone's natural color giving it a more sophisticated look than the honed option. It also hides fingerprints and water spots remarkably well, which is appealing to many busy families. These are just a few finishes to consider when choosing a countertop in 2019.
Grand Opening Spring 2019
Top Priority's showroom will open in the spring of 2019. Call its office to schedule a free in-home estimate or email your drawings for a consultation on next steps.
---
Bekin Cabinets
In-stock, semi-custom and full-custom cabinets. North American solid wood. Full kitchen/bath design. Call for estimate.
565 Kokea St., #G6
Honolulu, Oahu
843-2284
build@bekinhawaii.com
bekinhawaii.com
Bella Pietra Design
560 N. Nimitz Hwy., Ste. 107A
Honolulu, Oahu
587-7779
bellapietradesign.com
C&C Cabinets Granite
500 Alakawa St., #106
Honolulu, Oahu
853-2088
cccabinetsgranite.com
Cosentino Hawaii
2678 Kilihau St.
Honolulu, Oahu
427-5192
cosentino.com
Da Wing Trading
2006 Republican St.
Honolulu, Oahu
847-3288
Davis Tile & Marble Inc.
74-5522 Kaiwi St.
Kailua-Kona, Big Island
808-327-0028
davistile.net
Golden Cabinets & Stone
Golden Cabinets & Stone is one of the largest, most professional companies in the cabinets and countertops industry in Hawaii, specializing in prefabricated cabinets and granite countertops.
1299 Kaumualii St.
Honolulu, Oahu
836-8181
admin@goldencabinetsstone.com
goldencabinetsstone.com
Hawaii Kitchen & Bath Inc.
201 Kapaa Quarry Pl., Unit 701
Kailua, Oahu
261-0357
hawaiikitchenandbath.com
Homeowners Design Center Inc.
1030 Kohou St., Ste. 201
Honolulu, Oahu
847-0216
lori@homeownersdesign.com
homeownersdesign.com
Honolulu Tile & Marble Inc.
1602-B Auiki St.
Honolulu, Oahu
845-3775
INSOLID
94-425 Maikoiko St.
Waipahu, Oahu
676-5522
insolidhawaii.com
Island Style Kitchen & Bath Inc.
430 Alamaha St., #102
Kahului, Maui
808-871-5877
islandstyledesigns.com
John Cook Kitchens
John Cook Kitchens has been an award-winning kitchen and bath design and remodeling company for more than 30 years. We pride ourselves on quality products, great customer service and attention to detail.
623 Kakoi St., Bay 3
Honolulu, Oahu
599-3533
johncookkitchens.com
Josh Design Build
Honolulu, Oahu
388-4268
Kitchen & Bath Remodeling Inc.
2333-C Alahao Pl.
Honolulu, Oahu
848-8151
kbremodeling.com
Kona Kitchen & Bath
74-5491 Kaiwi St.
Kailua-Kona, Big Island
808-327-0001
konakitchenandbath.com
Marmol Hawaii
759 Puuloa Rd.
Honolulu, Oahu
848-0842
marmolhi.com
Maui Laminates Inc.
269 Papa Pl., Unit 5
Kahului, Maui
808-871-6500
mauilaminates.com
Maui Marble & Granite Inc.
874 Alua St.
Wailuku, Maui
808-242-8400
mauimarbleandgranite.net
McKillican American
2858 Kaihikapu St.
Honolulu, Oahu
839-4404
mckillican.com
Naka's Marble Co. LLC
1110 Makepono St.
Honolulu, Oahu
841-5434
nakasmarblehawaii.com
Newport Pacific Cabinets Inc.
99-129B Waiua Wy.
Aiea, Oahu
486-6008
Pacific American Lumber
Pacific American Lumber supplies interior and exterior finished products to Hawaii's building industry. Flooring, countertops, decking, millwork and more.
142 Mokauea St.
Honolulu, Oahu
845-8700
sales@pacamlumber.com
pacamlumber.com
Pacific Craftworks
3219 Koapaka St.
Honolulu, Oahu
476-4282
pacificcraftworks.com
Pacific Source
180 Sand Island Access Rd.
Honolulu, Oahu
450-2400
73-4278 Kulikoa Dr.
Kailua-Kona, Big Island
808-331-2574
2524 Kolo Rd.
Kilauea, Kauai
808-828-6606
4473 Pahee St., Ste. J
Lihue, Kauai
808-246-3500
515 E. Uahi Wy.
Wailuku, Maui
808-986-0380
Seattle, Washington
888-343-1515
pacsource.com
Pioneer Granite & Marble
148 Mokauea St., #1
Honolulu, Oahu
842-1474
Roy Lambrecht
Woodworking Inc.
73-5573 Kauhola St.
Kailua-Kona, Big Island
808-326-9585
roylambrechtwoodworking.com
Selective Stone
One of Hawaii's largest suppliers of prefab stone. Full line of stone tiles including granite, slate, quartzite, travertine and more.
2979 Koapaka St.
Honolulu, Oahu
839-2979
kon@selectivestone.net
selectivestone.net
Tile Warehouse Inc.
Supplying porcelain tile, quartz and stone slabs, setting materials, quartzite, glass tile, pool tile, travertine, marble, granite, custom tile and more since 1991.
2865 Koapaka St.
Honolulu, Oahu
840-8855
honolulu@tilewarehousehawaii.com
73-4076 Hulikoa Dr.
Kailua-Kona, Big Island
808-329-8855
kona@tilewarehousehawaii.com
tilewarehousehawaii.com
Todd Branson Stoneworks
201 Kapaa Quarry Pl., Unit 45A
Kailua, Oahu
230-8424
toddbransonstoneworks.com
Top Priority
Top Priority is Hawaii's premier custom fabricator and installer, with expertise in natural stone, engineered and solid surfaces for indoor and outdoor projects. Industry professionals recommend Top Priority for custom countertops and custom surface applications.
94-061 Leokane St.
Waipahu, Oahu
638-3838
toppriorityhawaii.com