Dreaming of the Sea
Beach town inspiration brings a refreshing wave of upgrades in a couple's home.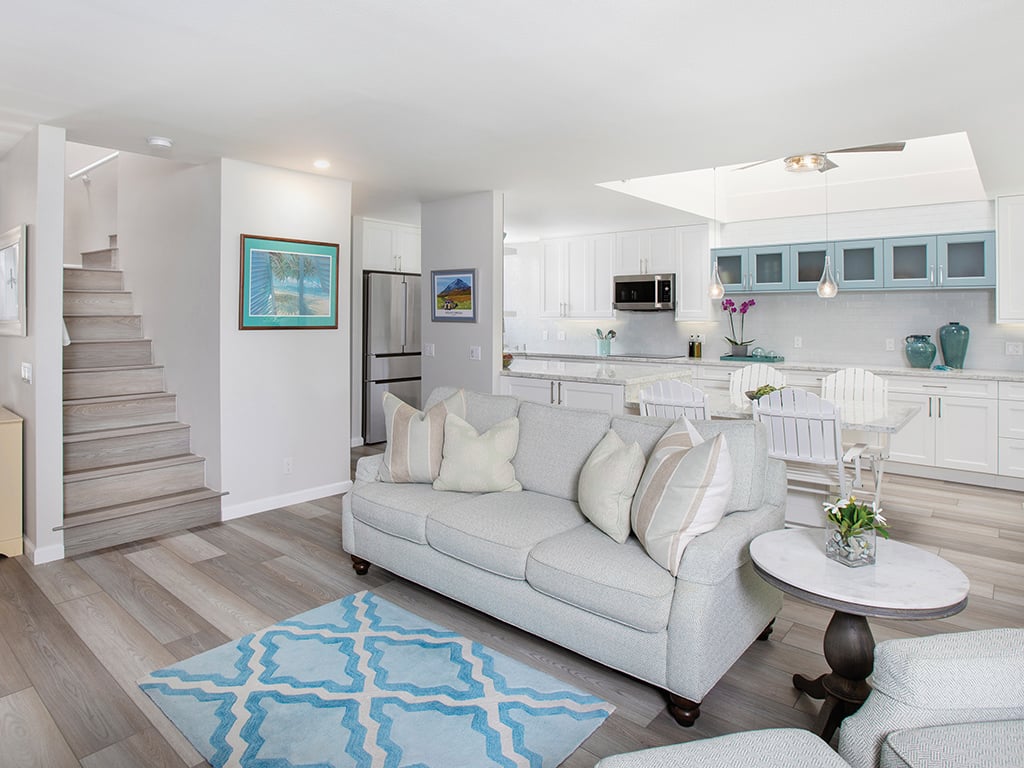 A 1970s-era Kailua condo was recently remade into an award-winning abode of exemplary design. Homeowners Larry Foster and Deirdre Greene waited for the right time to do a full renovation of their bedroom, bath, kitchen and living spaces, and spared no expense when it came to quality finishes and workmanship — and the outcome, they say, was worth it.
"We had a basic concept of what we were looking for," the homeowners say in a joint email statement. "White cabinetry, sandy flooring, beachy counter tops, walk-in showers, new plantation-style doors and window coverings throughout. New fixtures, lighting, appliances."
Shelley Tanner of John Cook Kitchens was tapped to design the project. The homeowners were referred to her by home design-build company Montage Décor, which recommended Tanner for her expertise and contacts in the local home and building industry. Planning for the renovation began in 2019.
"We've always loved our home," note the homeowners. "We fell in love with the open floor plan and location in 2006 at the realtor's open house. It was always light and airy. Since it was at the third/fourth floor levels, we have beautiful rainbow shower trees just outside. … It was getting dated, but we didn't want to renovate our home randomly over several years."
According to Tanner, the unit was last updated in 1974. Vintage finishes could be seen during her initial walk-throughs — white thermofoil cabinets and laminate counters in the kitchen, veneer dark wood and one-piece cultured marble in the bathrooms, light tan carpet in the bedrooms, for example. White ceramic tile, dark laminate floors and poor lighting needed to be refreshed and chunky painted wood railings and original windows required modernized upgrades.
"I wrote five pages of notes," says Tanner. "We went room by room noting scope of work — items to address, finish selections, what is staying and changing. We touched on everything imaginable."
Design drafts for the condo included opportunities for more space, storage and style. The homeowners enjoy cooking and entertaining, so expanding the kitchen and adding a buffet and bar were a treat. A stand-alone wall couldn't be taken down, so Tanner suggested incorporating a large island with an attached lowered dining table.
Cabinetry from Bellmont Cabinet Co.'s 1900 series was selected for quality and customization. The existing pantry closet was replaced with a tall pantry cabinet and bar area incorporating a Monogram wine refrigerator. Cambria's Montgomery quartz counters were a hit with the homeowners for its beige, tan and aqua blue swirled colors. Modeled Saria colored tile and aqua painted cabinets with frosted glass round out the condo's beachy hues.
Cohesiveness of this design theme was achieved by installing waterproof luxury vinyl tile in all the rooms and using white-painted trim throughout. And Coastal Windows installed new sliding doors and Breezeway 6-inch jalousie windows.
Lighting was enhanced in the kitchen with recessed can lights, under-cabinet lighting and crackled glass pendants suspended by cable wiring. Electricians replaced the existing electrical panel and now almost all of the lights in the condo have dimmer capabilities. A new ceiling fan with lighting was installed in the main opening above the dining table.
"The incredible look, flow and feel exceeded our expectations," write the homeowners.
Challenges that came up during the project included a complete removal and replacement of the 2-inch concrete subfloor on both levels of the condo due to settling over the years. There was also a small plumbing leak and workarounds to accommodate air conditioning according to condo board association rules.
"Always have a contingency fund set aside for unknowns like asbestos, termites, mold, rot," advises Tanner. "Be extremely patient because a project of this size takes months of planning, selections, drawings, ordering, etc."
Patience was key for the homeowners, who moved out temporarily for a few months and stayed away until completion of the project in late 2021. For others looking to do large-scale home remodels, they offer the following advice:
"Be easy to get along with! Try and decide the theme you want and work closely with the design team. There are so many decisions that are required; it can seem overwhelming. We had an incredible project manager from Montage Décor. Her attention to our project was just amazing. Communication was critical."
Project Team
Cabinets: Bellmont Cabinet Co.
Cabinet Hardware: Top Knobs
Counters: Cambria from Tile Warehouse
Counter Fabricator: Ace Tile
Tile: Tile Warehouse
Tile Setter: Tommy the Tiler
Glasswork: Glass Guru of Honolulu
Plumbing: Ferguson
Appliances: Pacific Home and Appliance Distribution
Windows and Sliding Doors: Coastal Windows
Lighting: Lighting Concepts
Closet Systems: California Closets
Closet Plantation Doors: Mac Products
Fans: Pacific Ceiling Fans
LVT Flooring: Tri West (Dealer: John Cook Kitchens)
Plantation Shutters: Window World
Security Screen Door: Titan Screen Door
Front Door: Huttig
Cable Railings: Stair Supplies