Finish It Up in 2020
Plus Interiors discusses this year's cabinetry finish trends.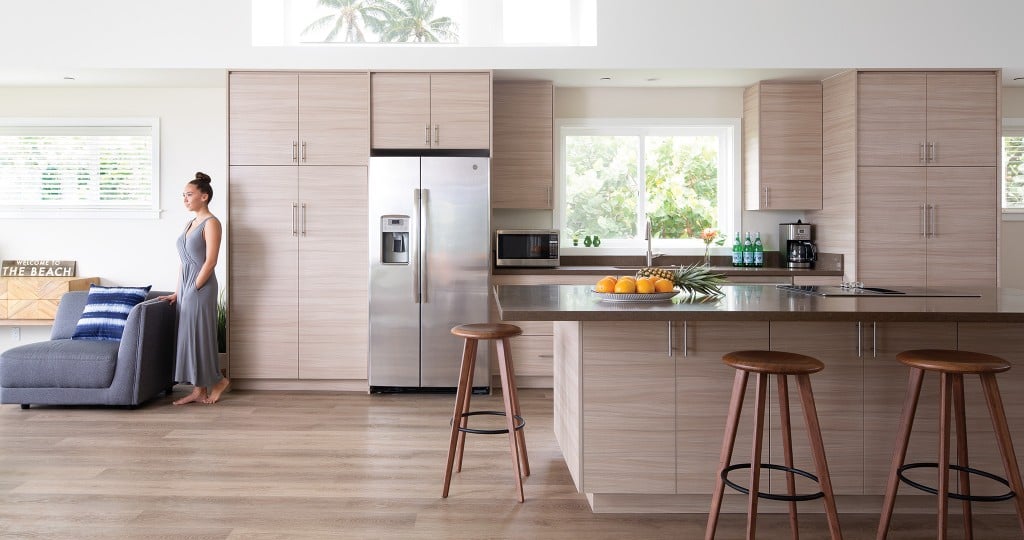 Everyone knows the kitchen is the heart of the home, and whether you're building new or remodeling, there's a lot to consider to make the space both beautiful and functional. There's flooring, lighting, appliances, countertops, cabinetry and more. But cabinetry finishes — essentially the anchor of kitchen design — is one aspect that typically doesn't come up in initial plans.
"It sets the tone and mood for the entire space," says Plus Interiors kitchen and bath designer Steve Robone. He adds that finishes transform cabinets into a kind of built-in furniture; they're a permanent fixture that represents the homeowners' personality and style.
Solid wood cabinetry used to be considered the benchmark of high quality in the industry. "However," Robone says, "we have identified that most lumber has been over harvested through time." This forced the industry to think outside the box. Today, the practice of producing engineered, woodlike materials for the exterior of homes is now being used for interior elements as well.
One such material is Cleaf, a sustainable engineered option from Italy. Its core is comprised of sustainably grown wood strands that have been incorporated with a synthetic resin. Cleaf's exterior finish is impregnated into the core with additional resin; this creates a moisture-proof material that is also insect proof and scratch-resistant. "With this state-of-the-art technology," Robone says, "any finish is attainable — from matte or gloss, to a wood-grained finish. The possibilities are now endless."
This is great news for homeowners who are looking to stay on trend, as matte-painted finishes seem to be growing in popularity. Robone and other kitchen and bath designers at Plus Interiors are updating cabinets in homes throughout the state with the Piombo Collection, which is one of the many surface options available from Cleaf. A matte surface crafted of innovative acrylic resins, Piombo is anti-fingerprint, soft to the touch and highly resistant to scratches. "Unlike a standard matte-painted finish on a wood core," Robone explains, "Piombo's engineered qualities create a self-healing quality, so to speak. The outcome is a highly scratch-resistant finish."
Robone says that another cabinetry finish trend in 2020 is a contrast between neutral upper cabinets and bold base cabinets. "For example," he says, "white upper cabinets with navy base cabinets." Another fashionable choice is pairing solid matte colors with woodlike finishes.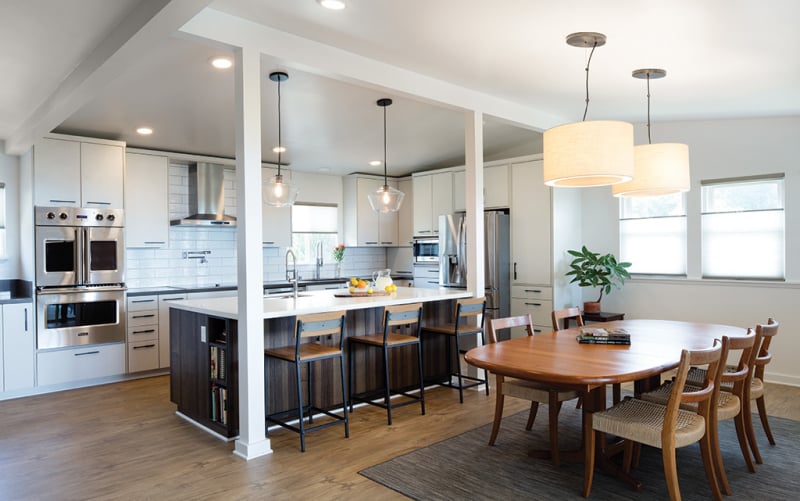 Homeowners can achieve this look with Cleaf, as it comes in both matte finishes as well as a wide variety of finishes. One option is Pembroke, which features marked knots and grains inspired by oak wood. And there's Fronda — a reproduction of elm wood, which was widespread in the Italian countryside — which has grains like oak, but with a brighter color. There's also Okobo, which is modeled after paulownia, the wood used for producing traditional Japanese sandals. Though each collection has a different look to suit varying tastes, they all have the same engineered qualities.
"Wood finishes complement matte finishes beautifully," Robone says. "Many clients are opting to incorporate wood natural tones to help complement the nature of matte cabinets."