Fired Up Fridays: A Pig Named Siu
A weekly barbecue blog for the summer.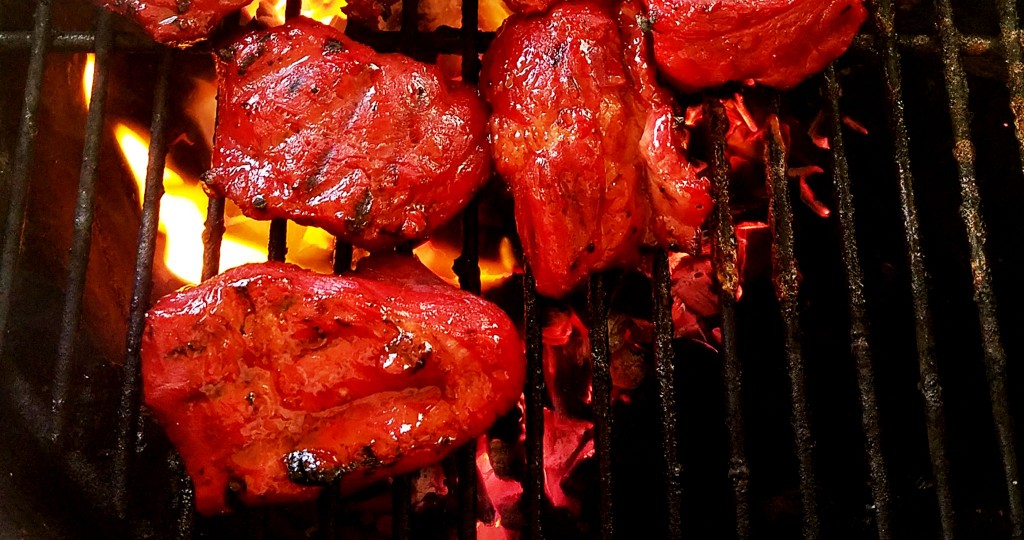 Scott Schumaker is president of PacificBasin and interim publisher of Hawaii Home + Remodeling. He is also an avid barbecue hobbyist who often tempts co-workers by posting images of his culinary feats on his Instagram, @schuboxphoto. We have convinced him to share his secrets each week this summer with our readers in our Fired Up Friday blog. His grill smoker of choice is a Big Green Egg he purchased from POP Marine and Fishing. He also uses a Weber Summit gas grill, especially for rotisserie cooking, which he got at AirGas Gaspro Kapolei.
---
I'm not sure about the legendary Johnny Cash's Boy Named Sue, but this pig called char siu is money.
Pork shoulder is one of the cheapest and most forgiving meats to throw on the grill. Often called pork butt, even though it is from the front of the pig, it's high-fat content stays moist and tasty no matter the preparation. From low and slow pulled pork that can take 15 hours or more on the smoker to quickly cooked sliced pork for Cuban sandwiches, the shoulder meat is as versatile as it is flavorful. One of my favorite ways to cook it is Chinese-style char siu pork.
The Prep
Whether you make your own char siu sauce or simplify things by using one from a jar, nothing beats your grill or smoker when making char siu. For this cook, I used my favorite, Lum's Char Siu Sauce. Jars of the bright-red sauce are available at Safeway, Foodland and other grocers. Each jar seasons 7.5 pounds of meat, so, continue simplifying things by buying about 8 pounds of pork shoulder cut "country style."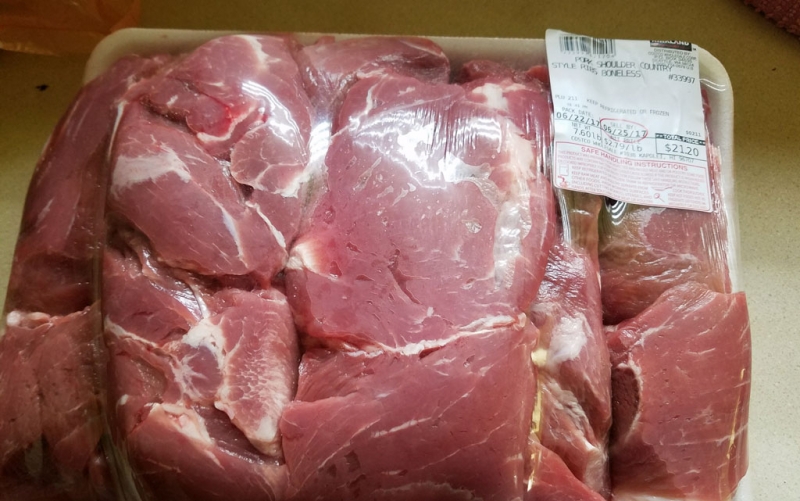 Start by removing the excess outer fat from the thick strips of shoulder. Note that the grocers will often hide the fatty part of the meat on the underside so you can't see it when it is packaged. Cut larger pieces of them in half or even thirds, depending on your preferred meat-to-sauce ratio. Thinner cuts allow for more robust char siu flavor. Larger, thicker cuts allow for more pork flavor. I tend to cut a variety because I can never make up my mind. Also, like most families, we can't agree on anything. We sure aren't going to find harmonious bliss on the correct meat-to-sauce ratio. The smaller pieces will finish cooking before the larger ones. So, I add the smaller pieces about 20 minutes after I have started the largest chunks.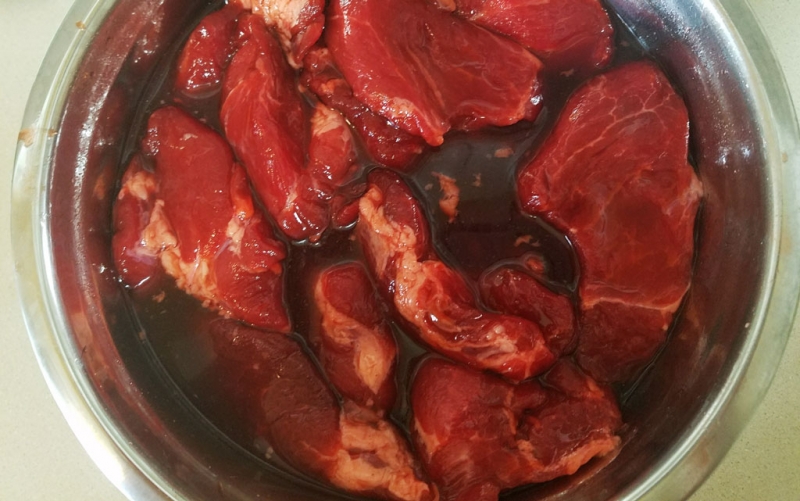 Once the pork has been trimmed and cut, you should be left with about 7.5 pounds or so. Place the meat in a large bowl or a 2-gallon zipper bag. Cover with the Lum's sauce, mixing well to make sure all the meat is covered. Refrigerate overnight or to taste. The longer the marinade, the more flavorful the char siu. I do mine overnight. Any longer and the meat comes out almost candied. Any less time and the pork tastes too mild. I tend to mix the meat and sauce a few times throughout the marinade to ensure all pieces are equally coated. Once you light the grill, remove the meat from the marinade. Be sure to reserve all the sauce for basting once you put the meat on the smoker.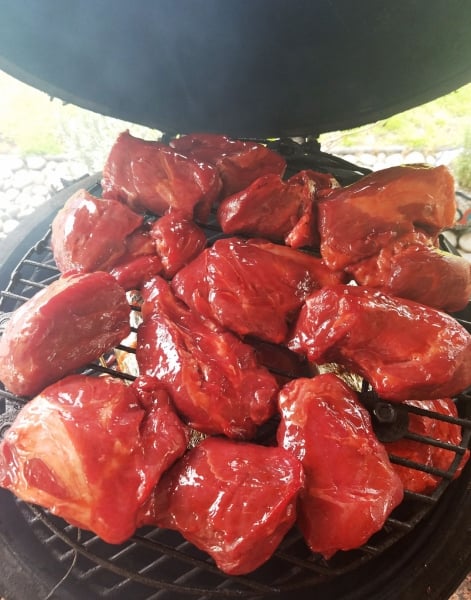 The Cook
Light your grill and prepare to cook using the indirect, reverse sear method. Bring your temp up to 215 degrees. Throw in one large (fist size) or two small apple wood chunks. Too much smoke and the meat can come out bitter, so go easy with the wood. Put the largest pork cuts on the grill. After 20 minutes, flip them over and baste them with the reserved sauce. Remember to add the smaller pieces of pork now. Every 20 minutes or so, turn and baste your pork until the pieces reach about 125 degrees internal temp, using an instant-read thermometer. Pull the pork and set aside on a wire rack. This allows the juices to drip down and prevents the meat from sitting in its own juices.
The Sear
Once all the pork is removed, it's time to open the air vents and crank the coals until they are red hot and flaming. Now comes the tricky part, the sear. Because char siu sauce is sugar based, it will burn very quickly. So, I sear a handful of pieces at a time, turning them and basting them about every minute, until I get the right amount of blackened char on the meat. Once done, I put them back on the wire rack to cool. Many people like char siu at nearly room temperature, but it's impossible not to cut a few pieces while hot to check out your handiwork. Just be careful not to burn your mouth with the sticky sauce. We wouldn't want you to lose your singing voice to a ring of fire.