Fired Up Fridays: Buri Kama Karma
A weekly barbecue blog for the summer.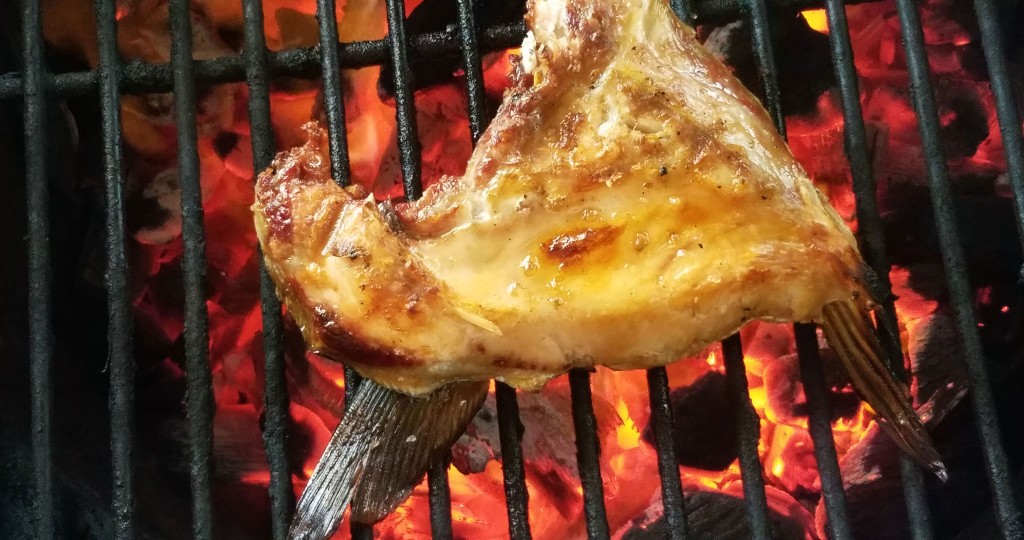 Scott Schumaker is president of PacificBasin and interim publisher of Hawaii Home + Remodeling. He is also an avid barbecue hobbyist who often tempts co-workers by posting images of his culinary feats on his Instagram, @schuboxphoto. We have convinced him to share his secrets each week this summer with our readers in our Fired Up Friday blog. His grill smoker of choice is a Big Green Egg he purchased from POP Marine and Fishing. He also uses a Weber Summit gas grill, especially for rotisserie cooking, which he got at AirGas Gaspro Kapolei.
---
Buri kama, or yellowtail jaw, is as simple to grill as it is fun to eat. Nothing beats using your chopsticks to uncover another hidden pocket of moist, delicate fish amongst the bones and cartilage that make up the fish's jaw. Yellowtail, or Hamachi, is a member of the amberjack family and is a sushi bar favorite. Many sushi chefs will sear the jaw under the broiler to serve as an appetizer. Although occasionally found in Hawaiian waters, most are caught­­ in the Pacific Northwest. This same dish can also be made with salmon jaws, which are more readily available this time of year. Don Quijote stores in Hawaii often have both in stock.
The Prep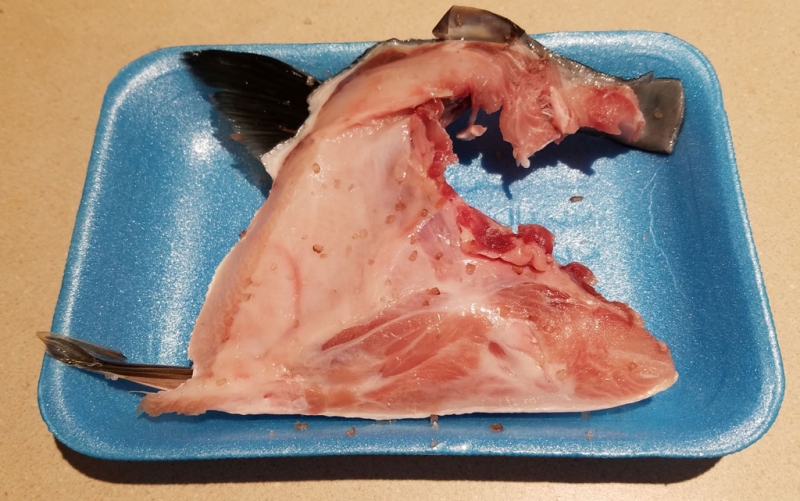 It takes less than a minute to get your buri kama ready for its date with the coals. Simply hit both sides with a little Hawaiian rock salt or kosher salt. To help the salt better stick to the skin side, I first coat it lightly with olive oil. Sure, you could add a rub to increase the flavor, but that could overpower the fish's delicate taste. Salt and smoke are really all this dish needs.
The Cook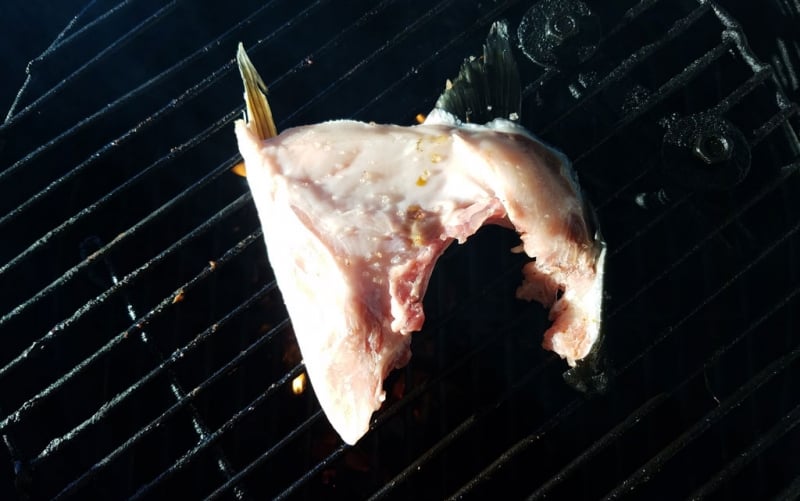 I grill mine directly over medium hot coals with just a touch of apple or pecan wood for smoke. I start the fish, skin side down, on a raised grid to get a little distance from the coals. Grill about 10 minutes, or so until the skin just starts to turn golden.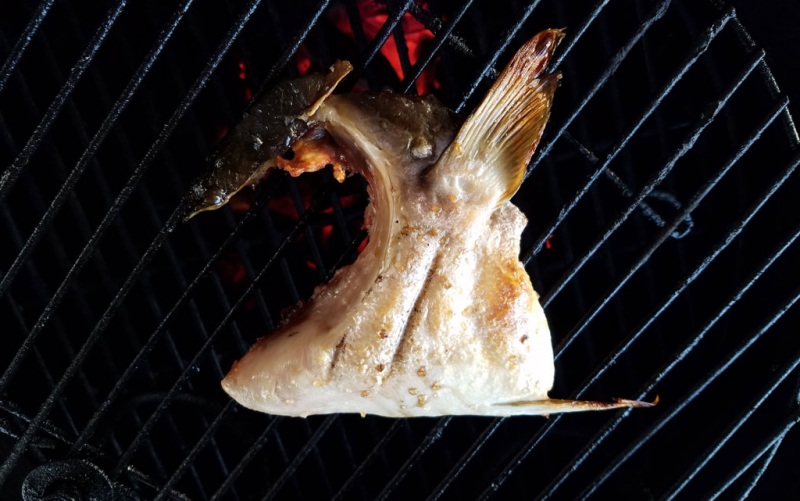 Flip it over to cook the flesh side for another 10 minutes until the healthy fats in the fish begin rendering and dripping.
I then open the vents to get the fire hotter and finish the fish right above the coals. Again, I start with the skin side down. You want the skin side to be crispy and a bit charred and the flesh side to be golden and sizzling. A few minutes per side should do the trick but watch it carefully as it can go from golden to scorched faster than a punch in the jaw.