Fired Up Fridays: Pig, Pig Cow
A weekly barbecue blog for the summer.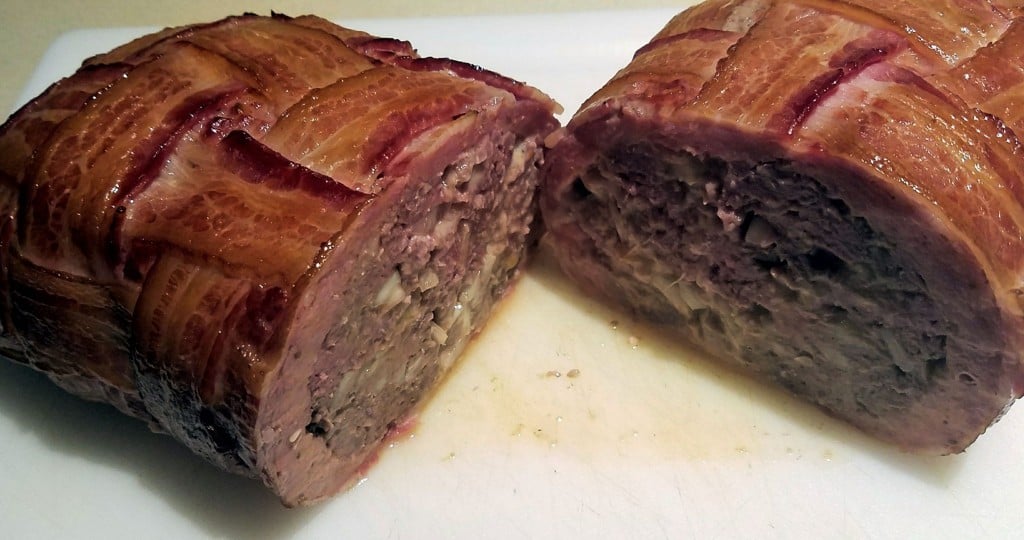 Scott Schumaker is president of PacificBasin and interim publisher of Hawaii Home + Remodeling. He is also an avid barbecue hobbyist who often tempts co-workers by posting images of his culinary feats on his Instagram, @schuboxphoto. We have convinced him to share his secrets each week this summer with our readers in our Fired Up Friday blog. His grill smoker of choice is a Big Green Egg he purchased from POP Marine and Fishing. He also uses a Weber Summit gas grill, especially for rotisserie cooking, which he got at AirGas Gaspro Kapolei.
---
Leave the charming duck, duck goose game to the keiki and instead tap into this adult-sized meat bomb. Weighing in at nearly 5 pounds, this triple-layer beast of deliciousness combines the best of the barnyard – pig, more pig and cow. No charm, no fowl, as we used to say on the playground.
One pound of bacon weave is layered with two pounds of Italian sausage then wrapped around 1.5 pounds of grass-fed beef mixed with sharp cheddar cheese, onion, garlic and spices. It's a carnivore's dream and a cardiologist's nightmare.
The Prep
It takes about 30 minutes to form this meaty log, so light your grill and let's get rolling.
Combine 1.5 pounds of ground beef with 8 ounces of grated sharp cheddar cheese, a chopped Maui onion, some minced garlic and your favorite spice rub. These ingredients will form the core of your meat bomb. Set aside in refrigerator to stay chilled. (Chilled meat is easier to work with.)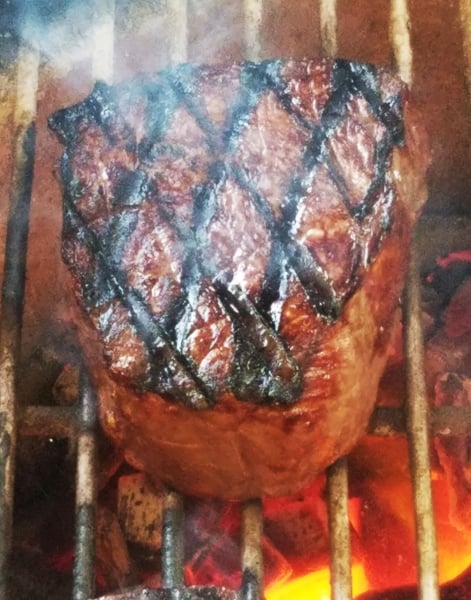 Cover your counter with a large sheet of parchment paper or wax paper to use as a work surface. Now it's time to weave the bacon. Take 1 pound of thin-sliced or regular-sliced bacon and lay seven to eight strips side by side until the width is equal to the length. I start by laying one piece lengthwise to gauge how many slices I will need. (Note: Although thick-sliced bacon is one of mankind's greatest gifts, it is harder to weave and does not crisp up enough when using low smoking temperatures.)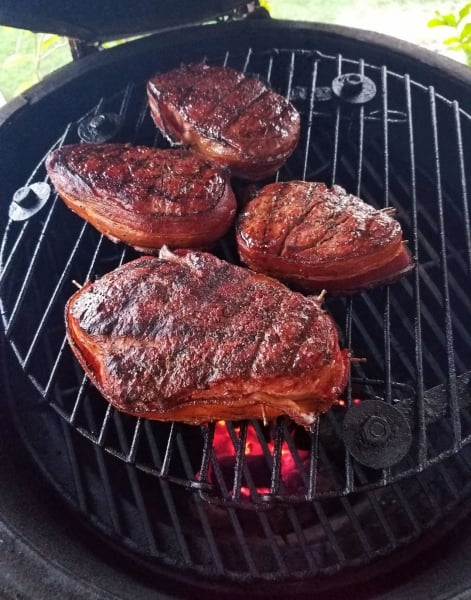 Fold back every other slice. Here, I've folded back slices 2, 4, 6 and 8. Place a slice horizontally across all the vertical slices.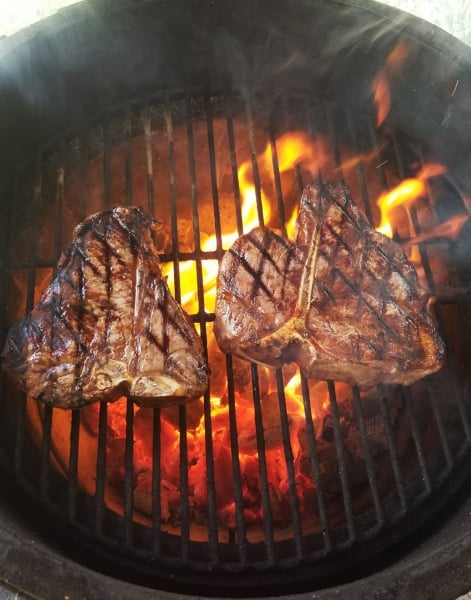 Pull the slices that you folded back to their original position and fold back the other slices. Now, slices 1, 3, 5 and 7 are folded back. Place a second slice horizontally across all the vertical slices.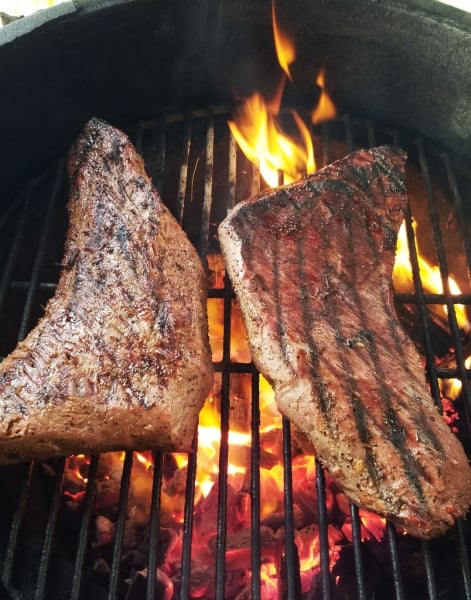 Continue alternating steps 3 and 4 above until you have a fully woven square of bacon. Sprinkle on your favorite rub. (Note: These bacon weaves are versatile and add an elegant touch to a barbecue. They can be used to cover pork loin, meat loaf, a whole fish or just about any large protein you throw on the grill.)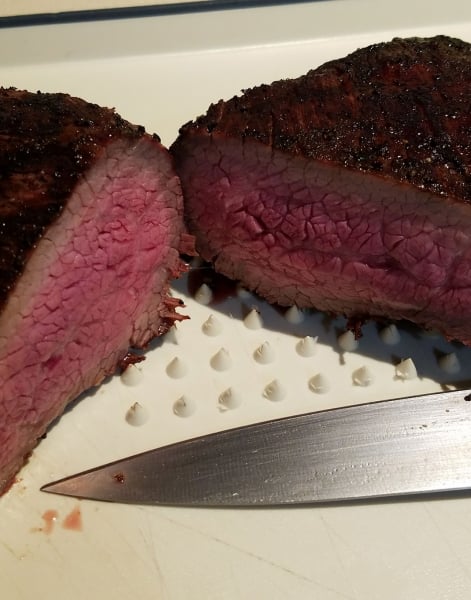 Take 2 pounds of your favorite bulk sausage out of the refrigerator and layer it on the bacon weave. If using sausage links, like I did here, remove the sausage from its casing first. Any uncooked sausage will do, but I prefer hot Italian sausage.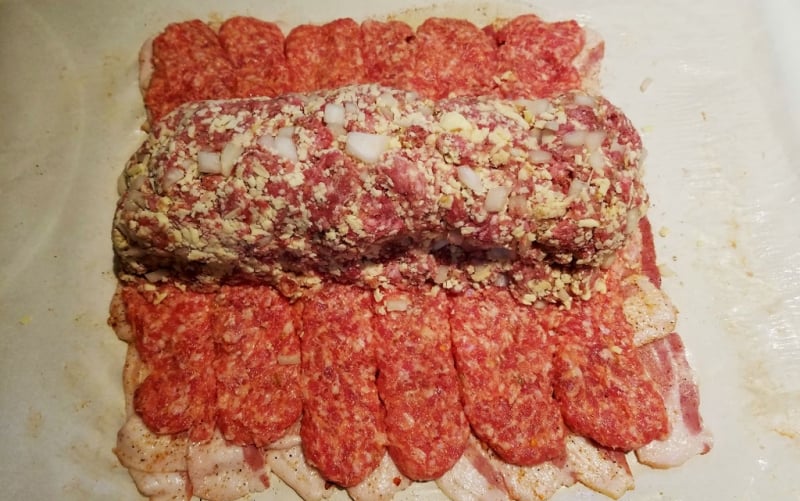 Form the beef mixture into a log and place in the center of the sausage-encrusted bacon weave. If you want to hear angels sing, say those last four words out loud. Sausage encrusted bacon weave. You want the beef in the middle so the outer layers of pork will cook fully by the time the beef is medium rare in the center.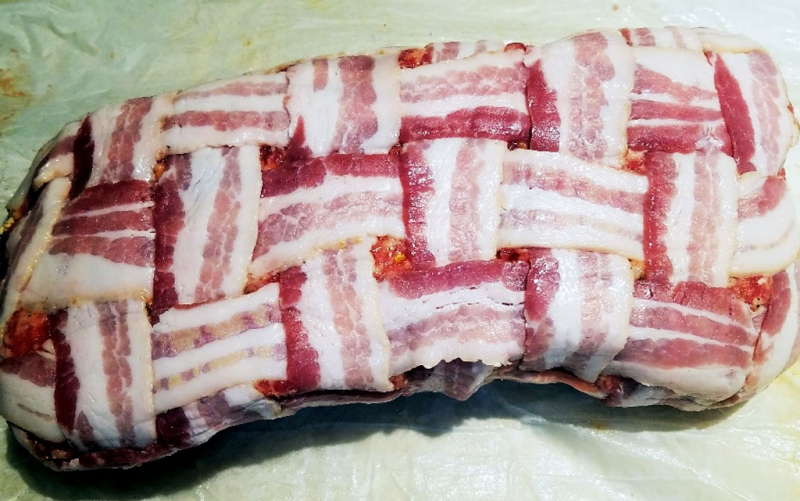 Now, roll each side up over the beef log. Secure with toothpicks if you'd like or simply turn it over and adjust any of the bacon that might have shifted during the roll.
The Cook
Bring your grill up to 225 to 250 degrees and set it up using the Indirect Cooking Method. Add a fist-sized chunk of cherry or pecan wood. Shut the lid and take a two-hour nap. After all, you just wrestled two barnyard brutes into submission. You're exhausted. The wife will understand.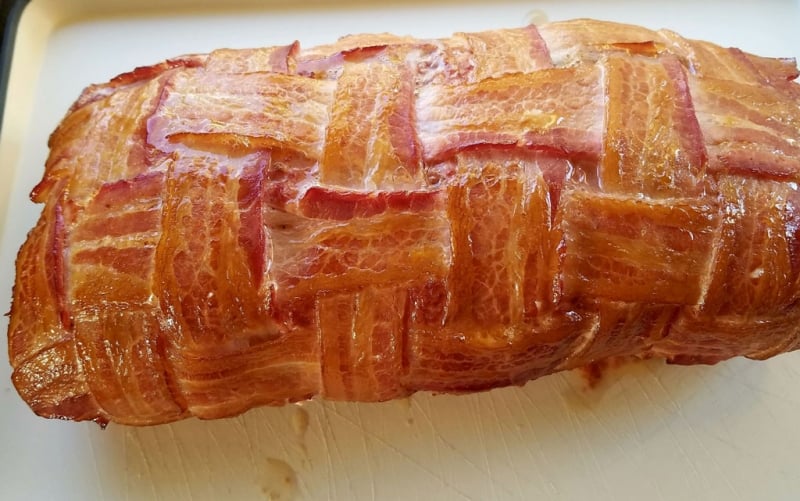 After waking from your nap, tell your wife how hard you have been grilling. It will take about two hours for the meat bomb to reach 130 degrees internal temperature as measured by an instant-read thermometer. Using food gloves, remove the beast from the grill and allow it to rest for 20 minutes or so.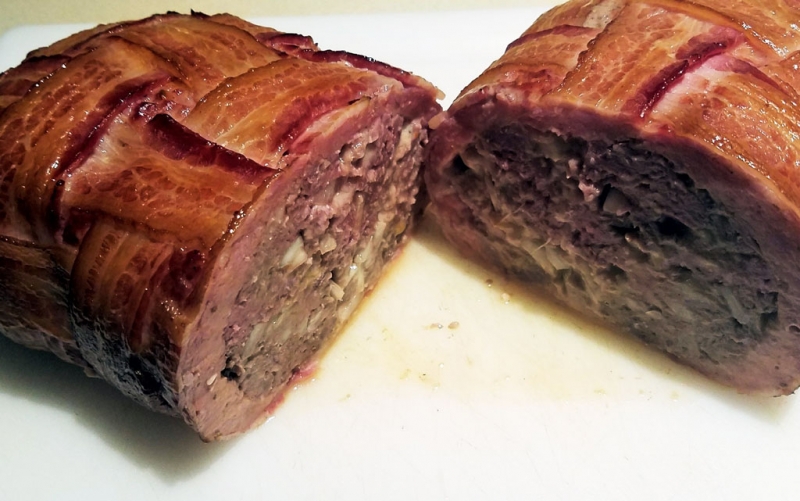 Slice and enjoy. Whether you decide to eat it using a fork and knife, or you put it on a bun as a massive pig, pig cow burger, you'll soon realize consuming this meaty concoction is not child's play.