Frames of Reference
Check out locally owned Coastal Windows for security, ventilation, style and so much more.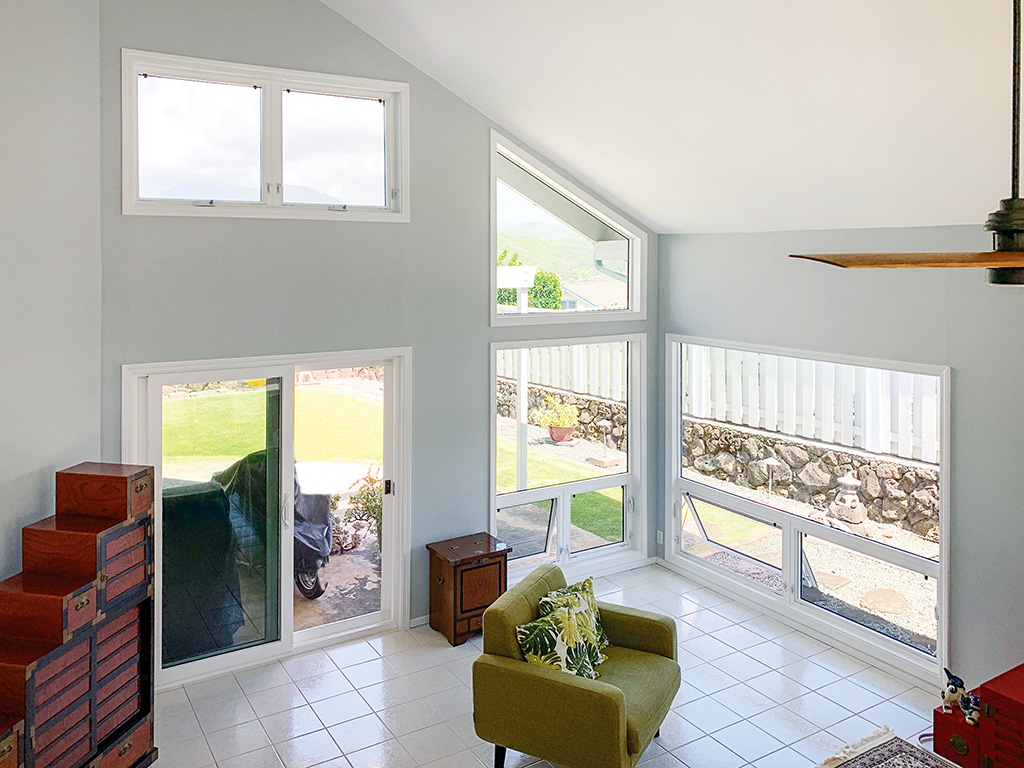 Keeping your windows up to date is an important but often overlooked aspect of home maintenance. A regular assessment of your goals for cooling and ventilation, weather defense and family safety should include an honest review to determine if your windows are working well for you or need to be replaced.
Pam Barrett, marketing director for Coastal Windows, notes that the window industry continues to evolve with new technologies and manufacturing techniques. Homeowners can benefit by connecting with local experts who can provide advice on how windows can elevate your home's comfort level and aesthetics.
"Today's vinyl windows from Coastal Windows are a vast improvement from older, builder-grade windows found in most homes," says Barrett. "We offer the latest technology when it comes to storm protection, security, heat and UV protection, noise control and, of course, style and function. With over 30 years in designing and manufacturing windows here in the Islands, we understand the challenges homeowners face in Hawaii's unique environment. Our entire product line of windows and doors has been engineered specifically to meet these challenges."
Barrett says "evaluation, consultation and education" are key when considering any upgrades to your home's windows:
Evaluation: Address what is most important to you when it comes to windows. Are you happy with the appearance and function of your windows? Are there maintenance or security issues? Could your home use more ventilation? Making a list helps you to stay focused on what matters most.
Consultation: Seek advice from a window expert to discover all the options available. If your home currently has jalousies, design consultants at Coastal Windows may be able to come up with ways to replace them with another style. They can also figure out suitable alternatives based on your budget and desired project timeline.
Education: Windows have come a long way since wood frames, jalousies and single-pane glass. So how do you know what style of window, type of glass and hardware will be best for your home? Research your options and seek the advice of professionals, including the window manufacturers themselves. "Ask questions, lots of questions," says Barrett.
Coastal Windows offers products and home additions based on your priorities. If you're looking for "the ultimate in safety and security," for example, Barrett suggests the CoastalGARD line of impact-rated windows and doors.
"Most people think of hurricane protection when they hear of an impact-resistant or impact-rated window and door," she notes. "The laminated glass featured in our CoastalGARD units not only protects against flying debris, but it also provides increased security protection from intruders, thieves and vandals. If laminated glass is broken, the vinyl interlayer remains in the frame, with glass fragments adhering to the interlayer. This provides a strong barrier against forced entry."
Other options include the line of Coastal 500 Series High-Performance Sliding Windows, Sliding Lanai Doors and Stacking Doors designed with anti-lift out devices, and the Coastal 500 Series High-Performance Jalousie Windows, which are, according to Barrett, "substantially more secure than traditional jalousies." Adding the CoastalSECURE safety package — which features the Stronghold System that operates on an innovative "pinning" mechanism — is one more option to consider.
For more ideas on windows, Barrett recommends stopping by the Coastal Windows location in Waipahu or requesting a consultation.
"We are a locally owned second-generation family business, manufacturing premium windows and doors exclusively in Hawaii since 1990," notes Barrett. "Windows and doors are all we specialize in, and we are continually refining our innovative design and engineering processes to ensure long-lasting, trouble-free performance for Island homes. We invite homeowners to come visit our showroom and manufacturing facility to see firsthand our commitment to excellent craftsmanship."