Here's What's Trending in Kitchen Design Right Now
The recipe for your dream space starts here.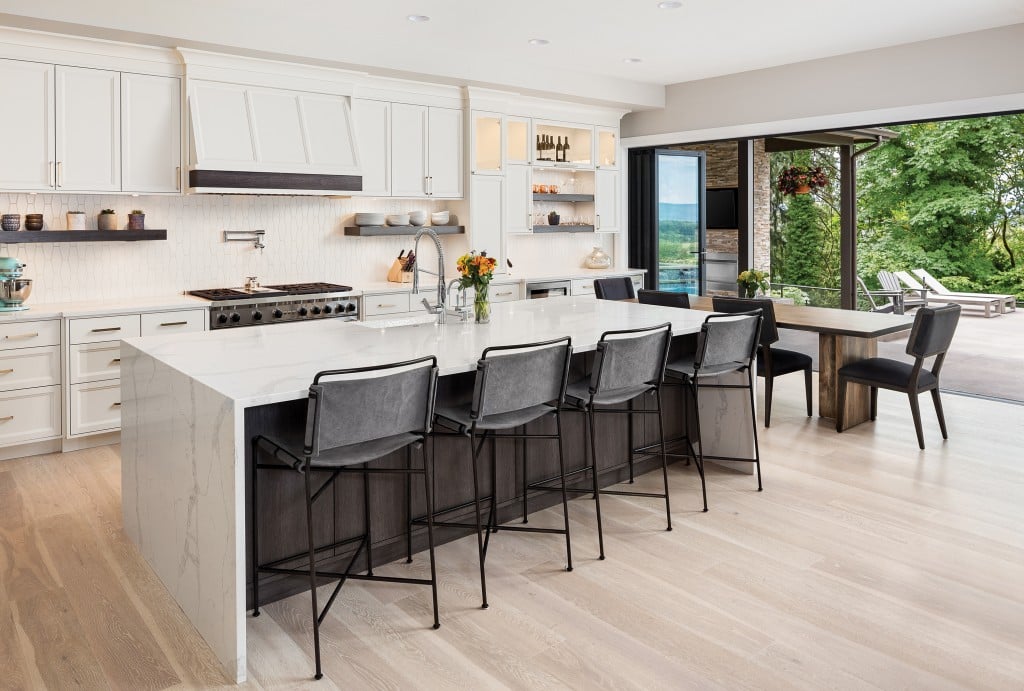 All this time inside has allowed us to see how valuable the design and function of our homes can be — inspiring a great deal of people to take the plunge and begin renovations. This is especially true in the kitchen.
"Kitchens in Hawaii are typically compartmentalized and very small. Moreover, local families are using their homes to house multigenerations for convenience and frankly, it's quite expensive to live on the islands," says Rose Kaneshiro of American Floor & Home. "With the pandemic, people have been spending more time at home and working from home as well. Fortunately, these homeowners are taking the time to remodel their kitchen and building it around to fit larger families."
Many have taken the time to look at all the major flaws of their current spaces and think about how they'd want to change things, adds Shelley Tanner of John Cook Kitchens. This includes inefficiently designed kitchens with awkward layouts that create disruptive flows and outdated fixtures, finishes and appliances.
Here are the latest developments in kitchen design — and how the pandemic shaped these changes — from technologically advanced products to long-lasting materials with cleanability at the forefront.
A MULTIUSE SPACE
As the heart of the home, the kitchen is embraced as the go-to multifunctional spot for families, used for cooking, entertaining, even working and completing homework right at the counter. For better flow and function, an open-concept design is essential. "Walls are being removed to create an open-space concept," shares Kaneshiro. "Hawaii families love to gather and tend to stay close to the kitchen. So, larger islands are a must."
Richard Ecraela of American Floor & Home shares that kitchens are now outfitted with accessories — rollout drawers, spice racks, trash/recycle systems — that streamline storage and organization.
"Maximizing and capturing space is important when designing kitchens," adds Kaneshiro. "Deeper, wider drawers and rollout shelves help store countertop appliances like KitchenAid mixers, air fryers (and) Vitamix blenders. Clients want their kitchen to be free of clutter and easy to clean."
Another major takeaway from the last year is the importance of having a workspace. "Working from home is a normal part of life now, so incorporating a workspace in the kitchen is ideal," says Kaneshiro.
STRONGER NOW
Kitchen design has changed significantly based on how we maintain and use our spaces — with an emphasis on strength and hygiene. "Quartz is the best material for kitchen countertops today," recommends Ecraela. "Multicolor choices and patterns compared to granite make this material ideal for today's modern homeowner."
This type of counter is engineered and generally less porous than natural stone, and it's highly durable and easy to clean. "Quartz is the ideal countertop material because it is scratch-, heat- (and) stain-resistant and a sustainable product," adds Kaneshiro.
Additionally, natural antimicrobial materials — copper, brass and bronze, for instance — are good choices for knobs, handles and even fixtures.
CLEVER & CLEANER
"Kitchens are now much smarter," says Kaneshiro. "Appliances have technology that can be linked to a phone or computer for better control and access. The user can use time more efficiently and set temperatures remotely. Built-in appliances to create streamlined cooking and pull-out accessories allow the kitchen to be more organized."
To maximize productivity and minimize wasted heat, GE Appliances launched the first-ever in-oven camera called the CookCam. This device allows you to see inside the contents of your oven without ever having to open the door. It's available for the GE Profile or Café ranges and wall ovens.
This focus on sanitation and rising need for efficient materials has created an overflow of non-touch, low-maintenance items, like touchless faucets. The U by Moen Smart Faucet is voice activated, features a wave sensor and can take commands from a smartphone app. The hands-free control allows you to request specific measurements and temperatures of water to be dispensed, as well as use a "wash hands" command that turns the water on, then pauses for 20 seconds to allow you to scrub before washing again for a thorough cleanse. It comes in a lineup of styles to suit your aesthetic, like the U by Moen Smart Faucet in Sarai for a modern look.
NEVER GO OUT OF STYLE
Some trends, however, aren't going anywhere anytime soon. "Shaker white doors still top the most specified feature in kitchens," shares Kaneshiro. "It remains to be the most desired because it's simply classic and timeless."
Homeowners are also looking for sleek, modern door styles, adds Ecraela. "Flat textured laminate doors are more popular because they're easy to care for, don't leave fingerprint marks and (are) more impact-resistant."
Two-tone kitchens continue to reign supreme as well, from different colored cabinetry and finishes to counters, according to Tanner, who designed this kitchen, which has stained wood on the island and an heirloom dry brush painted finish on the perimeter. There's two-tone laminates for the cabinet doors and two different quartz counter colors.