Homeowners Design Center transforms an aged kitchen
A couple turns to Homeowners Design Center to upgrade their galley kitchen to a space loaded with new appliances and storage.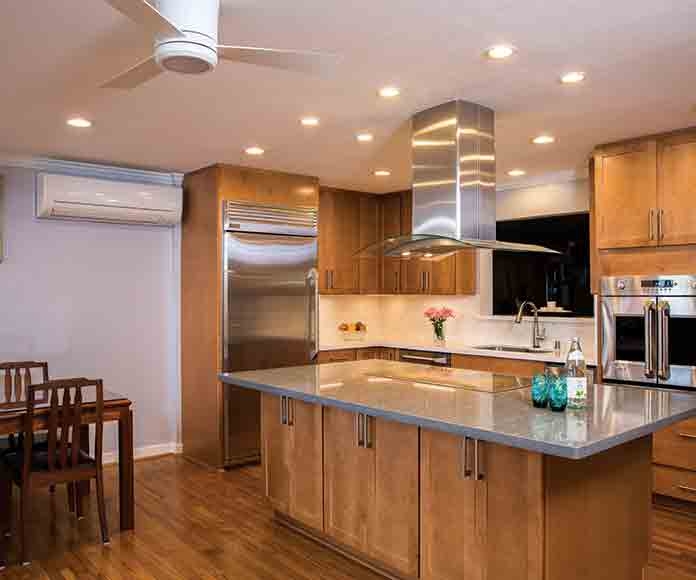 Twenty years ago, a couple wanted to make small updates to their home.
Patricia and Gary Iwamoto were renovating one of the bathrooms and bought a new vanity and sink from Homeowners Design Center, a Honolulu-based company that works with homeowners on projects large and small.
The Iwamotos appreciated the good customer service they received for their small purchase. In the two decades since, they held off on any other renovations, choosing instead to make do with their aging Kaneohe track home, built in 1959. But at about the same time as the bathroom renovation so long ago, the galley kitchen's original appliances began to fail, one after another.
When yet another appliance broke more recently, it was finally time for a kitchen redo. The Iwamotos recalled the good customer service they received from Homeowners Design Center and decided to return for their kitchen renovation.
The transformation of the galley kitchen into a bigger, open-concept space began with the removal of a wall. Homeowners Design Center had even more space to work with because of a built-in pantry, crafted by contractor Dream Home Builders.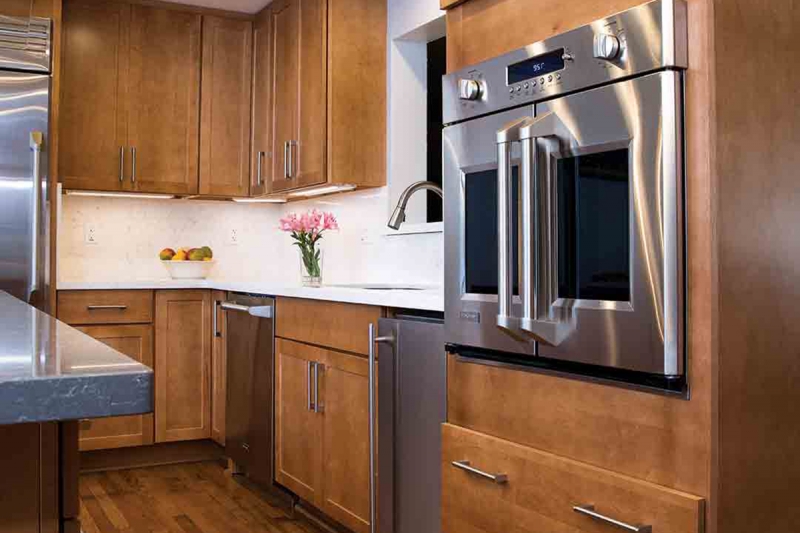 "Every space in the kitchen has been utilized," Patricia Iwamoto says, crediting Jessica Omoto of Homeowners Design Center for her creativity in maximizing space.
After years of cooking with dated and cheap replacement appliances, the Iwamotos were thrilled to pick out new ones. They treated themselves to eight new GE appliances, including an induction cooktop, Advantium oven and separate refrigerator and freezer columns.
"I was excited about their appliances," Omoto says. "I got to put all these awesome appliances into their kitchen."
Omoto's design, and the inclusion of separate refrigerator and freezer columns in sensible spaces, allows the new kitchen to remain large and open.
"Having the freezer in a space you don't have to utilize or go to often allows you to have better use of the kitchen space when you're cooking or entertaining," Omoto says.
The Iwamotos selected their Diamond Montgomery cabinetry at the Homeowners Design Center showroom, where they browsed multiple door styles and finishes, pairing them with their preferred pulls. Omoto incorporated clever features within the cabinetry, including drawers with rollout trays that allow for better accessibility, function and storage.
Twenty years after working with Homeowners Design Center for the first time, the Iwamotos found the design firm to be just as wonderful the second time around. "They're genuinely there to help you, answer your questions, and the products they sell are all quality products," Iwamoto says. She and her husband are thrilled with their new kitchen, and the improved lifestyle that comes with it. "We both can be in the kitchen at the same time. We cook breakfast, lunch and dinner at home," she says. "I still can't believe it's my kitchen. I love it, it's so pretty."
WHERE TO GET IT
Appliances: GE Monogram column refrigerator, column freezer, induction cooktop, French door oven, Advantium oven, dishwasher and canopy island hood; GE Profile clear icemaker, from Homeowners Design Center.
Cabinetry: Diamond Montgomery doors in maple with Sahara finish, from Homeowners Design Center.
Countertops and backsplash: Quartz, owner furnished.
Faucet: Delta, owner furnished.
Flooring: Refinished original oak.
Handles: Berenson Studio in stainless steel, from Homeowners Design Center.
Sink: Franke, from Homeowners Design Center.