How to Create a Pet-friendly Outdoor Space
Making a safe and fun backyard for your pets.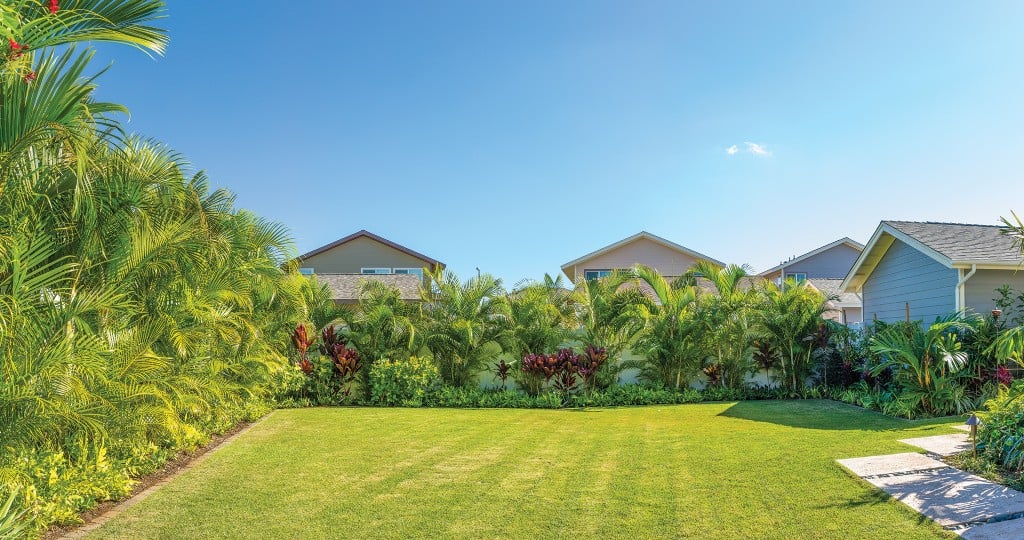 In Hawaii our pets are spoiled with year-round sunshine and balmy weather. But there can be dangers lurking in our backyards — and we may not even know it. "You have to think about everything," says Steve Dewald of Steve's Gardening Service, who's helped Hawaii residents create outdoor spaces for their pets, including rabbits, for decades. Here are some tips from experts on ensuring your backyard is safe and fun for your furry friends.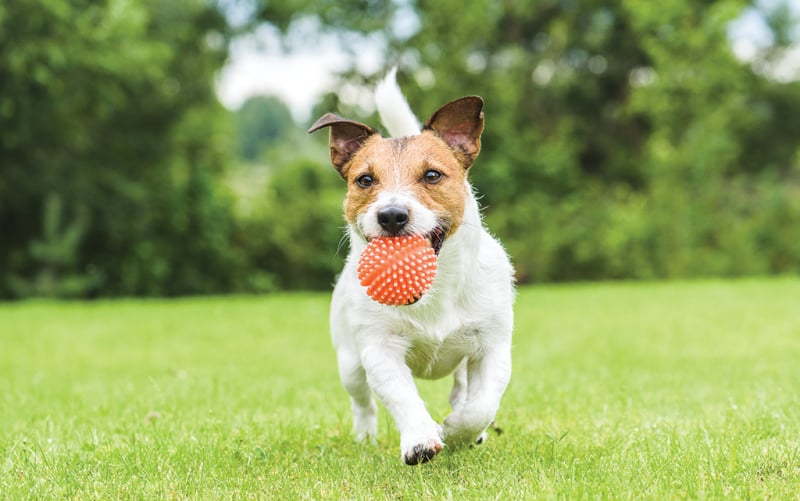 Get the Right Grass
There are several ways dogs, in particular, can destroy lawns: digging, running and pooping. But the biggest problem is urine, which contains urea, a byproduct created during the metabolism of protein. Urea contains a lot of nitrogen — and excess amounts of it can "burn" and kill plants and grass. Dewald suggests ultraresilient grasses such as El Toro Zoysia and prefers real grass over synthetic versions, even ones made for pets. "It's a super strong grass for animals," he says. "It's a really durable and beautiful grass. … Anytime you can use real grass with an animal, you're better off. It's even good on their joints." (This particular grass, though, needs a lot of sun, so it's not the best for shaded areas.)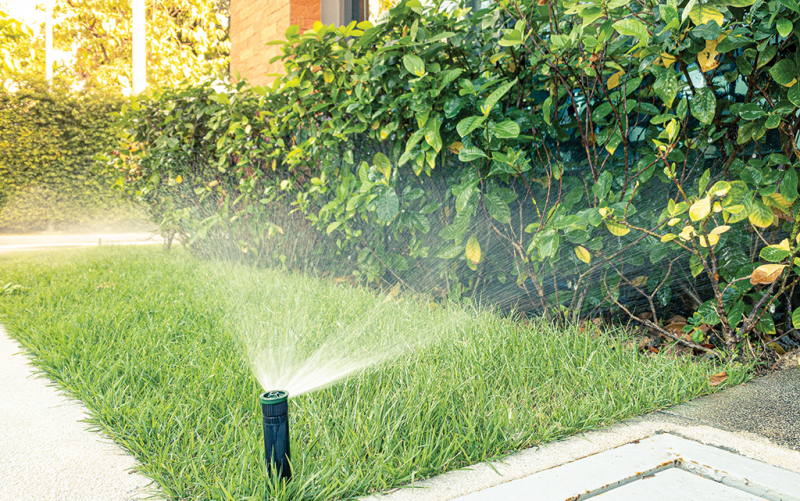 Consider an Irrigation System
Unless you want to hose down your lawn every day, Dewald suggests installing an irrigation system to help dilute the urine and reduce the effects it will have on your lawn. Make sure you have good drainage, too. (No one likes a muddy dog!) And choose pop-up sprinkler heads — or even portable sprinklers — if your dog likes to chew on them. You can also spray or rub pepper sauce or other topical deterrents to make them unappealing to your pooch.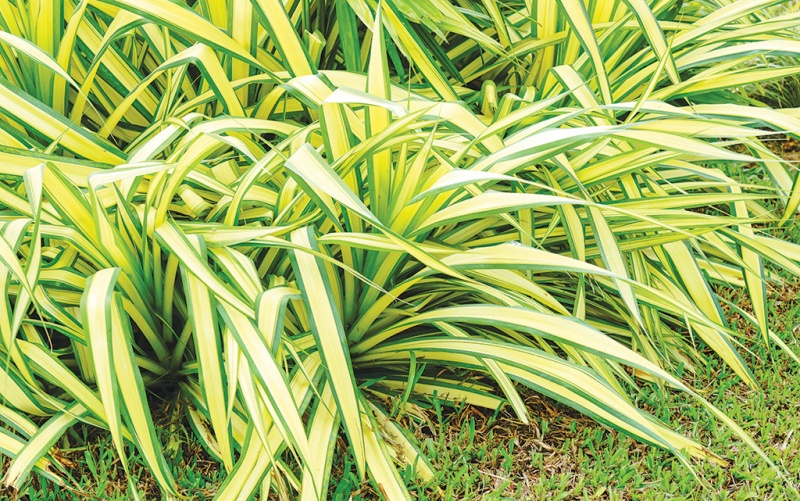 Grow Pet-Friendly Plants
Some common plants are dangerous to pets if they eat them, including azaleas, lilies, plumeria, oleander and mums. Check with your vet or the American Society for the Prevention of Cruelty to Animals for a list of plants that can irritate or even kill your pet. Dewald also suggests that you avoid planting fragile flowers and vegetables that your pets may dig up, run through or destroy. Consider using raised planter beds or containers for those.
Use Dog-Safe Fertilizers and Pest Control
Some lawn chemicals can cause mild stomach issues in your pets, others can result in death. The Animal Poison Control Center says it receives thousands of calls every year from pet owners whose dogs ingested fertilizer. Apply fertilizer per instructions and keep your pets off the lawn and out of the garden for 48 hours or until the fertilizer has soaked into the soil or dried. Insecticides and snail bait tend to be the most poisonous to pets. Use pet-friendly alternatives. (Dewald swears by a dish of beer to attract snails and slugs.) Talk to your vet about options.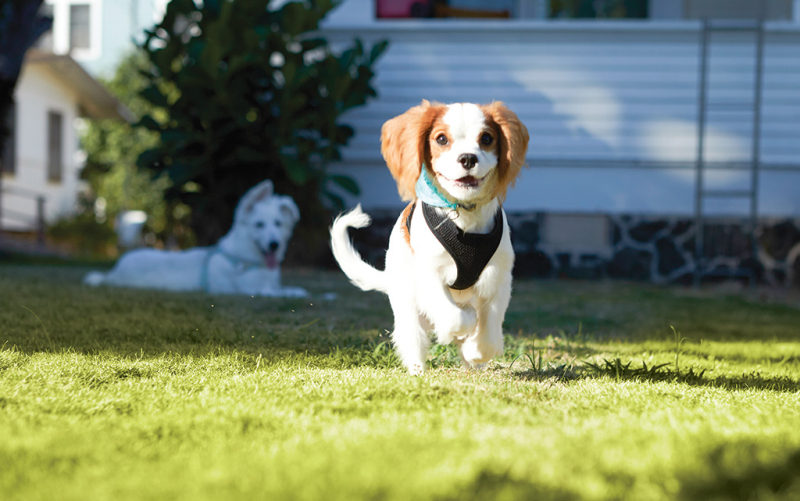 Create Cool, Shady Spaces
Pets need shady areas to cool down and get out of the sun. (Even tortoises need burrows to protect them from extreme heat and dogs can get sunburned and suffer from heatstroke.) Trees and covered lanai work. Or you can install overhead tarps or shade cloths that stretch over parts of your backyard.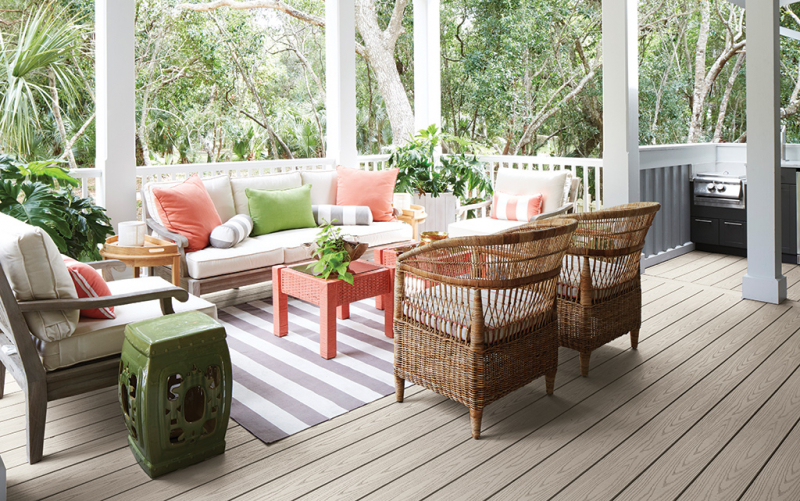 Install Fences and Railings for Safety
All pets — dogs, cats, rabbits, tortoises — need boundaries in the yard. Make sure your outdoor space is secure with safe and durable fencing and railings. Rinell Wood Systems offers a variety of exterior railing systems that are not only durable — dogs will test this! — but will fit into any style of outdoor space. It also supplies pavers, which are great for dogs that love to run, romp and dig. Placing pavers along your fence line — where dogs love to run — will help prevent digging and wear and tear in that area.