How You Can Harness the 4 Elements into Your Design
Inviting nature-inspired tones.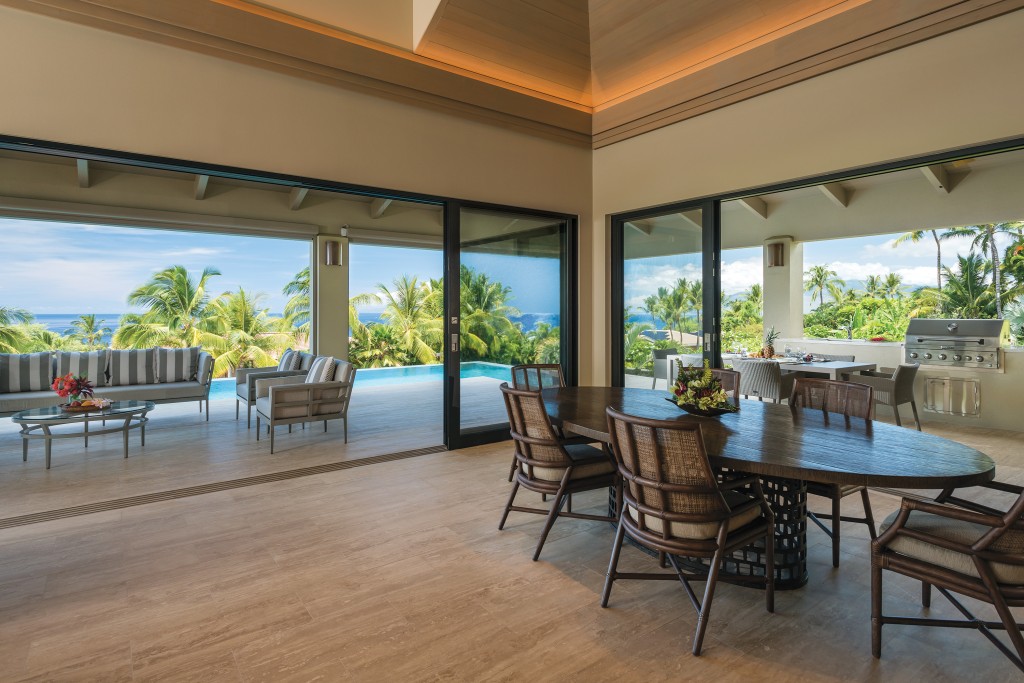 Be inspired by your everyday surroundings and invite nature-inspired elements into your home. Here's how you can channel earth, air, fire and water into the design and décor of your spaces.
Earth: Stone Countertops
Natural stone slabs are made from years of heat and pressure and exude beauty and strength. Each piece is unique, making stone highly desirable among those in search of a one-of-a-kind look. Some common types are granite, marble, quartzite and limestone. Selective Stone, one of the largest suppliers of stone on the island, carries an array of colors and styles.
Natural stone isn't the only stone option out there. Hot on the market is engineered quartz, which blends quartz and other minerals to create a stronger stone with even more colors and styles to choose from. What's more, Selective Stone now carries Silestone surfaces made with its HybriQ+ technology. This surface is produced through a process that uses 99% recycled water and renewable energy, says Kevin Nip of Selective Stone. "The new mineral composition enables greater effects in color depth, textures and tones in a more natural sustainable product," he adds.
Air: Windows & Pocket Sliding Doors
Large windows and doors are a breath of fresh air, allowing you to bring in surrounding views and natural light. Fleetwood Windows & Doors carries luxury products that'll open your home to the beauty outside. The company specializes in large openings that can withstand strong winds and rain, says Chris Ayers of Pacific Source, which makes it ideal for Hawaii's tropical climate.
A Grounded Home
Balance your space with wood flooring from Pacific American Lumber. Its mango wood flooring, for instance, is created from local "rescued" trees that otherwise would have been turned to mulch. It comes in varying shades, from gold to dark brown, and can be yellow with streaks of black or pink.
Fire & Water: Tiles
Create a spark — or splash — of interest in your space with tile. Bella Pietra Design, known for its robust collection of quality stone products, can help guide you through the selection process.
Artistic Tile's Tappeti red blend mosaic brings warmth into the room. It unites four different colors: Tonshawn red, red travertine, pink cream and China beige. This tile is inspired by woven textiles, shares Meagan Jensen of Bella Pietra Design, perfect for a kitchen backsplash or elevated wall design made of stone.
For something more neutral in tone, Artistic Tile's Ambra Gris resembles a wave of flames. "We have used it in backsplashes, showers, fireplaces and even exterior walls," says Jensen. "It incorporates a unique dimension aspect but also maintains a timeless quality."
Blue agate semiprecious gemstones, also offered at Bella Pietra Design, will cool down a space, whether you want an ocean-inspired room or a fresh accent piece to a muted, modern style. "This material is a true showstopper for many interior applications," says Jensen. It can also be used as an accent wall, a backsplash or even paired with furniture, such as a vanity, bench or headboard. However, Jensen cautions, because it is a resin-based material, it will turn yellow when in direct light, so be mindful of placement.
Tie in Textures
Using layers of textures is a sophisticated way to add some fun to your home. Mixing finishes are becoming more and more popular, says Jensen. "We have a lot of natural stone that comes in a variety of textures. If it is in an area like a shower and people are worried about keeping it clean, I would recommend a smooth finish like a honed or polished."
Accessorize any room by adding a carpet, wallpaper and light fixtures. Play with warm metals and cool tones, such as gold, copper or stainless steel in the kitchen. Just be sure to have a dominant theme that's accented by the other style instead of competing with it.