Industry Watch
What's Trending in America's Kitchens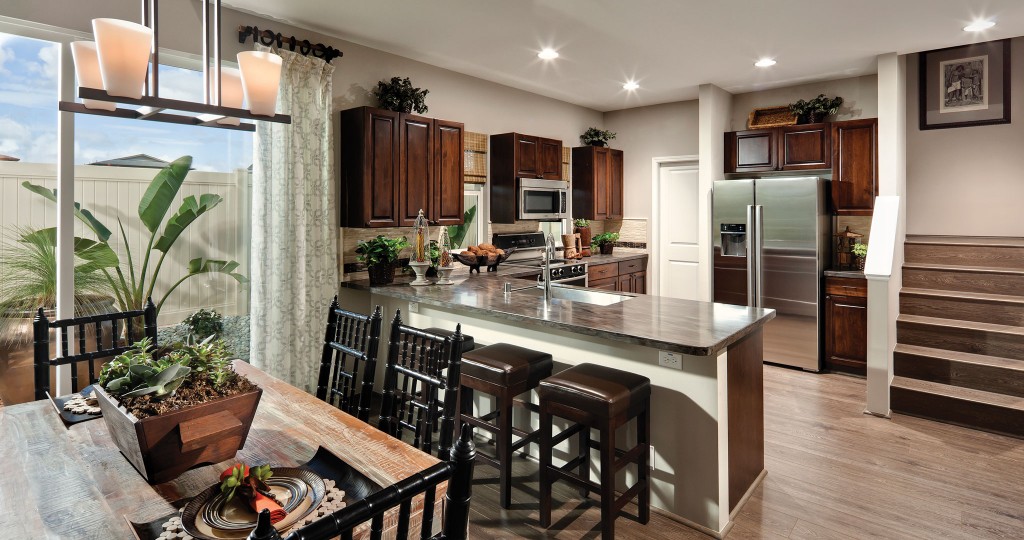 The kitchen is the hub of the home and today's designers are offering open space with areas designated for specific uses such as cooking, dining, conversation and relaxation.
Here are some of the latest trends in kitchen design that were outlined at the 2016 International Builders' Show.
Double-Island Kitchens
Open living, cooking and dining spaces are becoming more creative and casual. Back-to-back and side-by-side islands are showing up in all styles of homes — one island for cooking and preparing food and the other for serving food and dining. Sometimes the second island takes the place of a more formal dining room table.
Indoor/Outdoor
Many kitchens are opening up to the outdoors, which extends the square footage of living space. Private outdoor space is preferred, such as connecting a kitchen to an open outdoor porch.
Reflectivity and Acoustics
Matte finishes minimize glare, and stainless steel and high-polish surfaces should be used selectively. Hard surfaces increase noise levels while materials with texture absorb errant noise.
Pantries/Storage
Hidden pantries conceal large storage areas. Touch-control uplift doors offer convenience, and interior cabinet organization maximizes storage.
Technology
Consider connectivity and charging needs. Kitchen desks are being replaced with charging stations. New materials allow for cord-free charging.
Cabinets
Cabinets are getting sleeker and flatter. Slab and modified shaker door styles are very popular. Wood tones, walnuts and cherry are back. Dark, java color is going out and white never goes out of style.
Counters and Backsplashes
Waterfall edges and thick, back-beveled edges are in style. Material combinations can add interest and practicality to a kitchen, while backsplashes add texture and contrast.
Flooring
Wood floors are still a consumer favorite, while porcelain tile has come a long way. In large scale or planks, it imitates wood and stone. Luxury vinyl tile offers good imitations with ease of use and maintenance.
Find a BIA-Hawaii member who is ready to bring these exciting new trends to your home at biahawaii.org.