Interior Design
The process of interior design is a deeply personal one.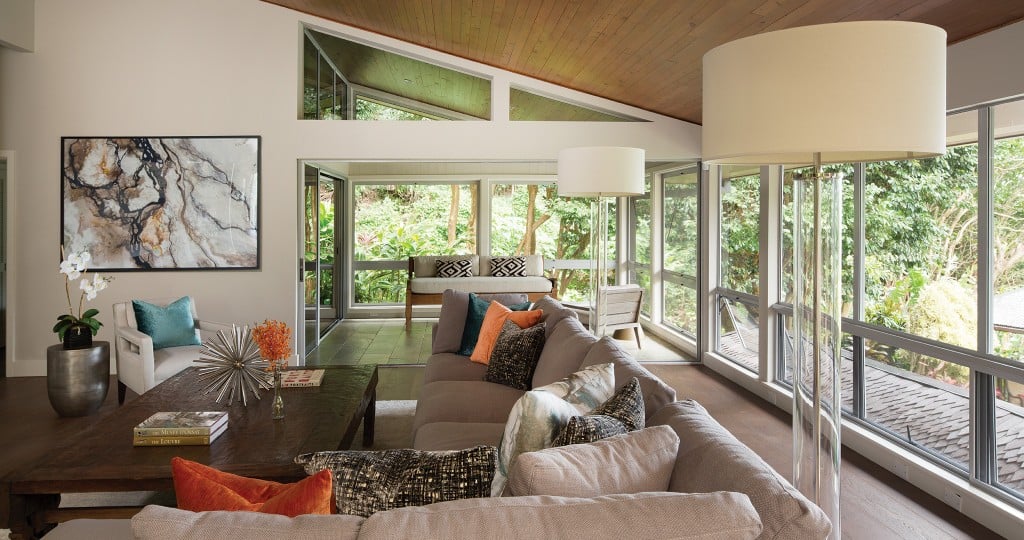 This article is part of the 2019 Hawaii Home + Remodeling Resource Guide, an organized and vetted directory of professionals, services and shops in the building and home improvement industry.

The process of interior design is a deeply personal one, with the end result ultimately expressing a piece of the homeowner's soul. From the color of the walls and the position of lighting, to the style and placement of furniture – each and every detail works together to personify the personalities of the people who call the place home.
But with so many things to consider, figuring out how to design your home can be overwhelming. Fortunately, you don't have to go it alone. "People don't know what they don't know," says Glenda Anderson, master designer at Details International. "That's why I'm always more than happy to give advice to homeowners." With so many talented local designers available, the right person for the job may only be a phone call away.
Be sure to explore your options and talk to different designers, as there are a diverse range of styles and tastes that they may specialize in. Anderson shares her top three tips to remember when it comes to selecting the designer that's right for you.
Selecting an Interior Designer
Find Understanding
Like any professional service, it should be personalized to you – and doubly so when it comes to executing the design of your home. "Try to get a designer that sees eye to eye with you," shares Anderson. Finding a designer you're comfortable with and who understands you is the first step in establishing an enjoyable experience and successful outcome.
Review Portfolio
Check to see if you can look at some of the projects they have completed recently. And then make sure it's something you can personally connect to. While workmanship and experience are important factors in choosing a designer, their design style should also resonate with you. "Sure it might be pretty, but it just might not be 'you,'" Anderson adds.
Relevant Experience
A designer might have decades of experience in the industry, but it won't help much if it's not in the areas you desire. Be sure to look for designers who have experience in performing the kind of jobs you're looking for. For instance, "If homeowners are looking to remodel, then they should look for designers who have remodeling experience," says Anderson.
---
87zero
560 N. Nimitz Hwy., Ste. 123
Honolulu, Oahu
791-9870
87zerohi.com
ADI Design Group Inc.
851 Pohukaina St., Bldg. C, Bay 3
Honolulu, Oahu
593-8950
adihawaii.com
Applied Fabrics Hawaii
Honolulu, Oahu
783-1977
appliedfabricshawaii.com
B.J. Hanger Interior Design
17630 Haleakala Hwy.
Kula, Maui
808-298-6900
Bali Aga
307D Kamani St.
Honolulu, Oahu
593-9030
bali-aga.com
Benjamin T. Torigoe, AIA, Architects Planners Ltd.
1750 Kalakaua Ave., Ste. 205
Century Center
Honolulu, Oahu
949-8383
Bloom Again Design
Honolulu, Oahu
779-3665
bloomagaindesign.com
Braden & Mehta Design
531 Hahaione St., #16A
Honolulu, Oahu
254-5000
bradenandmehta.com
C. S. Wo & Sons
Modern and classic home furnishings with complimentary design service. Open Monday through Friday, 10 a.m. to 7 p.m.; Saturday and Sunday, 10 a.m. to 6 p.m.
______________
702 S. Beretania St.
Honolulu, Oahu
543-5388
hawaii.cswoandsons.com
CDS International
1003 Bishop St., Ste. 1400
Honolulu, Oahu
524-4200
cdsintl.com
Concept 2 Completion
328C Keaniani St.
Kailua, Oahu
261-8384
c2c-builders.com
Dennis Glynn Architects Inc.
4348 Waialae Ave., #141
Honolulu, Oahu
394-6047
dennisglynn.com
Design Dimensions
38 S. Kukui St.
Honolulu, Oahu
384-1436
designdimensionshi.com
Designer for a Day LLC
99-1440 Aiea Heights Dr.,
#46
Aiea, Oahu
486-9191
designerforadayhawaii.com
Elise Yates Interior Design LLC
Honolulu, Oahu
735-0504
eliseyatesdesign.com
Furniture Plus Design
700 Bishop St., Ste. 108
Honolulu, Oahu
526-2018
furnitureplushawaii.com
Graham Builders
1144 Young St.
Honolulu, Oahu
593-2808
info@grahambuilders.com
grahambuilders.com
Green Sand Architecture + Sustainability
Honolulu, Oahu
457-1360
greensandinc.com
Group 70 International Inc.
111 S. King St., Ste. 170
Honolulu, Oahu
523-5866
group70.design
Hawaii Architecture LLP
1188 Fort Street Mall, Ste. 201
Honolulu, Oahu
721-3411
hawaii-architecture.net
HawaiiUSA FCU
HawaiiUSA's Home-Equity Lines of Credit or First Mortgages can help bring your dream home remodel to life.
______________
Main Branch: 1226 College Walk
Honolulu, Oahu
534-4300
contactus@hawaiiusafcu.com
hawaiiusafcu.com
Homeowners Design Center Inc.
Hawaii's premiere new construction and remodeling resource. Kitchen and bath design, cabinets, flooring, carpet, window coverings, countertops, appliances and interior design services available.
______________
1030 Kohou St., Ste. 201
Honolulu, Oahu
847-0216
lori@homeownersdesign.com
homeownersdesign.com
Howard Design Group
Honolulu, Oahu
732-4915
howarddesign.net
Indigo Republic Hawaii
700 Bishop St., Ste. 800
Honolulu, Oahu
429-5366
indigo-republic.com
InForm Design
1347 Kapiolani Blvd., Ste. 401
Honolulu, Oahu
946-3676
ifdesigninc.com
INspiration Interiors
1250 Kapiolani Blvd.
Honolulu, Oahu
956-1250
______________
98-1005 Moanalua Rd.
Aiea, Oahu
484-0245
______________
4450 Kapolei Pkwy.
Kapolei, Oahu
237-5480
inspirationinteriors.com
Interior Design Solutions
3031 Old Haleakala Hwy.
Makawao, Maui
808-891-8800
idsmaui.com
Kathy Gurski Design LLC
Honolulu, Oahu
396-6668
kathygurskidesign.com
Kerr Michaels Design & Construction Management Inc.
2863 Kalakaua Ave.
Honolulu, Oahu
926-8200
kerr-michaels.com/design
KTLAdesign LLC
Honolulu, Oahu
348-7461
ktladesign.com
Lapis Design Partners LLC
1188 Bishop St., #1411
Honolulu, Oahu
545-4000
lapishawaii.com
M Squared Design
Kaneohe, Oahu
235-3679
m2hawaii.com
Marshall Design Studios LLC
Wailuku, Maui
808-463-9118
marshalldesignstudio.com
Masterpiece Construction LLC
2232 Kapiolani Blvd., #302
Honolulu, Oahu
688-8839
mc-hi.com
MCYIA
1050 Queen St., Ste. 201
Honolulu
200-1100
mcyia.com
Merrill & Associates Inc.
720 Iwilei Rd., Ste. 307
Honolulu, Oahu
228-6938
merrill-hawaii.com
mesh by Shari Saiki
677 Ala Moana Blvd., Ste. 108
Honolulu, Oahu
536-6374
sharisaiki.com/mesh
Next Design LLC
1132 Bishop St., Ste. 145
Honolulu, Oahu
440-2780
nextdesignllc.com
Obayashi Design Group Inc.
1314 S. King St., Ste. 850
Honolulu, Oahu
596-0333
odginc.com
Office Pavillion
50 S. Beretania St., Ste C-208B
Honolulu, Oahu
599-2411
op-hawaii.com
Pacific Atelier
750 Bishop St., Ste. 309
Honolulu, Oahu
533-3688
pacificatelier.com
Pacific Home
720 Kapiolani Blvd.
Honolulu, Oahu
596-9338
______________
221 Lalo St.
Kahului, Maui
808-727-8300
pacific-home.com
Patti Bruce Decorative Arts
765 Queen St.
Honolulu, Oahu
277-8497
pattibruce.com
Personal Touch Window Fashions
98-723 Kuahao Pl., #B2
Pearl City, Oahu
375-2554
personaltouchwindows.com
Phase II Home Interiors
3654 Waialae Ave.
Honolulu, Oahu
732-7992
Philpotts & Associates Inc.
40 S. School St., #200
Honolulu, Oahu
523-6771
philpotts.net
Results Construction
101 Hoopiha Pl.
Wahiawa, Oahu
674-7713
ResultsConstruction.com
Riggs Distributing Inc.
Riggs Distributing is the exclusive distributor of Sub-Zero, Wolf and ASKO products in Northern California and Hawaii. With these powerful brands, there's no reason to look anywhere else.
______________
99-984 A Iwaena St.
Aiea, Hawaii
484-2511
riggsdistributing.com
Richard Peterson Design
1164 Bishop St., Ste. 124-23
Honolulu, Oahu
523-9517
richardpetersondesign.com
Sandra Tengan Interior Design
23 Mauka Pl., Unit A
Kula, Maui
808-878-8805
stengan.com
Shari Saiki Design Studio Inc.
677 Ala Moana Blvd., Ste. 108
Honolulu, Oahu
536-4044
sharisaiki.com
Shoji Hawaii
67-079 Nauahi St.
Waialua, Oahu
492-6818
shojihawaii.com
Studio Becker
560 N. Nimitz Hwy., Ste. 109
Na Lama Kukui
Honolulu, Oahu
949-1700
studiobecker.com
Sunburst Shutters and Window Fashions
1806 Homerule St.
Honolulu, Oahu
797-2004
sunburstshutters.com/honolulu
Swan Interiors Design Studio
Kihei, Maui
808-879-3316
swaninteriorsmaui.com
The Vanguard Theory
3624 Waialae Ave., Ste. 202
Honolulu, Oahu
800-748-3308
thevanguardtheory.com
Todd Branson Stoneworks
201 Kapaa Quarry Pl., Unit 45-A
Kailua, Oahu
230-8424
toddbransonstoneworks.com
Top Priority
Top Priority is Hawaii's premier custom fabricator and installer, with expertise in natural stone, engineered and solid surfaces for indoor and outdoor projects. Industry professionals recommend Top Priority for custom countertops and custom surface applications.
______________
94-061 Leokane St.
Waipahu, Oahu
638-3838
toppriorityhawaii.com
Trans-Pacific Design
64-5176 Kamamalu Rd.
Kamuela, Big Island
808-885-5587
transpacificdesign.com
Universal Interiors LLC
Universal Interiors owner Nancy Schnur is a professional interior designer with experience in residential, hospitality and universal design. Her team utilizes universal design principles to ensure homes meet clients' unique family and lifestyle needs.
______________
Oahu
348-1220
universalinteriorsllc.com
V.O. Designs Inc.
Honolulu, Oahu
734-5291
vodesigns.com
Ventus Design
1441 Kapiolani Blvd., #1115
Honolulu, Oahu
356-2652
ventus.design
Waihona Surfaces
213 Merchant St., Showroom 310
Honolulu, Oahu
523-7866
waihonasurfaces.com
Wayne Parker, ASID
Partners In Design
171-D Hamakua Dr.
Kailua, Oahu
261-5681
Wimberly, Allison, Tong & Goo (WATG)
700 Bishop St., Ste. 800
Honolulu, Oahu
521-8888
watg.com
Window World Inc.
2620 Waiwai Lp.
Honolulu, Oahu
834-1114
windowworldhi.com
Zylstra Interior Design Inc.
74-5616 Alapa St., #103
Kailua-Kona, Big Island
808-327-0088