Kitchen & Bath Design
Begin here on some of the most used areas of the home.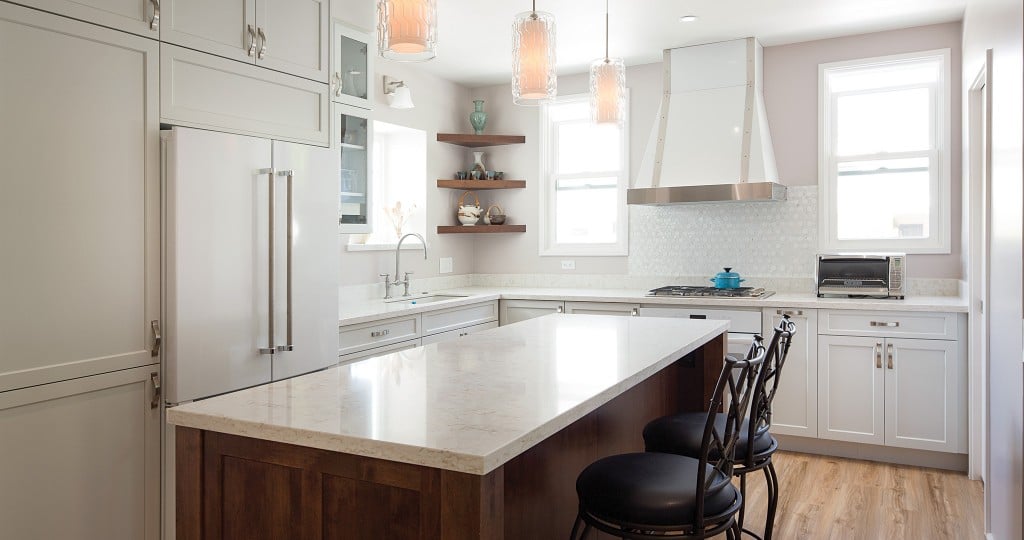 This article is part of the 2019 Hawaii Home + Remodeling Resource Guide, an organized and vetted directory of professionals, services and shops in the building and home improvement industry.

The National Association of Home Builders estimates that Hawaii homeowners will spend $622 million on home improvements in 2018. And for many homeowners, these improvements will be centered on kitchens and bathrooms. As some of the most used areas of a home, these rooms are often places of refuge, nourishment and rejuvenation, and a remodel would only improve them further from there.
If you're thinking about updating your kitchen or bathroom, it may be difficult to know where to begin. Consider three simple things: what you're trying to accomplish, how much you're willing to spend and a list of needs and wants, suggests Brenton Liu of Design Trends Construction. "We always balance these three items in each design."
In the following list, you will find a collection of local designers and builders to help you through the remodeling process from start to finish.
The Latest Design Trends
Flat or Matte Colors
Colors like dark blue, burgundy and even utility green are becoming increasingly popular choices for homeowners, Liu says. Unlike semi-glossy paints, matte finishes can disguise scuffs and marks easily, giving off a smooth, clean appearance.
Unique Finishes
Move over stainless steel! Appliances done in brushed and matte colors, like black, slate or even gold, are a rising trend that is as practical as it is aesthetic. Not only do these finishes offer unique color options, they mask fingerprints and smears better, too.
LEDs Everywhere
The options and applications for
LEDs in your home are nearly limitless, including in drawers and above toe-kicks, Liu adds. You can even install motion sensors, upping both the convenience and safety factors around your kitchen and bathroom.
---
Atlas Construction Inc.
Home At Last! Four generations of building experience you can trust. New homes, additions and renovations, design construction, budgeting, engineering and permit processing.
______________
1302 N. School St.
Honolulu, Oahu
951-9500
atlasconstruction808.com
Bekin Cabinets
In-stock, semi-custom and full-custom cabinets. North American solid wood. Full kitchen/bath design. Call for estimate.
______________
565 Kokea St., #G6
Honolulu, Oahu
843-2284
build@bekinhawaii.com
bekinhawaii.com
Cosentino Hawaii
2678 Kilihau St.
Honolulu, Oahu
427-5192
cosentino.com
Dangler Design, a division of Dangler Construction Inc.
735 Bishop St., Ste. 433
Honolulu, Oahu
526-4541
danglerdesign.com
Design Trends Construction Inc.
Design Trends is able to bring a "turnkey" approach with their renovations, from interior design to completion of the renovations work. All you have to do is dream big…they'll handle the rest!
______________
96-1185 Waihona St., D1
Pearl City, Oahu
455-5215
info@dtchawaii.com
______________
3465 Waialae Ave., #280
Honolulu, Oahu
455-5215
info@dtchawaii.com
dtchawaii.com
DESiGNER Kitchens & Baths
Honolulu, Oahu
734-2891
DesignerKitchensHawaii.com
Details International Inc.
Details provides holistic design, elegant European-style cabinetry, fine appliances and architectural accessories to enhance island living both indoors and out.
______________
560 N. Nimitz Hwy., Ste. 104
Na Lama Kukui
Honolulu, Oahu
521-7424
details@details-international.com
details-international.com
Ferguson Bath, Kitchen & Lighting Gallery
Whether you're remodeling an outdated bathroom or building your dream kitchen, Ferguson Bath, Kitchen & Lighting Gallery offers the best selection of products from today's most recognized brands.
______________
182 Holomua St.
Hilo, Big Island
808-933-3200
______________
73-5570 Lawehana St.
Kailua-Kona, Big Island
808-327-4400
______________
335 Hukilike St.
Kahului, Maui
808-877-4460
______________
925 Kokea St.
Honolulu, Oahu
832-7474
______________
801 Moowaa St.
Honolulu, Oahu
832-7473
______________
96-1407 Waihona Pl.
Pearl City, Oahu
456-5966
______________
94-201 Pupuole St.
Waipahu, Oahu
679-3696
______________
3116-M Hoolako St.
Lihue, Kauai
808-245-6991
ferguson.com
Graham Builders
Established in 1990, Graham Builders is a full-service design+build firm specializing in custom homes, additions and renovations. Winner of the Better Business Bureau's Torch Award for Business Ethics and 2018 Multi-generational Readers' Choice Award.
______________
1144 Young St.
Honolulu, Oahu
593-2808
info@grahambuilders.com
grahambuilders.com
Hawaii Kitchen & Bath Inc.
201 Kapaa Quarry Pl., Unit 701
Kailua, Oahu
261-0357
hawaiikitchenandbath.com
HawaiiUSA FCU
HawaiiUSA's Home-Equity Lines of Credit or First Mortgages can help bring your dream home remodel to life.
______________
Main Branch: 1226 College Walk
Honolulu, Oahu
534-4300
contactus@hawaiiusafcu.com
hawaiiusafcu.com
Homeowners Design Center Inc.
Hawaii's premiere new construction and remodeling resource. Kitchen and bath design, cabinets, flooring, carpet, window-coverings, countertops, appliances and interior design services available.
______________
1030 Kohou St., Ste. 201
Honolulu, Oahu
847-0216
lori@homeownersdesign.com
homeownersdesign.com
Homeworks Construction Inc.
Homeworks Construction is a full-service design-build firm specializing in custom homes, full house remodels, accessory dwelling units ADU's and everything in between, working from concept to completion with your budget in mind.
______________
2111 S. Beretania St.
Honolulu, Oahu
955-2777
mrh@homeworkshawaii.com
homeworkshawaii.com
HPM Building Supply
HPM Building Supply is a local, 100-percent employee-owned company helping pro-builders and home owners. Build Better with products selected especially for Hawaii.
______________
91-302 Hanua St.
Kapolei, Oahu
682-8560
______________
74-5511 Luhia St.
Kailua-Kona, Big Island
808-334-4200
______________
380 Kanoelehua Ave.
Hilo, Big Island
808-935-0875
______________
3419 Iwipoo Rd.
Lawai, Kauai
808-332-7376
______________
64-1027 Mamalahoa Hwy.
Kamuela, Big Island
808-885-6036
hpmhawaii.com
INspiration Interiors
INspiration Interiors is Hawaii's premier contemporary furniture store with showrooms at Pearlridge Center Downtown, Kapolei Commons and in the Honolulu Design Center on Kapiolani Boulevard. Design services available.
______________
1250 Kapiolani Blvd.
Honolulu, Oahu
956-1250
______________
98-1005 Moanalua Rd.
Aiea, Oahu
484-0245
______________
4450 Kapolei Pkwy.
Kapolei, Oahu
237-5480
inspirationinteriors.com
John Cook Kitchens
John Cook Kitchens has been an award-winning kitchen and bath design and remodeling company for more than 30 years. We pride ourselves on quality products, great customer service and attention to detail.
______________
623 Kakoi St., Bay 3
Honolulu, Oahu
599-3533
johncookkitchens.com
Ko'olau Builders Inc
3158-C E. Manoa Rd.
Honolulu, Oahu
349-4539
info@koolaubuilders.com
koolaubuilders.com
Ozzy's Construction Inc.
Ozzy's Construction is a family-owned design-build firm specializing in new construction, remodeling, package homes, high-end custom homes, accessory dwelling units, additions, demolition and civil work.
______________
201 Kapaa Quarry Pl., Bldg. 25
Kailua, Oahu
259-9859
ozzysconstruction.com
Pacific Source
180 Sand Island Access Rd.
Honolulu, Oahu
450-2400
______________
73-4278 Kulikoa Dr.
Kailua-Kona, Big Island
808-331-2574
______________
2524 Kolo Rd.
Kilauea, Kauai
808-828-6606
______________
4473 Pahee St., Ste. J
Lihue, Kauai
808-246-3500
______________
515 E. Uahi Wy.
Wailuku, Maui
808-986-0380
______________
Seattle, Washington
888-343-1515
pacsource.com
Plus Interiors
Kitchen cabinetry, interior glass doors and custom closet systems. Locally made in Hawaii using quality materials and contemporary finishes.
______________
4211 Waialae Ave., #1080
Kahala Mall
Honolulu, Oahu
739-7300
______________
75-1006 Henry St.,
The Crossroads in Kona
Kailua-Kona, Big Island
808-327-3810
plusinteriors.com
Results Design & Planning
Specializing in multigenerational designs. Our local, full-service drafting team walks you through the process from plans through permitting with an affordable 10-day turnaround service.
______________
Wahiawa, Oahu
674-7713
ResultsPlans.com
Riggs Distributing Inc.
Riggs Distributing is the exclusive distributor of Sub-Zero, Wolf and ASKO products in Northern California and Hawaii. With these powerful brands, there's no reason to look anywhere else.
______________
99-984 A Iwaena St.
Aiea, Hawaii
484-2511
riggsdistributing.com
Top Priority
Top Priority is Hawaii's premier custom fabricator and installer, with expertise in natural stone, engineered and solid surfaces for indoor and outdoor projects. Industry professionals recommend Top Priority for custom countertops and custom surface applications.
______________
94-061 Leokane St.
Waipahu, Oahu
638-3838
toppriorityhawaii.com
Universal Interiors LLC
Universal Interiors owner Nancy Schnur is a professional interior designer with experience in residential, hospitality and universal design. Her team utilizes universal design principles to ensure homes meet clients' unique family and lifestyle needs.
______________
Oahu
348-1220
universalinteriorsllc.com