Konishiki Home is an Oasis of Scale and Serenity
Revisiting one of our favorite stories from our archives.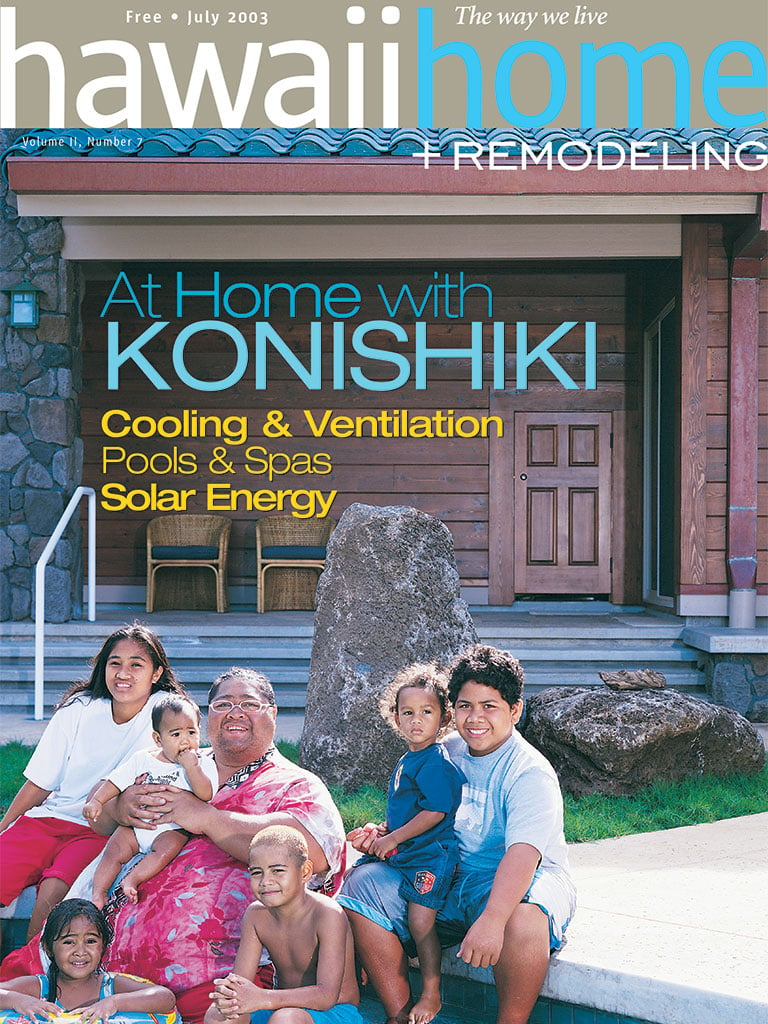 In honor of the 42nd anniversary of Hawaii Home + Remodeling, we introduce a parting section called "looking back." The first iteration of our publication was launched in August 1981, and since then our pages have been filled with stories and ideas that make us proud to call the Islands "home." In issues to come, we'll revisit past articles, providing summaries and photos as an homage to our community and the many people who helped build our legacy. This edition of Looking Back revisits an article from 20 years ago that showcased the awe-inspiring home of former sumo champion Konishiki. Situated near Maili Beach Park, the house stood out not only for its massive size, but also for its unique design and thoughtful functionality.
Spanning more than 10,000 square feet on an acre-plus lot, Konishiki's home was a testament to the concept of grandeur. Everything about the residence was oversized — from its wide corridors and doorways to the colossal 3-foot diameter hardwood posts imported from Indonesia that graced the living room and master bedroom.
Architects Hawaii sought to capture the essence of Konishiki's stature and personality in the home's design. Despite its sprawling scale, the home exuded a tasteful and contemporary Asian aesthetic. To cater to the needs of his family, Konishiki had a separate three-bedroom wing designed within the home. Additionally, a spacious 2,400-square-foot guesthouse was built to accommodate visitors.
Nanakuli, where the home is located, holds deep meaning for the former sumo champion, who dedicated much of his time to the "Konishiki Kids" program for children in need. By residing in Nanakuli, he aimed to inspire keiki in the community by emphasizing the values of hard work and sacrifice to achieve their dreams.
As we look back at Konishiki's remarkable home from two decades ago, we are reminded of the importance of dreaming big and never giving up. The legacy of this home highlights the power of compassion, diligence and creating positive change.
---
Editor's Note: This article has been slightly modified from the original print version for optimal online reading. To view the full print story, subscribe to our digital edition or pick up your copy of Hawaii Home + Remodeling at one of our partner locations.