Landscaping & Water Features
Far more goes into landscaping than just throwing down sod and soil.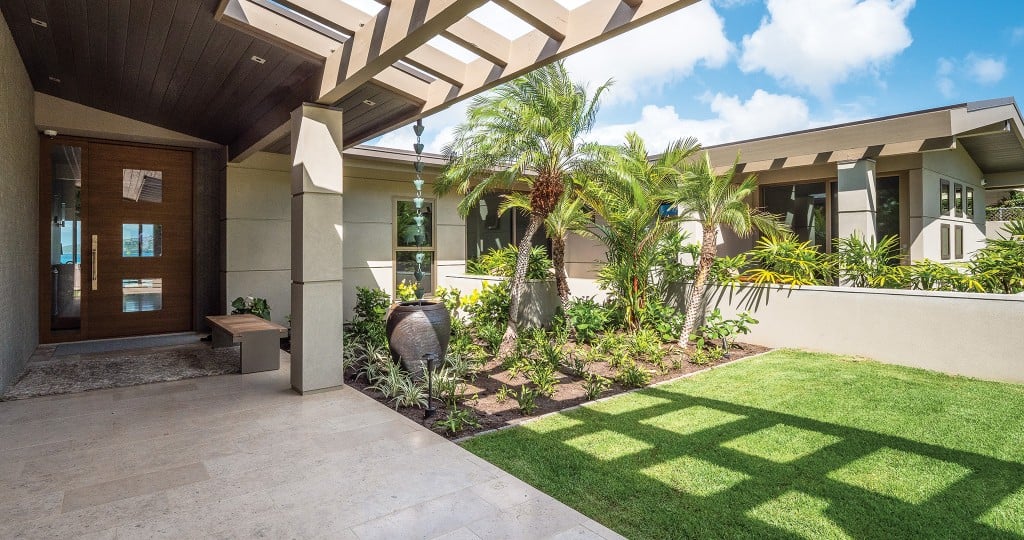 This article is part of the 2019 Hawaii Home + Remodeling Resource Guide, an organized and vetted directory of professionals, services and shops in the building and home improvement industry.

With proper landscaping – remember, a beautiful backyard is just one more reason to invite your loved ones over for a potluck under the stars – you can achieve that "at-home" feel of comfort and security no matter where you go, whether you're spending time indoors or out.
But a lot more goes into designing an exquisite landscape than just throwing down sod and soil. And while landscaping businesses abound, you might not know where to begin. Award-winning landscape contractor, Steve Dewald of Steve's Gardening Service, shares three of his best tips when it comes to picking the right landscaper for your property.
1. Licensing and Insurance Matters
Before you begin a consultation, make sure the landscaper you're considering is licensed and insured. In fact, any job over $1,000 requires contractors to have insurance and a license. A landscaper with these qualifications shows they know "the principles of business and how to do a job," Dewald says.
2. Ask for References
Just like any other job application, be sure to "ask for references of past clients" from your potential landscaper, Dewald suggests. If possible, visit old job sites to see the quality of their work, especially if you're looking to have specific features installed.
3. It's a Match
When looking for the right landscaper, "make sure your personalities match," says Dewald. "You've got to be able to get along, and make sure both parties are talking to each other and listening." Choosing someone you're comfortable working with will ensure that ideas are thoroughly discussed and properly executed.
---
Ag Services Of Maui
1985 Hana Hwy.
Haiku, Maui
808-579-8086
agservicesofmaui.com
Akamai Landscape Nursery
41-711 Kaulukanu Pl.
Waimanalo, Oahu
259-8370
Aloha Aina Landscaping LLC
99-1285 Halawa Valley St.
Aiea, Oahu
291-0143
alohaainalandscapingllc.com
Aloha Arbor Care
6650 Hawaii Kai Dr., #230A
Honolulu, Oahu
737-7963
alohaarborcare.com
Belt Collins Hawaii Ltd.
2153 N. King St., Ste. 200
Honolulu, Oahu
521-5361
beltcollins.com/honolulu
Big Rock Manufacturing Inc.
1050 Kikowaena Pl.
Honolulu, Oahu
834-7625
bigrockhawaii.com
Bio-Scape Hawaii
Kamuela, Big Island
808-885-7000
bioscapehawaii.com
C & J Contracting Inc.
Pool design, construction, renovation, water and fire features, barbecue, masonry, natural stone, tile, pool equipment, chemicals, repair and maintenance service.
______________
32 Kainehe St., #101
Kailua, Oahu
261-3508
cjcontracting@hawaii.rr.com
candjcontracting.com
DeBiasi Pacific
For more than 30 years, DeBiasi Pacific has been designing and building pools across the Pacific. Our specialties include natural and architectural pools, spas, rock features and more.
______________
3620 Waialae Ave., #205
Honolulu, Oahu
732-5161
debiasipacific.com
info@debiasipacific.com
Dreamscapes Landscaping LLC
Oahu
726-1110
dreamscapeshawaii.net
Exterior Development Co.
707 N. Kainalu Dr.
Kailua, Oahu
255-2186
exteriordevelopmentco.com
Garden Ponds Nursery
5-2719 Kuhio Hwy., #101
Kilauea, Kauai
808-828-6400
gardenpondskauai.com
Geobunga
200 Keawe St.
Honolulu, Oahu
422-4567
______________
41-732 Kakaina St.
Waimanalo, Oahu
259-5678
geobunga.com
Hapa Landscaping
3514 Waialae Ave.
Honolulu, Oahu
732-4272
hapalandscaping.com
Hawaii Landscape Services
6650 Hawaii Kai Dr., #230A
Honolulu, Oahu
737-7963
hawaiilandscapecorp.com
Hawaii Sprinkler and Lighting
Honolulu, Oahu
989-0200
hawaiisprinkler.com
Hawaiian Turfgrass
94-840 Lanikuhana Ave.
Mililani, Oahu
371-0527
hawaiianturfgrass.com
HHF Planners
733 Bishop St., Ste. 2590
Honolulu, Oahu
545-2055
hhf.com
Hokuahi Lawns
Whether it's having the convenience of an automatic sprinkler system installed or creating your own private tropical oasis, let Hokuahi Lawns transform your backyard.
______________
Pearl City, Oahu
678-0608
hokuahilawns.com
Imua Landscaping Co. Inc.
96-1272 Waihona St., Unit 12
Pearl City, Oahu
456-1930
______________
29-268 Chin Chuck Rd.
Hakalau, Big Island
808-258-2532
______________
111 Kahului Beach Rd., Apt. A110
Kahului, Maui
808-265-2341
imualand.com
Ki Concepts
677 Ala Moana Blvd.
Honolulu, Oahu
942-7061
Kiso Store
Serving Oahu for more than 51 years. Stepping stones, river rocks, garden ornaments (including pagodas) and more concrete products to enhance your landscaping.
______________
94-995 Waipahu St.
Waipahu, Oahu
671-7482
Koolau Farmers
1935 S Beretania St.
Honolulu, Oahu
949-7000
______________
1127 Kailua Rd.
Kailua, Oahu
263-4414
______________
45-580 Kamehameha Hwy.
Kaneohe, Oahu
247-3911
______________
1199 Dillingham Blvd., Ste. C109
Honolulu, Oahu
843-0436
koolaufarmers.com
LanaiScapes
Honolulu, Oahu
255-1048
lanaiscapes.com
Landscape Builders Hawaii
Honolulu, Oahu
781-2051
landscapebuildershi.com
Mana Water Features
& Landscapes
Honolulu, Oahu
445-1811
manawaterfeatures.com
Maui Waterscapes
365 Hoohana St., Unit 6E
Kahului, Maui
808-877-0413
mauiwaterscapes.com
Mulkern Landscaping
& Nursery
41-639 Kaulukanu St.
Waimanalo, Oahu
396-6595
mulkernlandscaping.com
NyLawn
580 Dillingham Blvd.
Honolulu, Oahu
485-8885
nylawn.com
Outside-Inside Creations Inc.
560 N. Nimitz Hwy., Ste. 101B
Honolulu, Oahu
725-3209
outside-inside.com
Pacific AquaScapes Inc.
91-170 Olai St.
Kapolei, Oahu
682-1020
pacificaquagroup.com
PBR Hawaii & Associates
1001 Bishop St., Ste. 650
American Savings Bank Tower
Honolulu, Oahu
521-5631
pbrhawaii.com
Personal Touch Landscape
1253 Ala Aolani St.
Honolulu, Oahu
623-8481
personaltouchlandscape.com
Popopots
Waipahu, Oahu
680-7676
popopots.com
Radford Yard Service
Honolulu, Oahu
721-0152
Reliable Landscaping
& Sprinklers
East Honolulu, Oahu
732-8727
______________
Windward, Oahu
261-1369
______________
Leeward, Oahu
623-4635
reliablelandscapinghawaii.com
Ridge Line Homes Inc.
Kahului, Maui
808-877-2546
ridgelinehomesinc.com
Sharon's Plants Ltd.
41-614 Waikupanaha St.
Waimanalo, Oahu
259-7137
sharonsplants.com
Site One Landscape Supply
850 Iwilei Rd.
Honolulu, Oahu
591-1122
______________
73-4080 Hulikoa Dr., Ste. 7
Kailua-Kona, Big Island
808-329-9339
______________
215 S. Wakea Ave., Ste. 101
Kahului, Maui
808-868-5555
Southern Turf Hawaii
94-840 Lanikuhana Ave.
Mililani, Oahu
232-2277
______________
73-494 Kaiminani Dr.
Kailua-Kona, Big Island
808-331-8873
southernturfhawaii.com
Steve's Gardening Service
Locally owned and operated, Steve's Gardening Service provides landscaping, water features, custom concrete and stonework, outdoor lighting and much more.
______________
Mililani, Oahu
676-9166
stevegardening@aol.com
landscapecontractorhawaii.com
Swan Builders International LLC
Kailua, Oahu
478-5441
swanhawaii.com
SYNLawn of Hawaii
3514 Waialae Ave.
Honolulu, Oahu
593-1864
______________
320 Ohukai Rd., Ste. 412
Kihei, Maui
808-879-5111
synlawnofhawaii.com
Takano Nakamura Landscaping
1221 Kapiolani Blvd., Ste. 600
Honolulu, Oahu
593-2214
tnlhawaii.com
Taro's Garden
4016-C Hoku Ave.
Honolulu, Oahu
398-4759
tarosgarden.com
The Mechler Corporation
44-117 Kahinani Wy.
Kaneohe, Oahu
247-3109
mechlercorporation.com
Total Landscape Management
Honolulu, Oahu
779-6133
tlmhawaii.com
Tropical Water Features Inc.
41-546 Inoa St.
Waimanalo, Oahu
259-7823
tropicalwaterfeatures.com
Ultimate Innovations
2908 Kaihikapu St.
Honolulu, Oahu
523-0607
______________
92-1480 Aliinui Dr.
Kapolei, Oahu
676-7676
______________
41-937 Kakaina St.
Waimanalo, Oahu
523-6067
______________
Big Island
808-313-8383
______________
Maui
808-837-5296
______________
Kauai
523-6067
ultimateinnovations.com