Layered Lighting
Illuminating advice for practical and artful options.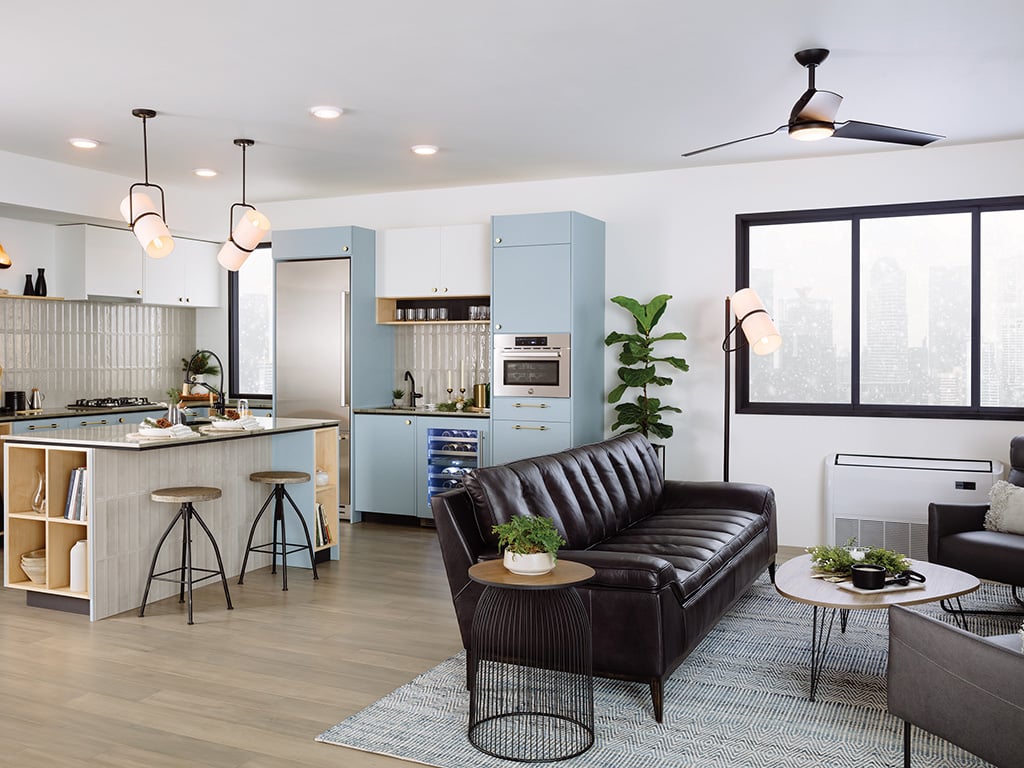 You've got the sleekest new countertops, state-of-the-art refrigerator, high-tech range and designer dining set. Now it's time to complete your kitchen with perhaps the most important element of all: lighting.
"Lighting can add so much personality to a kitchen while enhancing a kitchen's appearance, increasing safety and providing those small, intentional touches that make a house a home," explains Caroline Danielson, director of showrooms at Ferguson Bath, Kitchen & Lighting Gallery.
To truly make the most of your kitchen, it's important to understand that this area of your home serves several purposes. It's a workspace for preparing food, a place for sit-down eating, and a hub for socializing when entertaining guests. Lighting in your kitchen should be considered with these very different intentions in mind — a multilayered approach works better than relying on a single lighting fixture.
There are three essential layers of lighting for optimal kitchen design and functionality: task lighting, ambient lighting and accent lighting. The experts at Ferguson Bath, Kitchen & Lighting Gallery share insights on these layers, and tips for achieving the best lighting results in your home.
Task Lighting
Task lighting is practical in nature, providing enough light for chopping, washing dishes, cleaning and other kitchen work.
"Often used to brighten stovetops, countertops and other kitchen workspaces, task lighting with bright light aimed at your workspaces is essential because it can help prevent kitchen accidents," notes Danielson. "It is usually brighter than the surrounding area and directed to where it is most needed."
Danielson adds that task lighting also serves as a kind of design element, calling attention to your backsplash and other carefully selected details.
Ambient Lighting
After mapping out the task lighting for your kitchen, explore fresh options for ambient lighting. This second layer of lighting is what Danielson calls "a vital light source." This layer washes the entire kitchen with light to create just the right atmosphere for dining, socializing or unwinding.
"Providing wall-to-wall light with ambient lighting … sets the mood for entertaining and makes the space seem larger and more inviting," says Danielson. "The light fixture is lit from below, reflected up and spills everywhere, thereby supplying adequate illumination for the whole area."
Danielson recommends dimmable lights that can adjust to various levels for dining. She also suggests ceiling fixtures, wall sconces, shaded lamps or chandeliers if you plan to do a lot of home entertaining and want a softer glow while guests mingle. Other examples of ambient lighting include semi-flush lighting fixtures, recessed lighting and LED strip lights.
Accent Lighting
Lastly, accent lighting tops off your kitchen illumination with very deliberately placed fixtures aimed at drawing attention to particular parts of your kitchen décor.
"Accent lighting is great for homeowners looking to add a bit of personality and highlight certain features in their kitchen … such as a work of art, or accent different architectural features of the room," says Danielson. "Placing accent lights will make them stand out and add a touch of sophistication to the space."
Examples of accent lighting include sconces, smaller aperture recessed lighting, in-cabinet lights and decorative pendants.
More Recommendations
Danielson explains that before selecting your kitchen lighting, there are other factors to consider. First, very clearly map out how you would like to use each part of your kitchen for cooking, dining and entertaining. Next, consider the aesthetics of your home and make sure that the lighting you select is complementary to its color palettes and design motifs.
"For example, homeowners with a home where you have earth tones would probably want to choose warmer lights to bring up these shades," she shares. "Or with pastels, homeowners should choose cooler lights to bring out those colors since warm lighting would wash them out.
"The idea is to increase the air in the kitchen area and improve the lighting quality," she adds. "The different light elements, when combined, create an ultra-functional, safe and relaxing kitchen."
More Bright Ideas
When planning out your kitchen lighting, speak with your contractor or local vendor about energy-saving options. Consider fixtures that are Energy Star rated, or explore devices that allow for timer-controlled operation to minimize inefficient energy use.