Lighting & Fixtures
lighting is a critical component to how your space will look, feel and function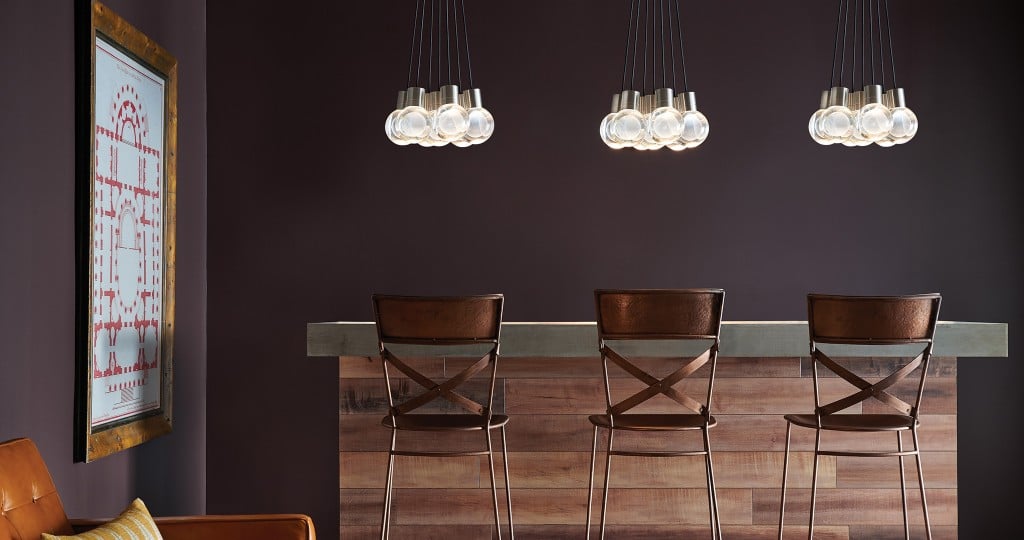 This article is part of the 2019 Hawaii Home + Remodeling Resource Guide, an organized and vetted directory of professionals, services and shops in the building and home improvement industry.

Whether you're designing for a single room or an entire house, lighting is a critical component to how your space will look, feel and function. "Proper lighting is an element of design that is just as important as the colors are," says Tom Ogawa, owner of Lighting Concepts and Design.
But more than just lighting up a room, fixtures can also be visual works of art. They "can be as subtle or as ornamental as one's desire," Ogawa says. If you've been wanting to upgrade the lighting in your home or update your fixtures – or both – but don't know where to start, then consider speaking with an expert for a little guidance.
"We offer free consultations [to our clients]," Ogawa adds. "Our hope is that they leave us with a better understanding of how lighting works and how to create the lighting that works best for them."
---
21st Century Lighting LLC
1352 S. Beretania St.
Honolulu, Oahu
531-5483
21stlite.com
Aloha Light & Design Inc.
74-5599 Luhia St., Ste. F10
Kailua-Kona, Big Island
808-329-9550
alohalightanddesign.com
Art and Automation Inc.
1826 Wili Pa Lp., Ste. 3
Wailuku, Maui
808-891-9440
artandautomation.com
Beachside Lighting
905 Kalanianaole Hwy., Spc. 2901
Kailua, Oahu
263-5717
beachsidelighting.com
C. S. Wo & Sons
Modern and classic home furnishings with complimentary design service. Open Monday through Friday, 10 a.m. to 7 p.m.; Saturday and Sunday, 10 a.m. to 6 p.m.
______________
702 S. Beretania St.
Honolulu, Oahu
543-5388
cswoandsons.com
City Mill Superhardware Stores
information@citymill.com
citymill.com
______________
333 Keahole St.
Honolulu, Oahu
396-5151
______________
86-120 Farrington Hwy.
Waianae, Oahu
696-6996
______________
3086 Waialae Ave.
Honolulu, Oahu
735-7636
______________
91-1061 Keaunui Dr.
Ewa Beach, Oahu
685-4422
______________
98-1277 Kaahumanu St.
Aiea, Oahu
487-3636
______________
660 N. Nimitz Hwy.
Honolulu, Oahu
533-3811
______________
46-209 Kahuhipa St.
Kaneohe, Oahu
247-2181
______________
95-455 Makaimoimo St.
Mililani, Oahu
623-3100
Dial Electric Supply
2240 Kaluaopalena St., Ste. C
Honolulu, Oahu
845-7811
Discount Lighting & Fans
349-B Hanakai St.
Kahului, Maui
808-871-8776
hawaiianfan.com
Ferguson Bath, Kitchen
& Lighting Gallery
Whether you're remodeling an outdated bathroom or building your dream kitchen, Ferguson Bath, Kitchen & Lighting Gallery offers the best selection of products from today's most recognized brands.
______________
182 Holomua St.
Hilo, Big Island
808-933-3200
______________
73-5570 Lawehana St.
Kailua-Kona, Big Island
808-327-4400
______________
335 Hukilike St.
Kahului, Maui
808-877-4460
______________
925 Kokea St.
Honolulu, Oahu
832-7474
______________
801 Moowaa St.
Honolulu, Oahu
832-7473
______________
96-1407 Waihona Pl.
Pearl City, Oahu
456-5966
______________
94-201 Pupuole St.
Waipahu, Oahu
679-3696
______________
3116-M Hoolako St.
Lihue, Kauai
808-245-6991
ferguson.com
Hawaii Skylights and Solar Fans
1320-C Kalani St.
Honolulu, Oahu
847-6527
hawaiiskylights.com
Honolulu Lights
4224 Waialae Ave.
Honolulu, Oahu
692-2649
honolulu-lights.com
Horizon Systems & Design
Makawao, Maui
808-893-2501
horizonelectricinc.com
INspiration Interiors
1250 Kapiolani Blvd.
Honolulu, Oahu
956-1250
______________
98-1005 Moanalua Rd.
Aiea, Oahu
484-0245
______________
4450 Kapolei Pkwy.
Kapolei, Oahu
237-5480
inspirationinteriors.com
Kilohana Lighting Inc.
4210 Hanahao Pl.
Lihue, Kauai
808-245-6900
kilohanalighting.com
Lighting Concepts and Design
1931 S. Beretania St.
Honolulu, Oahu
955-9955
lightinghawaii.com
Lighting Elegance
3057 Waialae Ave.
Honolulu, Oahu
735-3567
lighting-elegance.com
Maui Fan Center Inc.
335 Hoohana St., Unit B
Kahului, Maui
871-7102
mauifancenter.com
mesh by Shari Saiki
677 Ala Moana Blvd., Ste. 108
Honolulu, Oahu
536-6374
sharisaiki.com
Mulkern Landscaping & Nursery
41-639 Kaulukanu St.
Waimanalo, Oahu
396-6595
mulkernlandscaping.com
Pacific Ceiling Fans Inc.
98-023 Hekaha St., Bldg. 1, Unit 5
Aiea, Oahu
487-2322
pacificceilingfans.com
Pacific Home
720 Kapiolani Blvd.
Honolulu, Oahu
596-9338
______________
221 Lalo St.
Kahului, Maui
808-727-8300
pacific-home.com
Paradise Lighting LLC
94-1388 Moaniani St., Ste. 235
Waipahu, Oahu
671-1555
paradiselightingllc.com
Steve's Gardening Service
Locally owned and operated, Steve's Gardening Service provides landscaping, water features, custom concrete and stonework, outdoor lighting and much more.
______________
Mililani, Oahu
676-9166
stevegardening@aol.com
landscapecontractorhawaii.com
The Light Bulb Source
945 Queen St.
Honolulu, Oahu
596-2214
thelightbulbsource.com
Toni's Lamp & Shades
1126 12th Ave., Ste. 102
Honolulu, Oahu
591-2201
tonislampsandshades.com
Valley Isle Lighting
255 Alamaha St., Unit A
Kahului, Maui
808-871-1119
valleyislelighting.net