Modern Simplicity
Diamond Head Home Gets Thoughtful Makeover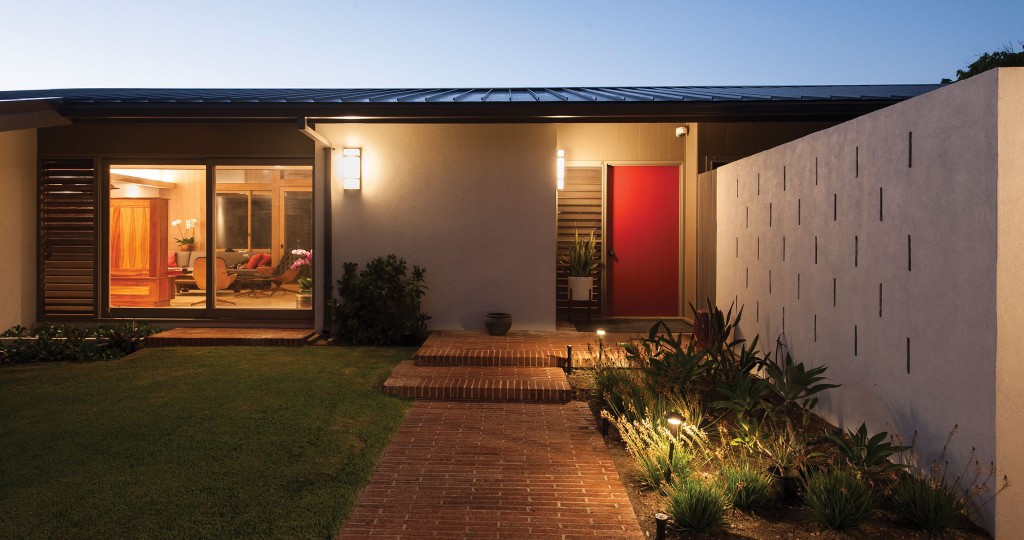 2016 BIA Renaissance Editor's Choice Award
A true representation of the huge potential that can be realized when restoration is carefully designed and constructed, the makeover of this Diamond Head mid-century-modern residence by Armstrong Builders is the 2016 Editor's Choice winner for the BIA-Hawaii Renaissance Awards.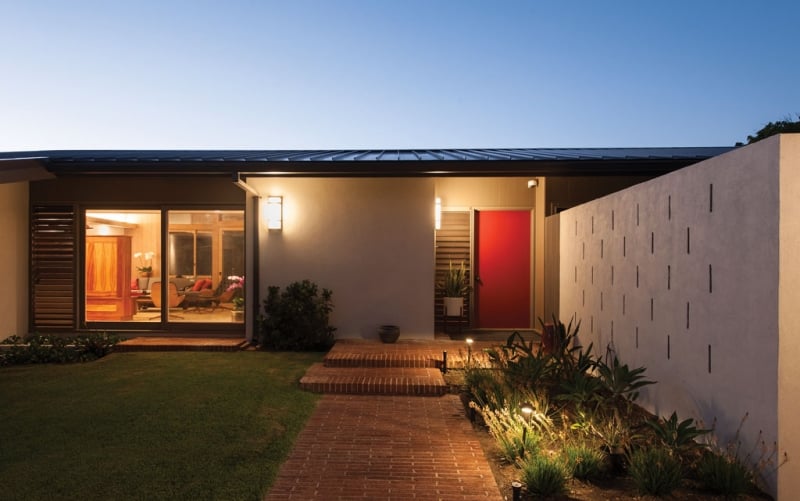 This 2,500-square-foot residence, which was designed by well-known architect Edward Sullam, FAIA, was home to the original owners until it was sold in 2014. Liking the home's original layout, the new owners wanted to modernize the house while still retaining its original feel and charm. "It was tired looking," says James Keller of Armstrong Builders. "The rooms felt dark and cramped and the yard was overgrown. There had also been some extensive water damage."
Armstrong Builders' approach was to design around the existing footprint to limit the reconstruction costs wherever possible, while creating an integrated exterior living space to allow the homeowner to take full advantage of indoor/outdoor living. "With our year-round temperate weather, gentle trade winds and spectacular natural beauty, indoor/outdoor living is ideal for people living in Hawaii," Keller says. "Many older homes weren't built with this in mind, so it is definitely something that is usually at the top of a homeowner's list when it comes to both new construction and renovation projects."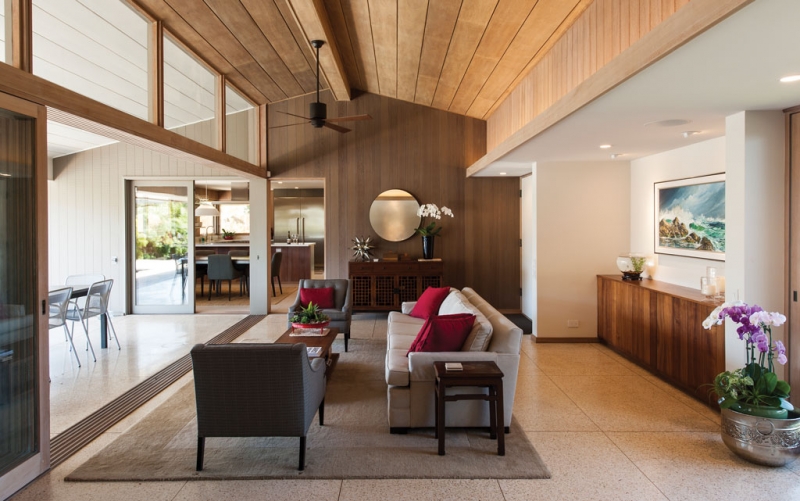 Floor-to-ceiling sliding-glass pocket doors were refurbished, opening up the living room entirely to the outdoor dining lanai overlooking the refinished pool. The terazzo tile flooring in the sitting area, living room and lanai was polished to offer a seamless transition between the spaces.
Further opening up the living room, a koa partition was removed and reused in an entertainment center. Despite considerable water damage, the builders were able to salvage the mahogany wood paneling from the living room, office and other parts of the home by sanding, cleaning and restaining. "We like to reuse materials as long as it makes sense for the project," Keller says. "In this particular case, the
mahogany wood paneling was an important feature of the home and restoring it really helped to retain the home's original character."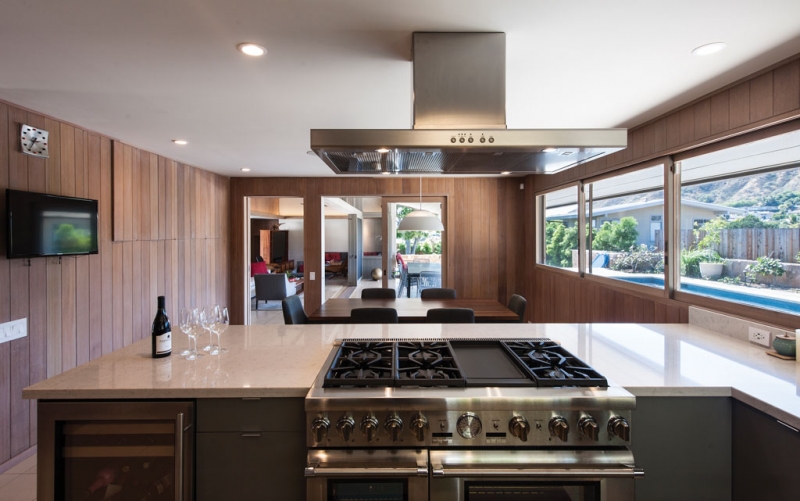 The next task was redesigning the kitchen. Opening up what was once a cramped space to create a more functional place to cook and entertain was the top priority. The laundry room was relocated to allow for a larger kitchen and an eat-in dining area opening up to the outdoor lanai. Among the featured materials were porcelain tiles, Silestone countertops and Thermador appliances.
"The kitchen is now the homeowner's favorite room because it is so usable, open, friendly and comfortable," Keller says. "It may look simple, but the kitchen was well planned out and executed."
Other interior improvements included bathroom updates, new carpeting in the bedrooms, a new laundry area and expansion of the master bedroom to include an enlarged master bath and new walk-in closet.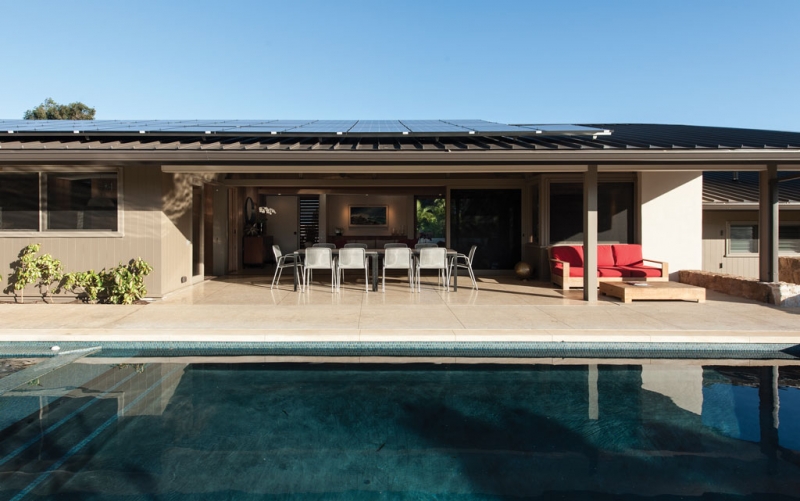 Outside, the pool was resurfaced and refinished and a Jacuzzi was added to one end of the pool. A covered barbecue pavilion, complete with grill and bar seating, was also added for entertaining. Other enhancements included a concrete patio perfect for sunning, new landscaping and access to the tiered lower yard. New fencing was also installed along the property line and pool. "Landscaping played a key role in reshaping the overall feel of the project," says Keller. "Prior to the renovation, the yard was overgrown and fully covered in trees, which blocked the home's natural lighting. A landscape artist was brought in to make the yard brighter, cleaner and to allow for more natural light."
The modern simplicity of this newly remodeled home speaks volumes in design and style integration. "The homeowner was happy with how the home was modernized yet retained its original integrity," Keller says. "In fact, when the original architect did a walk-through of the renovated home, he couldn't tell what was added and what was old, which, to the homeowner, was the biggest compliment."