Next-level Bath Designs
How to achieve an elevated space you'll love.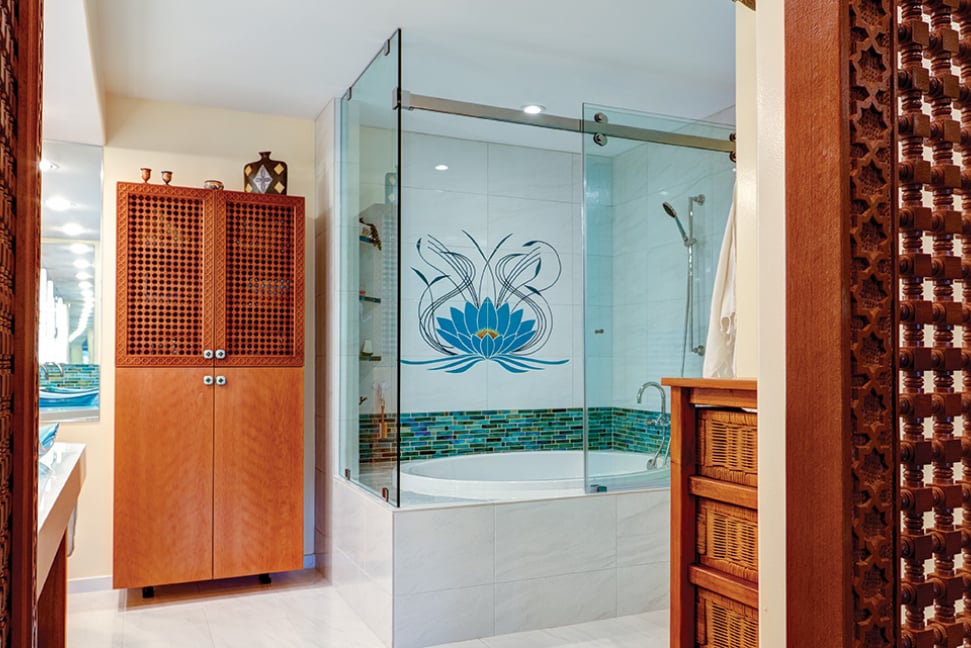 The average person will spend more than 90 days in the bathroom over their lifetime. It's where people start their morning and finish their evening; it's often a place for busy parents to gain a brief respite from their daily duties; and, of course, it's a necessary space to take care of the everyday business of being a human. It makes sense, then, to build a bathroom that is both functional and fun. If you're going to spend more than three months there, why not make it a place where you enjoy being?
J.R. Moorhead, founder of Moorhead & Company Inc., says taking a bath from stodgy to spectacular requires three things: a nice free-standing soaking tub, beautiful accent tiles, and custom glass around the shower area.
"Next-level bathrooms are a way to create a spa experience in the privacy of your own home," he says. "People are looking for ways to decompress from their busy lifestyles." Moorhead adds that soaking in a tub is a great way to relax away the pressures and stresses of life, but tubs that are attached to showers can often feel a bit cramped and claustrophobic. "People nowadays want to have room to rest their arms and legs and enjoy a long, relaxing soak in a free-standing tub. If you're really going next-level, it should be a free-standing soaking tub with some sort of a view," he says.
View or not, building a more beautiful bath is still possible. The second part of the process is installing gorgeous accent tiles, a feature Moorhead likens to something one would see in a nice hotel. "People stay in hotels to relax and be pampered," he says, and "nothing can create that hotel feel like beautiful glass around your shower. Nice, hotel-quality glass can make a normal bathroom feel like a luxury bathroom. If you are building a luxury bathroom, you need to have hotel quality glass installed — anything less will make your bathroom seem cheap." Moorhead adds that even a simple glass panel is enough to elevate the space; including a door in the design isn't always necessary. Glass can be customized in various designs and textures and for extra privacy.
The final piece of the next-level bath puzzle is accent tile, which Moorhead insists can take a space over the top. "There are so many different options when it comes to picking out accent tiles," he says. "Glass accent tiles are extremely popular right now. Even if you pick a more mainstream tile that is sold everywhere, you can (create) a one-of-a-kind custom shower or tub with the addition of accent tiles." He recommends installing a vertical or horizontal stripe or sprinkling the tiles throughout the space for a truly original look. Unique colors and different-shaped tiles — such as octagons and hexagons — are really popular right now, Moorhead adds. "You can even blend the octagons or hexagons with the square tiles as well, to really kick it up multiple notches."