One to Grow On
Community garden provides more than just homegrown food.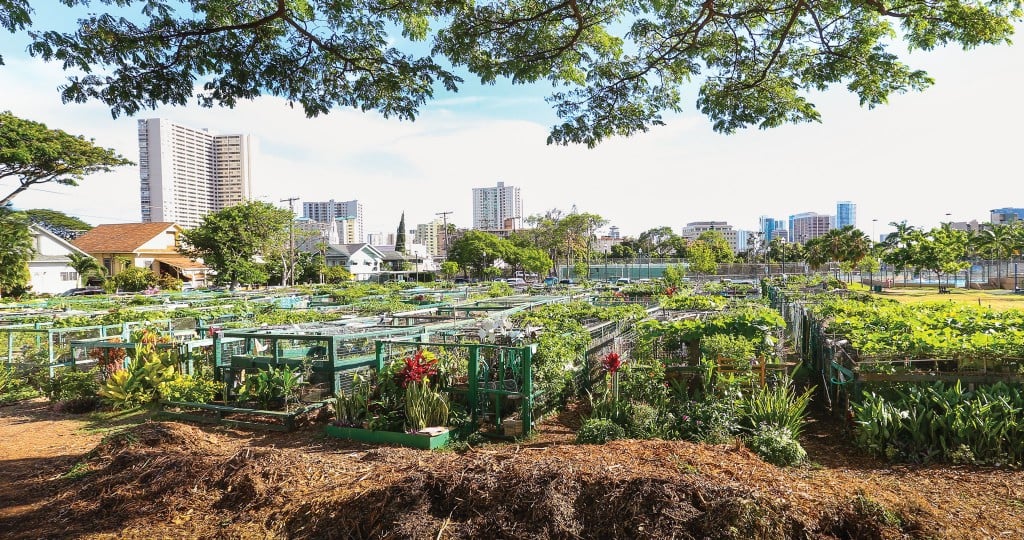 Stephanie Lake loves her condo — the convenience to town, the amenities, etc. — but she couldn't shake the feeling that something was missing. "Living in a condo, we utilize every square foot, but, unfortunately, a garden in our space just wasn't a priority," says Lake.
Then, one day, while volunteering at the nearby library, Lake discovered the Makiki Community Garden. "I thought it would be great to get my hands back in some dirt," says Lake. "Not only does it allow you to grow your own food, but we have met many neighbors and utilize our park more. After gardening, we go to the playground or the library. We tend to see the same people and strike up conversations. It's wonderful."
Since she was a child, gardening has always been an important part of Lake's life. "I grew up in Puna on Hawaii Island," she says. "My parents were always gardening and landscaping the yard on weekends, so that was usually the thing to do."
Today, just as her parents did for her, Lake is passing the lessons about the joys of gardening down to her 3-year-old daughter, Aurora. "She loves it," says Lake. "Being a city kid, I want her to connect with nature and know how food is grown. Also, what kid doesn't love playing in the dirt?"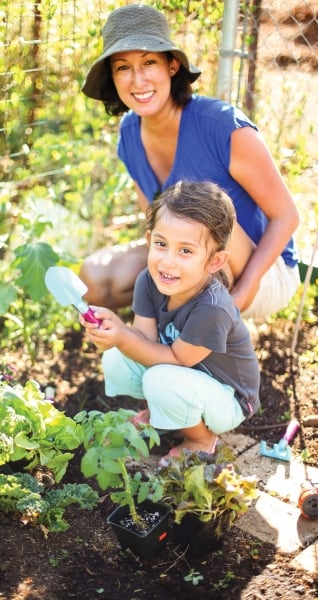 Besides getting to play in the dirt on a weekly basis, there have also been other benefits for Mom. "We don't really have to force her to eat vegetables," Lake says. "Now, when we are at the store, she tells me, 'Don't buy tomatoes, we have to get them at the garden.'"
Besides education, gardening is also good for the pocketbook, as the cost of organic food in Hawaii continues to rise. "My daughter loves cherry and grape tomatoes, so our family can go through a container in a day and a half," Lake says. "That's $5 per container on sale, which adds up to $20 per week in just tomatoes! That's why we have five tomato plants in our plot."
Each garden plot is 10 feet by 10 feet and it is possible to squeeze a lot into that amount of space. "When first got my plot, I thought it was so small," says Lake. "As we planted, we found we could have a variety of vegetables and ornamental plants. At one point, there was so much lettuce and kale, we couldn't harvest fast enough. It's about maximizing the space and utilizing complementary gardening to get the best out of your plants."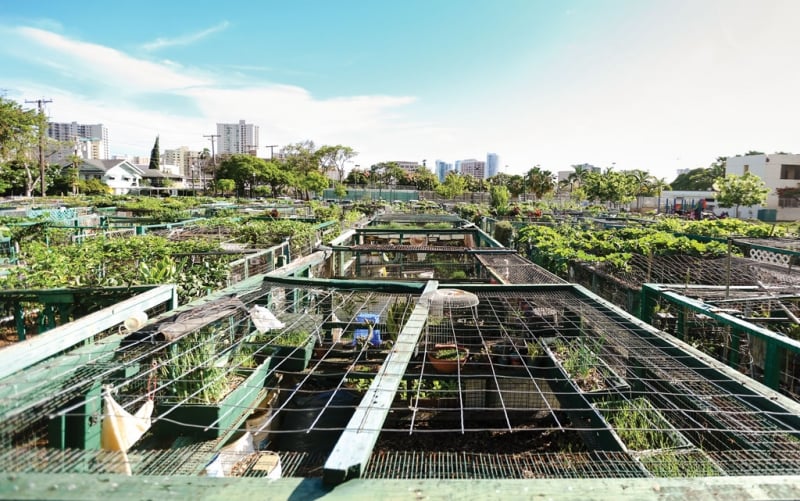 The most popular crops in the Makiki garden are tomatoes, green onions, eggplant, chives, bitter melon and sweet potatoes.
"Although, since there is such a large immigrant community in the garden, some of the vegetables I don't even recognize," she admits.
Over the years, the garden's popularity has grown exponentially. "When I applied for a garden years ago, the wait time was about six months," Lake says. "Now, it's about two years."
Lake says she sees younger people — 20- and 40-somethings — more frequently. "The DIY and farm-to-table movements have really gained momentum over the past
few years," Lake says. "There is so much information via the Internet, magazines and TV shows, it makes gardening less daunting for someone starting out."
More urban neighborhoods could benefit from community gardens such as this one. "It's a great physical activity and it's great to grow healthy foods, but the best takeaway is the connection to your neighborhood," says Lake. "Living in a vertical community, it's easy to lock ourselves away once we are home. Being part of the garden reminds me that I am part of a large community. It's a time to slow down, talk with neighbors and let my child run around outdoors. Now, I have the biggest backyard."