Pet Talk: Installing home entrances for your pets
Give your furry family members their own exclusive doorways in and out of your home.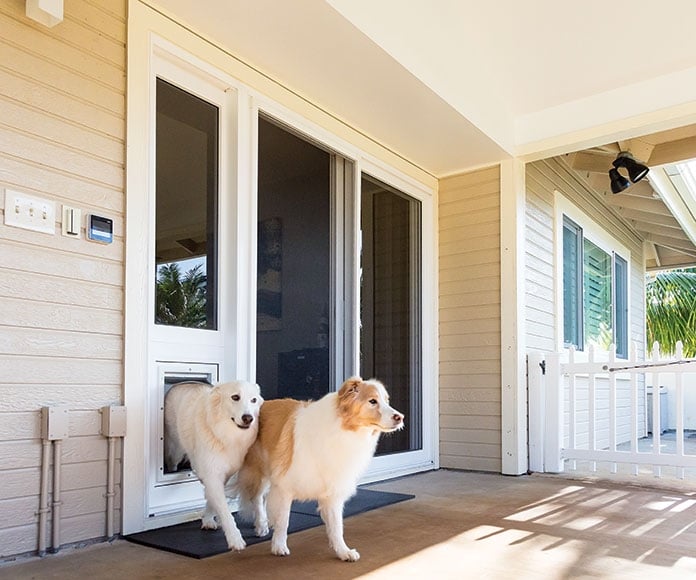 Imagine your pets being able to go outside and play in the yard, catch some sun and do their business at their own leisure, without having to wait for you to come home and open the door for them. They're family, after all, and they deserve a little freedom, too. If you'd like to give it to them by adding a special pet door to your home for easy in-and-out access, these companies can help.
The Glass Guru of Honolulu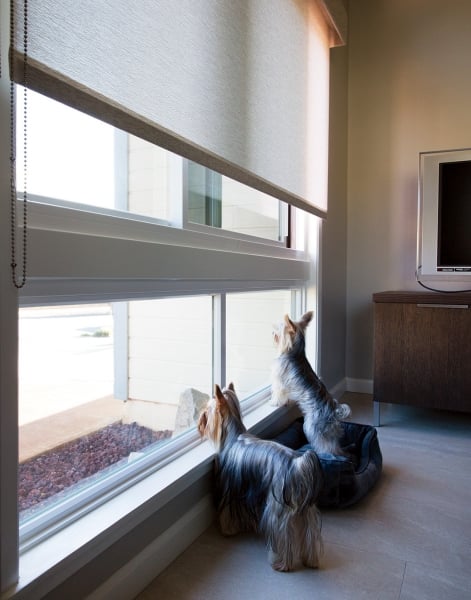 With approximately 11 different sizes of pet doors, The Glass Guru of Honolulu can find the perfect fit for your pet.
"In-glass pet doors are the ultimate in convenience and functionality," says Guerric de Coligny of The Glass Guru of Honolulu. "In order to install an in-glass pet door, homeowners will need to replace their existing glass, and only a professional glazier should handle that. We use Hale Pet Door products and they are a leader in the industry in durability, security and aesthetics."
This option will allow your pets to freely roam outside without compromising on cooling and security for your inside living spaces. Just be sure to choose a door size in accordance to what your pet will be once it's full-sized, suggests de Coligny.
Coastal Windows
Although Coastal Windows does not make pet doors themselves, they are able to accomodate these types special projects. If you have a pet door that you've already purchased, Coastal Windows can custom manufacture their screen doors, sliding doors, fixed panels, and even floor-to-ceiling windows to fit it.
If you want to take preventive measures for your pets, consider getting the PetScreen from Coastal Windows. It's seven times stronger than the normal mesh and is ideal for pets that like to climb or scratch. "I've seen cats climb up screen doors. Dogs too," says Pam Barrett of Coastal Windows. "If you put in a stronger mesh, it keeps it from tearing."
You can have confidence in products from this local company that's been in business for more than 20 years. "[Our products are] designed for an island climate," Barrett says. "We test it here. We live with our products ourselves … We manufacture it here and we can work with you on whatever the situation is."
Breezway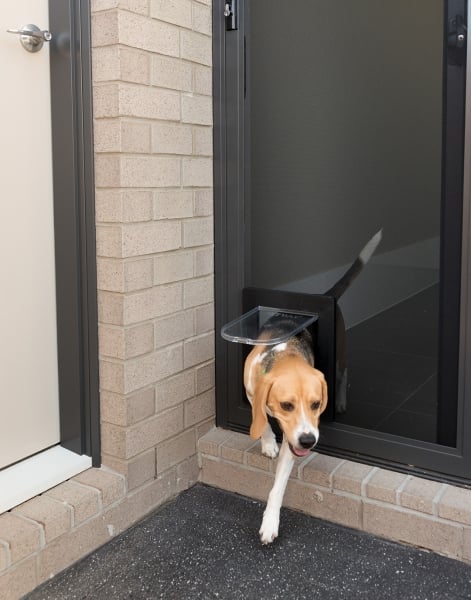 As the exclusive distributor of Prowler Proof products, Breezway offers Force Field screen doors that are made to order with the option of adding small or medium-sized pet doors.
"[Homeowners] can have extra air flow and not always keep the main door closed," says Lama Chang of Breezway. "And then they can lock it from the inside and feel secure."
The Force Field screen door comes with three locking bolts on the inside. It is made of a very high quality aluminum; all pieces are welded together and robotically reinforced. It also undergoes numerous tests. So not only is it resilient against pets that like to scratch, but it can stand up to salt water and hurricanes—and it keeps flies out. Also, it cannot be unhinged by possible intruders.
If you have a cat that has a knack for sitting or napping along your window, you may want to consider getting the Stronghold System from Breezway. As the name suggests, this isn't your regular jalousie. It's able to hold up to 100 pounds—strong enough to support your cat sleeping on it, and also provides security. The glass panels cannot be removed from the inside or outside, and if you get the louver glass tempered to make it four to five times stronger, the glass will break into little pieces instead of sharp shards should any accidents happen.
Noisy Neighborhood?