Pools & Spas
Finding the right pro to help design, draft and create your dream pool and spa is crucial.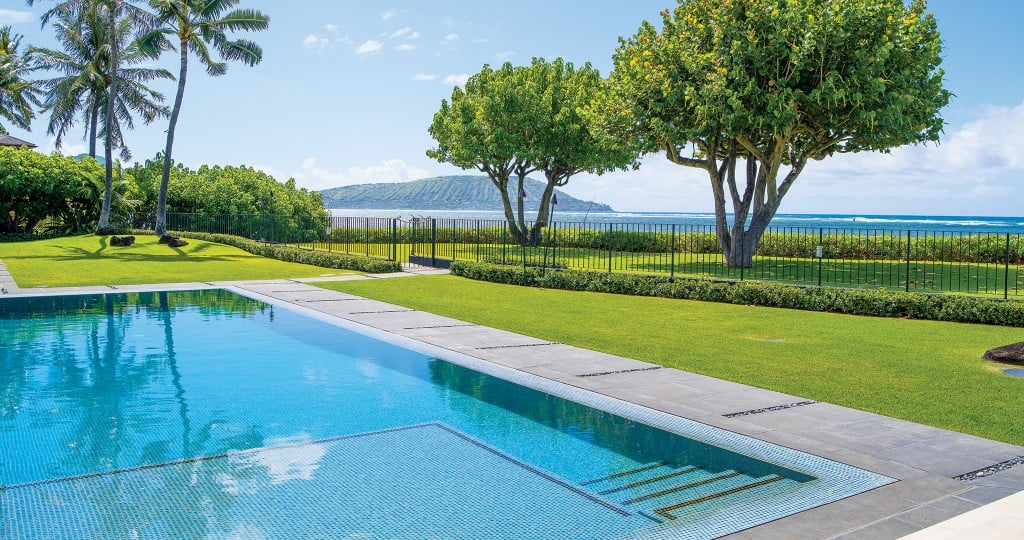 This article is part of the 2019 Hawaii Home + Remodeling Resource Guide, an organized and vetted directory of professionals, services and shops in the building and home improvement industry.

Having your own private pool or spa is an island home upgrade that not only enhances your home but also your lifestyle. Hawaii's year-round sunshine makes it the ideal location for these retreats. With so many pool and spa contractors to choose from, finding the right one to help design, draft and create your dream pool and spa is crucial.
Whether you are planning on swimming laps or entertaining guests, Brandon Dias of Poseidon Pools Hawaii is available to help you achieve your lifestyle upgrade. Dias has been in the pool business for more than 20 years, learning the trade from his father and advancing his craft with new and innovative techniques. He has experience working as a foreman with some of the largest pool companies in the Islands, and has been mentored by some of the most successful pool contractors in the state. The team at Poseidon Pools Hawaii has been working together for nearly two decades and have built everything from a 16,000-gallon saltwater pool to a lagoon style pool with a waterfall. Their acute attention to detail throughout every phase of construction ensures a quality product which culminates into long term homeowner satisfaction.
Dias stresses that his company focuses on quality over quantity. "We're not focused on volume; it's more of a focus on custom work," he says. "We've never created a single pool or spa that didn't finish as good as I envisioned."
---
Pools & Spas
Accurate Tile & Marble
219 Kaupoku Lp.
Kahului, Maui
808-573-4800
accuratetilehawaii.com
All Pool & Spa
905 Kalanianaole Hwy.
Kailua, Oahu
261-8991
allpoolandspa.com
Aquatic Solutions Hawaii LLC
572 Pepeekeo Pl.
Honolulu, Oahu
373-9715
aquaticsolutionshi.com
Blue Sky Pools
Kailua, Oahu
232-1421
blueskypoolshawaii.com
C & J Contracting Inc.
Pool design, construction, renovation, water and fire features, barbecue, masonry, natural stone, tile, pool equipment, chemicals, repair and maintenance service.
______________
32 Kainehe St.
Kailua, Oahu
261-3508
cjcontracting@hawaii.rr.com
candjcontracting.com
Certified Pool and Spa
373 Kawaihae St.
Honolulu, Oahu
351-3464
certified-pool-and-spa.business.site
Concrete Pool & Spa Inc.
68-1707 Makuakane St.
Waikoloa, Big Island
808-883-2777
DeBiasi Pacific
For more than 30 years, DeBiasi Pacific has been designing and building pools across the Pacific. Our specialties include natural and architectural pools, spas, rock features and more.
______________
3620 Waialae Ave., Ste. 205
Honolulu, Oahu
732-5161
info@debiasipacific.com
debiasipacific.com
Futura Stone and Concrete Products
2333 Alahao Pl., Spc. 1F
Honolulu, Oahu
841-7433
futurastonehawaii.com
Gemini Pool & Spa Inc.
94-1388 Moaniani St., Unit 201
Waipahu, Oahu
488-7419
geminipools.com
Gundaker Works LLC
931 University Ave., Ste. 304
Honolulu, Oahu
268-6072
gundakerworks.com
Hawaii Gas
515 Kamakee St.
Honolulu, Oahu
535-5933
______________
70 Hana Hwy.
Kahului, Maui
808-877-6557
Hawaii Pools
2033 Kalani St.
Honolulu, Oahu
853-1818
hawaiipoolsonline.com
Huber Pools Inc.
1367 S. Kihei Rd., Ste. 3-110
Kihei, Maui
808-879-0822
huberpools.com
Infinity Pools LLC
Honolulu, Oahu
779-0274
infinitypoolshawaii.com
Island Pool Builders
759 Puuloa Rd.
Honolulu, Oahu
989-2657
islandpoolbuilders.com
Kahala Pool & Spa
Honolulu, Oahu
396-1900
kahalapoolandspa.com
Kai Pono Builders Inc.
65-1235 Opelo Rd., Ste. 9
Kamuela, Big Island
808-885-8082
kai-pono.com
Kona Kai Pools
74-5035 Queen Kaahumau Hwy., #B-5
Kailua-Kona, Big Island
808-334-1920
konakaipools.com
Koolau Pools
Honolulu, Oahu
721-1698
koolaupools.com
Maui Waterspaces
365 Hoohana St, #6E
Kahului, Maui
808-877-0413
pacificaquagroup.com
Natural Salt Pools
Kailua, Oahu
255-7665
naturalsaltpools.com
Pacific AquaScapes
91-170 Olai St.
Kapolei, Oahu
682-1020
pacificaquagroup.com
Pool Pro
300 Ohukai Rd.
Kihei, Maui
808-879-3294
poolpromaui.com
Poseidon Pools Hawaii
Poseidon Pools Hawaii has over 100 years of combined experience in designing and building a wide range of pools and water features, with pride and integrity.
______________
Kailua, Oahu
392-0795
info@poseidonpoolshawaii.com
poseidonpoolshawaii.com
Puni Nani Pools & Spa
4490 Puhi Rd.
Lihue, Kauai
808-245-5911
puninanipools.com
Pure Image Pools
Kihei, Maui
808-280-4500
pureimagepools.com
SCV Pools Inc.
74-5605 Alapa St., Ste. 103
Kailua-Kona, Big Island
808-326-2005
scvpools.com
Splash Superpools Hawaii LLC
73-5569 Maiau St., #103
Kailua-Kona, Big Island
808-327-6657
splashpoolshawaii.com
Sundance Spas of Hawaii
3140 Koapaka St.
Honolulu, Oahu
833-6046
sundancespasofhawaii.com
Swan Builders International LLC
Kailua, Oahu
478-5441
swanhawaii.com
Tropical Design Hawaii
5901 Kalanianaole Hwy.
Honolulu, Oahu
373-3017
tropicaldesignhawaii.com
Tropic Pool & Spa
4523 Niu St.
Kapaa, Kauai
808-822-7600
tropicpoolkauai.com
Vinyl Pools of Hawaii
Honolulu, Oahu
422-9336
vinylpoolshawaii.com